Robert Card's sister called Lewiston police after two mass shootings in the Maine city and said her brother was the man seen in photos holding a long rifle, according to police documents released Tuesday.
Card, 40, killed 18 people and wounded others when he opened fire at the Just-In-Time bowling alley and Schemengees Bar and Grille in Lewiston last Wednesday.
The shootings set off a massive manhunt with hundreds of law enforcement personnel before Card was found dead, apparently from a self-inflicted gunshot wound, two days later.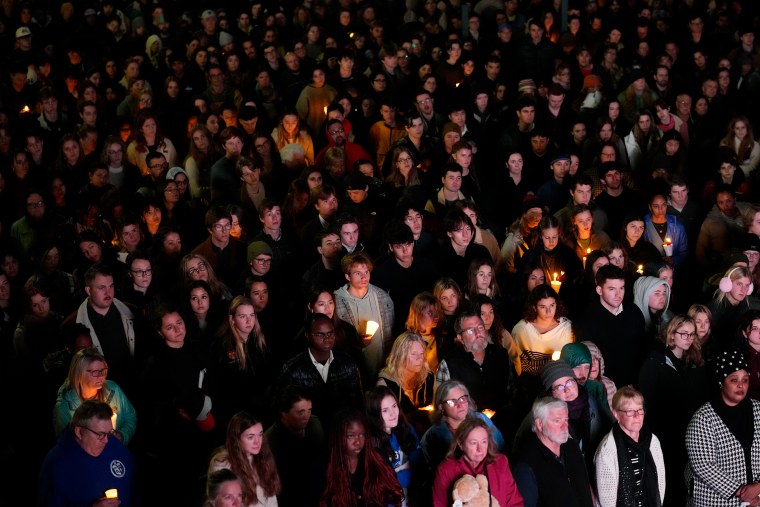 An arrest warrant affidavit for Card that was among the documents state officials released Tuesday also includes an interview with someone who knows Card who said he had been delusional since a breakup in February.
That person, whose name is also redacted, "said that Robert believed there was a conspiracy against him and people were accusing him of being a pedophile," according to the affidavit.
The person told a detective that Card believed Schemengees Bar and Grille and the bowling alley were among several businesses "broadcasting that Robert was a pedophile" and that Card believed his family was part of the conspiracy, according to the affidavit.
Card had guns, the person said, and had lost a significant amount of weight, the document says.
Card's brother told a detective that Card has been in a relationship that had ended and that Card met that person at a cornhole competition at Schemengees, the affidavit says.
Card's brother "said that ever since the relationship ended Robert started wearing hearing aids and had been saying crazy things," it says.
A motive remains unclear. Card was a firearms instructor and an Army reservist who had been sent for inpatient mental health treatment in the past, officials have said.
In July, Army leadership took Card to a treatment facility, the Army said. On Aug. 3, Card returned home to Maine. It was directed that he not have weapons and not participate in live-fire training, and he was declared "non-deployable," Army spokesperson Bryce S. Dubee said.
Army medical staff members made "multiple attempts" to contact Card, the military said. In September, after concerns from his unit, the Sagadahoc County Sheriff's Office conducted a health and welfare check, it said.
The Sagadahoc County Sheriff's Office has said that it conducted the check but that no one answered the door and that it contacted Card's unit commander, who said he no longer had any weapons from the reserve unit.
"The Army is actively conducting an internal investigation into this matter," Dubee said.
The first calls about a shooting came in at 6:56 p.m. last Wednesday from Just-In-Time — which is also known as Sparetime — the arrest warrant affidavit says.
Calls about more shots fired, this time Schemengees, came in at 7:08 p.m. The businesses are around 4 miles apart.
The Androscoggin County Sheriff's Office distributed photos showing a gunman with an assault-style rifle.
At 9:26 p.m., a woman called Lewiston police and said her brother was that man, according to the arrest warrant affidavit.
Card also tried to buy a silencer a few months ago, and the firearms dealer refused to sell it because he'd answered "yes" to a question about whether he'd been committed to a mental institution, the federal Bureau of Alcohol, Tobacco, Firearms and Explosives said Tuesday.
The gun store didn't notify the ATF, and it wasn't legally required to, the ATF said. The ATF said it wasn't aware of the declined purchase or any other record or information that would have prevented Card from passing a background check.
CORRECTION (Nov. 1, 2023, 6:15 a.m. ET): A previous version of this article misstated the location of the first shooting. It was at Just-In-Time bowling alley, not Schemengees Bar and Grille. It also misstated when the suspect's sister called police to identify him. It was about 2½ hours after the first 911 calls of gunfire, not 30 minutes after.