A man who was attacked by a police dog in Ohio as he was trying to surrender says that he was afraid for his life and that it was fear that initially kept him from stopping his vehicle when officials attempted a traffic stop.
"I just didn't want to lose my life or lose my arm," Jadarrius Rose told NBC News' Tom Llamas on "Top Story with Tom Llamas" on Thursday.
Rose, 23, had his hands up when the dog attacked him after a vehicle pursuit July 4, according to an Ohio State Highway Patrol report and body camera video.
Body camera video appears to show a highway patrol trooper yelling "Do not release the dog with his hands up!" before a Circleville police officer releases the dog.
The officer, Ryan Speakman, has been fired, the police department said Wednesday. The Ohio Patrolmen's Benevolent Association said that Speakman had been terminated without just cause and that a grievance has been filed.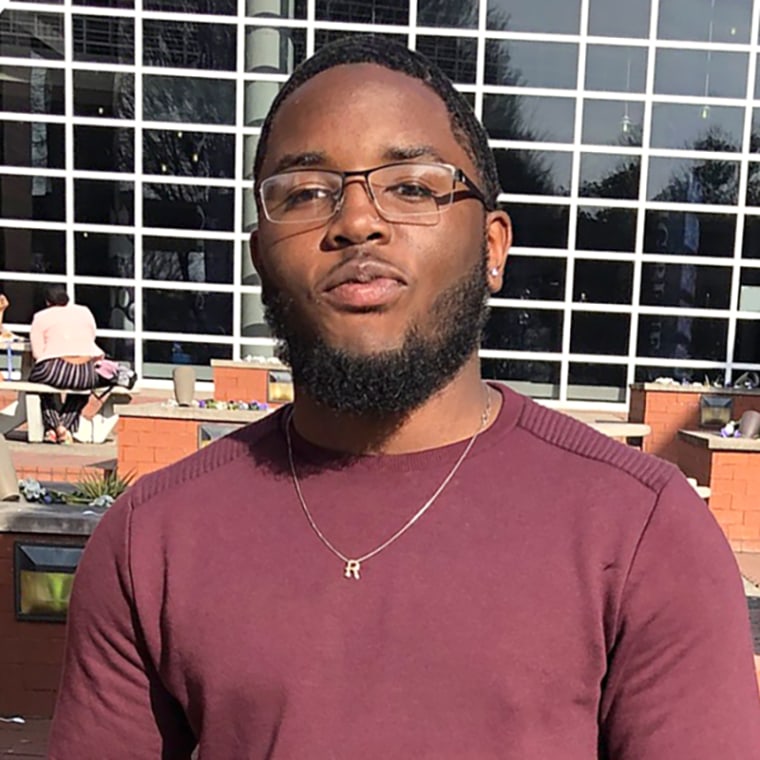 A motor carrier enforcement inspector with the highway patrol tried to stop Rose, who was driving a semi, because it "was missing a left rear mud flap," according to an incident report.
He failed to stop, and troopers used "stop sticks" before the semi did come to a stop on U.S. Route 23, officials said.
Rose told a trooper who was instructing him to get out of his vehicle that he was on the phone with 911, according to the incident report.
Rose, who is Black, said in Thursday's interview that he did not stop because he was scared.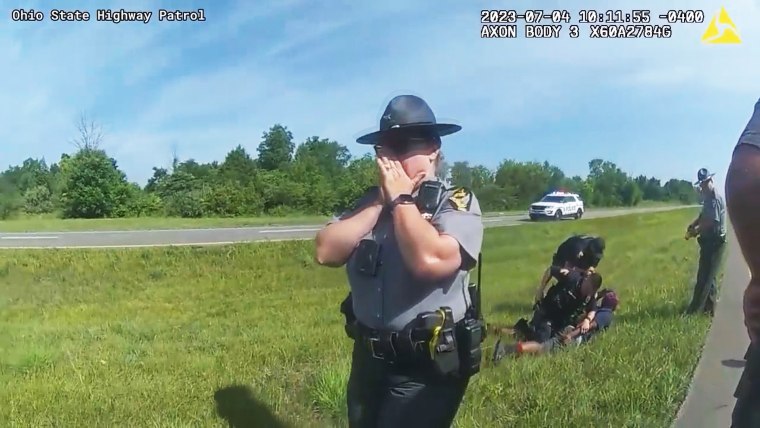 Civil rights attorney Ben Crump, who is representing the family, said in Thursday's interview that what happened on the roadside in Ohio was reminiscent of abuses that occurred during the Civil Rights Movement.
Rose "was on his knees, putting his hands in the air, which is the universal sign of surrender," Crump said. "What more can a Black person do to say that 'I'm not putting you in fear'?"
Crump said Rose had called 911 saying he was afraid police would kill him.
Audio released by police showed that a dispatcher instructed the caller to roll down his window and that the caller replied: "I did that the last time and all of them had their guns pointed at me. You think I feel safe?"
Ohio Gov. Mike DeWine emphasized the need for police training, both in facilities and hours.
"This incident in Circleville should be a lesson, a wake-up call, to everyone that police training in the state of Ohio is not equal," he told reporters.
Circleville police and the police dog got involved following an aid request from the highway patrol, Circleville's mayor and police chief said.
Rose was charged with failure to comply with an order or signal of a police officer, according to the highway patrol, and he was released on bond.
Circleville police said Wednesday, "We know the video of the incident is upsetting and has attracted widespread attention and comments," but it said its dog teams are certified annually.
"We meet or exceed all current Ohio laws and standards for police training for our canine teams," police said.
Circleville is a city of around 14,000 around 20 miles south of Columbus.