The posters were in post offices, grocery stores and train stations across the U.S., imploring Americans to "do with less," "make it stretch" and "share the meat."
They were one of the most visible elements of a sprawling effort by the federal government aimed at rationing consumer goods during World War II.
As fears of meat shortages rise amid processing plant shutdowns and work slowdowns caused by the coronavirus outbreak, the differences between then and now are striking. In 1942, President Franklin Roosevelt ordered Americans to make do with less. In 2020, President Donald Trump has promised to keep the country's meat supply humming.
Trump signed an executive order this week compelling processing plants to remain open and giving them liability protections even as unions say the shutdowns are intended to save workers' lives.
Still, with a precipitous dive in meat production over the last month, as well as a drop in frozen pork storage, Americans may soon face a sliver of what an earlier generation grappled with not for months but for years.
"They were used to deprivation and harsh conditions," said Sarah Sundin, an author who has written a dozen novels about World War II and has studied rationing. "Our generation is just not used to this kind of hardship. We think that's slow internet."
Full coverage of the coronavirus outbreak
Kimberly Guise, a curator at the National World War II Museum in New Orleans and an expert on wartime rationing, believes the moment could reveal a silver lining. When access to food is limited, meal planning and using what you have, or what you can grow, becomes critical.
"It's a much more thoughtful approach to eating than pre-coronavirus," she said.
The federal government began rationing supplies immediately after Pearl Harbor, Hawaii, was bombed in 1941. But it wasn't until the following year that it began limiting access to consumer goods. That was done to solve problems with supply — ships carrying coffee to the U.S. from the Caribbean were being sunk by German U-boats, for instance — as well as demand: Much of the nation's meat was being diverted to service members.
Roosevelt's administration built up a massive infrastructure to handle the effort. Through the newly established Office of Price Administration, one of the largest printing projects in American history was undertaken, Guise said, involving the production of 5 billion forms and coupons that would become the "ration books" issued to every American. These would tell consumers what they could buy and how much.
As one poster from the era explained it, people over 12 were allotted 2½ pounds of beef, veal, lamb and pork a week. Kids under 6 got three-quarters of a pound. During the six months that coffee was rationed, the allotment was a meager 1 pound for five weeks for everyone over 15.
At the time, many Americans had lived through successive decades of turmoil. They'd been through World War I, then the Great Depression. They could also read about a far more intense rationing regime that had been implemented in Great Britain, Sundin said, and mostly, they supported Roosevelt's program.
"There was a real sense of 'we're all in this together,'" she said. "There wasn't the same resentment as now, with people getting into fights at Target over toilet paper."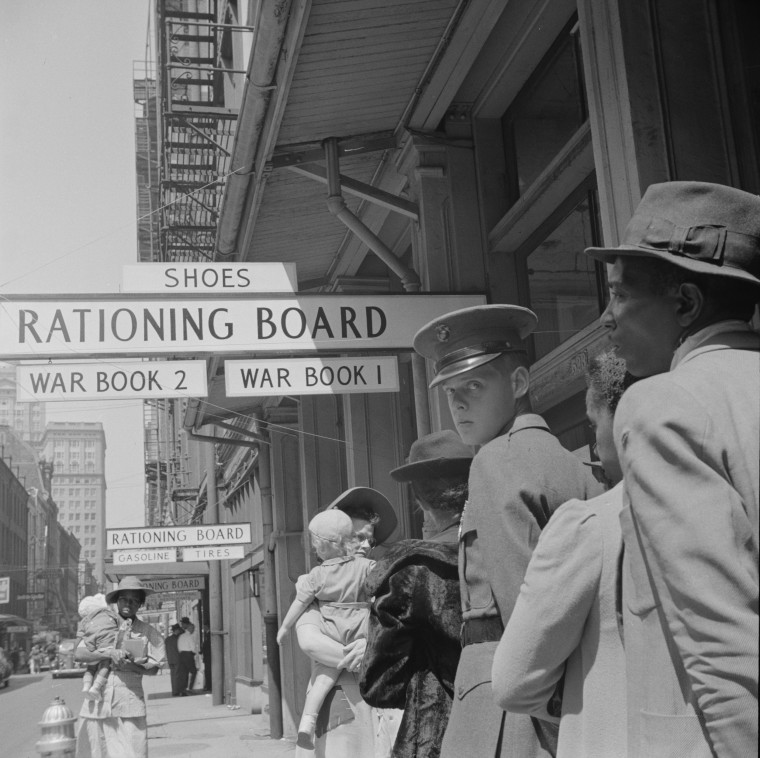 There was, however, a black market in which people could buy choice cuts of meat, Sundin said. There were also arrests and prosecutions of people who broke the "home front pledge," as another propaganda poster described the rationing effort. If you were the nosy type, you could turn the pledge breaker over to your local rationing board, Guise said. More than 5,000 were set up across the country to administer the program.
A Gallup survey at the time found that 89 percent of American shoppers preferred rationing to an unstable supply of goods, Guise said. Just 25 percent thought it was OK to shop sometimes on the black market.
To "make it stretch," people got creative. They would reuse coffee grinds and add chicory. Restaurants had "meatless Mondays," while cookbooks published recipes with meat and sugar substitutes. For fresh fruits and vegetables, the government promoted "victory gardens" — which people planted not just in spacious rural areas, Guise said, but on rooftops and in flower boxes and on little plots of land. Many started keeping chickens in them, too, she said.
The rationing effort remained mostly in effect until fall 1945. The result, Sundin said, was that Americans' diets were healthier than they had been before. They ate more poultry and less red meat. They consumed less sugar and more fresh fruits and vegetables.
Download the NBC News app for full coverage and alerts about the coronavirus outbreak
It's unclear whether Americans today would embrace the America of 1943. But with statewide stay-at-home orders and mandatory business closings, Guise has seen a resurgence in interest in victory gardens. Her museum hosted an online cooking show last month called "Baking with Rations."
Guise has also tried to bring the lessons of wartime rationing to her own home — to be more nimble, creative and mindful of what she's using, she said.
Or, as Sundin put it, "to just make do."