The lawyer for Michael Skakel, the Kennedy cousin whose murder conviction was overturned by Connecticut's Supreme Court on Friday, said Monday that his client feels "gratified, elated and very thankful."
Skakel was convicted in 2002 of killing Martha Moxley in 1975, when both were 15 years old, and sentenced to 20 years to life.
He was granted a new trial in 2013, however, based on mistakes by his trial lawyer, and has remained free since, after posting a $1.2 million bond.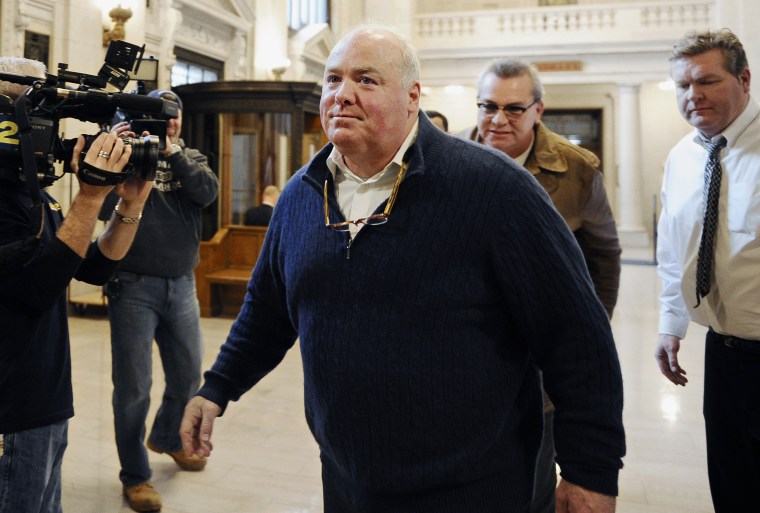 Sixteen months ago, the Connecticut Supreme Court reinstated the conviction, but then reversed itself on Friday and granted Skakel a new trial.
In an interview with "Today" on Monday, attorney Michael Fitzpatrick said defense lawyers did a "masterful job" helping the court understand "the enormity of the mistake made by the original trial lawyer."
"The Connecticut Supreme Court, for its part, has never hesitated to reverse a decision that would have resulted in an injustice," Fitzpatrick said.
But now that Skakel's conviction has been overturned, attention turns to the question of who did kill Moxley, who was beaten to death with a golf club in Greenwich, Connecticut. Fitzpatrick refused to say if prosecutors suspected Skakel's older brother, Thomas, could be responsible for the murder.
"That someone else committed this crime is inherent in the case. It goes hand-in-hand with the fact that at the time Martha Moxley was killed, Michael Skakel was at a location far from her home," Fitzpatrick said.
Moxley's mother, Dorthy Moxley, said she was "disappointed" and "shocked" by the court's decision to overturn the conviction, but said that ultimately, she felt her family had received some justice knowing Skakel served 11 years in prison.
"Martha was killed when I was 43, and in just a few weeks, a couple of weeks, I'm going to be 86," Dorthy Moxley said. "That means half of my life I have lived with this. So I think I can live the rest of my life with it also."
It is unclear if prosecutors in Connecticut will attempt to retry Skakel.