The winter storm that crippled travel in the Midwest headed east on Monday, dropping heavy rain across flood-prone regions already soaked from earlier rain.
And that's just the beginning.
The National Weather Service said the rain would turn to snow, often heavy, across parts of New England as early as Monday night as the storm crashes into a low-pressure system along the Northeast coast.
Snow accumulations could top a foot from upstate New York to northern Maine, where winter storm warnings and other winter advisories were in effect.
Farther south, including New York City and Philadelphia, flood watches and warnings were in effect, with as much as 1½ more inches of rain expected through early Tuesday, forecasters said.
"We are expecting moderate to heavy rainfall that can cause slippery conditions during this evening's rush," said Joseph Esposito, New York City's emergency management commissioner. "Take it slowly during the evening commute home and allow for extra travel time."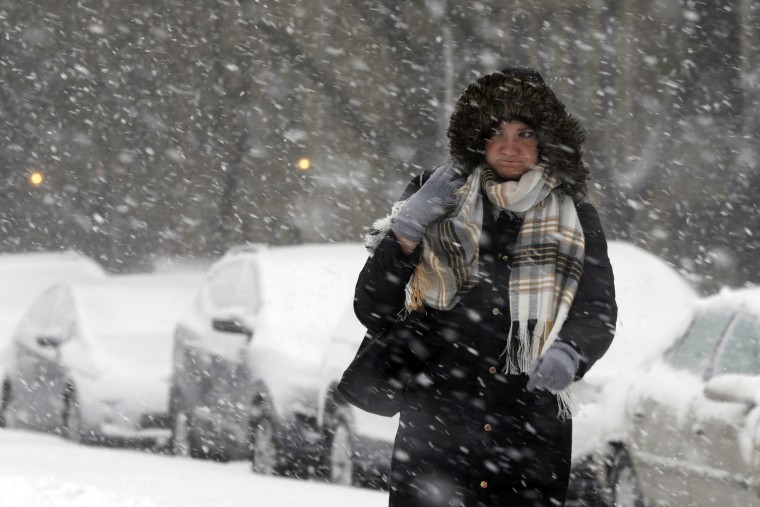 On its back side, the storm will also produce lake effect snow of 10 inches or more around lakes Erie and Ontario through the middle of the week, the weather service said. Gusty winds in both regions will whip the snow to create dangerous travel conditions, it said.
"We urge drivers to delay unnecessary travel in winter weather, and if you must travel, please slow down and give plow operators plenty of room," Pennsylvania Transportation Secretary Leslie Richards said.
Northern New England was expected to be especially hard hit, with as much as 1½ feet of snow expected. School officials were nervously watching conditions on Monday in Rumford, Maine, where a foot of snow was expected and where a pile-up of snow days could cause problems when those days have to be made up later in the school year.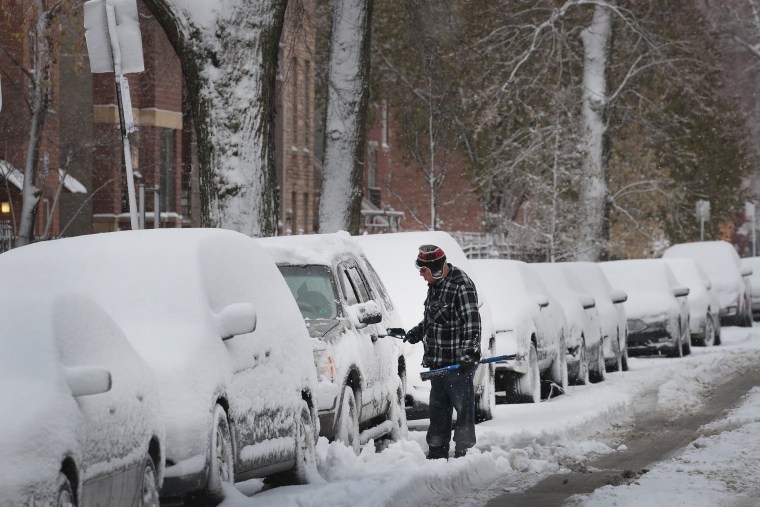 Deb Alden, superintendent of Regional School Unit 10, told NBC affiliate WCSH of Portland that accumulating snow days before Christmas "is not normal."
Rumford said she was likely to cancel classes on Tuesday — only the second snow day of the year so far. But she acknowledged, "It's not a perfect science."
The storm blanketed much of the Midwest over the weekend, snarling flights, closing highways and shutting schools in several states.
More than 1,200 arrivals and departures were canceled at O'Hare International Airport in Chicago alone on Monday, making up vast majority of the 1,500 cancellations that were reported across the country by late Monday afternoon.
At least 24 schools lost power Monday in Chicago, their parents learning via text message and Facebook that their kids were shivering in the cold, NBC Chicago reported.
"They were cold and saying it was cold," said Ruben Beltran, whose children attend Nathan Hale Elementary School. "Fortunately for me, I didn't have to work today."
Chicago Public Schools said nearly all the affected schools had partial power and maintained safe temperatures, so they are able to remain open safely.