The Michigan doctor accused of molesting dozens of former patients was hit Wednesday with a slew of new sex-abuse charges — the latest development in a scandal that has rocked the Olympic gymnastics world and one of America's biggest universities.
"This guy is disgusting. This guy is despicable," Michigan Attorney General Bill Schuette said as he announced the new charges against Dr. Larry Nassar.
"He is a monster."
Schuette filed 22 counts of criminal sexual conduct in the first degree linked to nine victims; two were under age 13 when they were allegedly abused. Nassar's attorneys declined to comment on the new charges.
"Dr. Nassar preyed on these young girls, just little girls," Schuette said. "Dr. Nassar used his status and authority to engage in horrid sexual assaults under the guise of medical procedures."
In graphic detail, the court documents outline how Nassar, without gloves or permission, allegedly penetrated the girls with his fingers at his office and a local gym.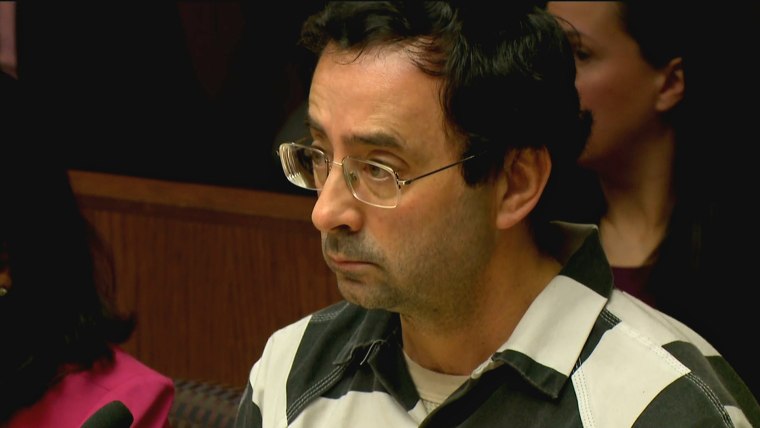 "We don't tell parents about this because they wouldn't understand," Nassar allegedly told one girl, who was treated by Nassar for a spinal fracture when she was 15 years old, according to a police affidavit.
Police said more than 80 women and girls have filed complaints against Nassar and more accusers are coming forward by the day, and Schuette asked anyone who thinks they were abused to contact authorities. He said there will "absolutely" be more charges as police work their way through the mountain of reports.
"I've never seen or heard of anything like this," said Jamie White, a Michigan attorney who represents 13 victims and believes the number of accusers will continue to climb. "Based on the access he had to young girls over the last 20 years, the numbers are staggering."
The new charges are the latest in a string of legal blows for Nassar:
• Last week, a Michigan judge ordered Nassar to stand trial on a charge of molesting a family friend, starting when she was 6 years old, after a preliminary hearing where the victim described how he turned games of hide-and-seek into abuse sessions. "Almost every time I was there, for a couple of years, something occurred," the woman, now 25, testified as Nassar sat stone-faced in striped jail garb.
• He is being held without bail on federal charges of possession of child pornography: at least 37,000 images and GoPro video that allegedly showed him groping girls in a pool. Last week, he was indicted on a new federal charge of trying to destroy evidence for allegedly erasing and trashing hard drives that were found in a garbage bin only because sanitation pickup ran late.
• More than two dozen women have filed lawsuits or paperwork seeking to join existing lawsuits as recently as this week. Many of the suits also name Michigan State, which fired Nassar in the fall, and USA Gymnastics, which fired him as team doctor in 2015 and notified the FBI.
Some lawsuits also name famed coaches Bela and Marta Karolyi because abuse allegedly took place under their watch at their Texas training facility, known as "the ranch." The Karolyis deny any role in or knowledge of abuse and said they were unaware of complaints against Nassar until recently.
Nassar, 53, has denied wrongdoing and pleaded not guilty to the criminal charges. His attorneys have said any procedures he performed were accepted osteopathic medicine practices.
The scandal has rocked two institutions: USA Gymnastics, which is the national governing body for the sport and assembles the Olympic teams, and Michigan State, which recently hired former U.S. Attorney Patrick Fitzgerald to conduct an internal review.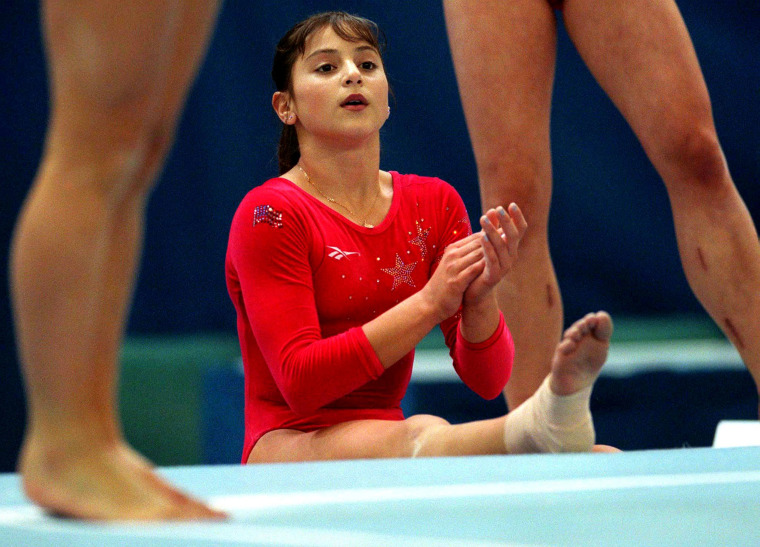 Dominique Moceanu, a member of the 1996 team that won gold in Atlanta, said in a Facebook post this week that the culture of the gymnastic world "set the stage for such atrocities to take place."
"Changes and improvements to the system — including a functioning set of checks and balances —are long overdue. Gymnastics is a beautiful sport, and its young athletes deserve to practice and perform their craft in a safe environment," Moceanu, who said she was not assaulted by Nassar, wrote.