Four people, including a 9-year-old boy, were killed in a shooting at a business complex in Orange, California, on Wednesday evening, officials said.
A fifth victim, a female, was shot and taken to a hospital, as was the suspect, police Lt. Jennifer Amat said. Both were in critical condition.
Police said officers arrived at an active shooting scene at about 5:30 p.m. and officers engaged "in an officer-involved shooting," Amat said. The suspect suffered a gunshot wound, but it is not known whether it is was self-inflicted.
Of the adults killed, a woman was found on an upstairs outdoor landing, Amat said at a news conference on Thursday. A man was found in an office building and another woman was found in a separate office building.
According to authorities, the suspect and adult victims all knew each other. The child is believed to be the son of a victim who worked at the business, according to Amat.
Orange County District Attorney Todd Spitzer said that the child was being protected by one of the women when he was killed. Police aren't releasing the names of the victims until all next of kin are notified.
Preliminary information suggests that the motive is believed to be related to a "business and personal relationship" with the victims and suspect, whom police identified as Aminadab Gaxiola Gonzalez, 44.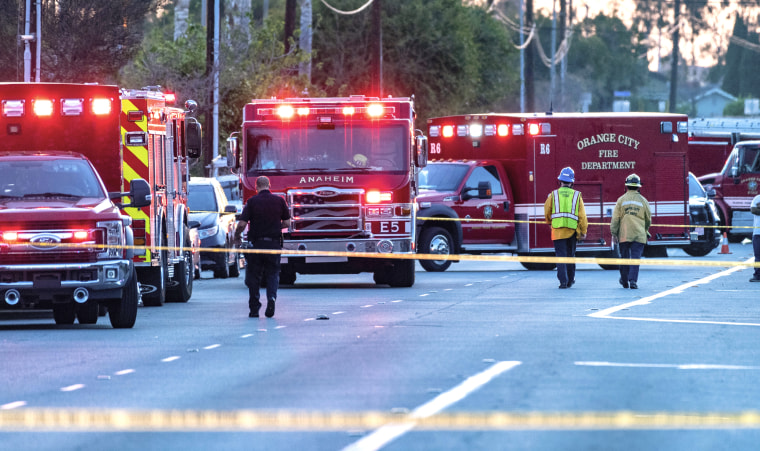 "It appears all the adults were connected either by business or a personal relationship, and this was not a random act of violence," Amat said.
Roughly 20 police officers were involved in the initial response to the shooting.
Spitzer said Thursday that officers were delayed in reaching the suspect because the wrought iron gates at the back and front of the complex were locked and secured.
"Those officers had to engage the suspect from outside the premises until bolt cutters could be brought to the scene in order for them to gain entry to the premises," he said. "In the meantime, a horrific rampage was going on in the offices."
No officers were injured. A semiautomatic handgun and a backpack containing pepper spray, handcuffs and ammunition was found at the scene, Amat said. It's believed that the items belonged to the suspect.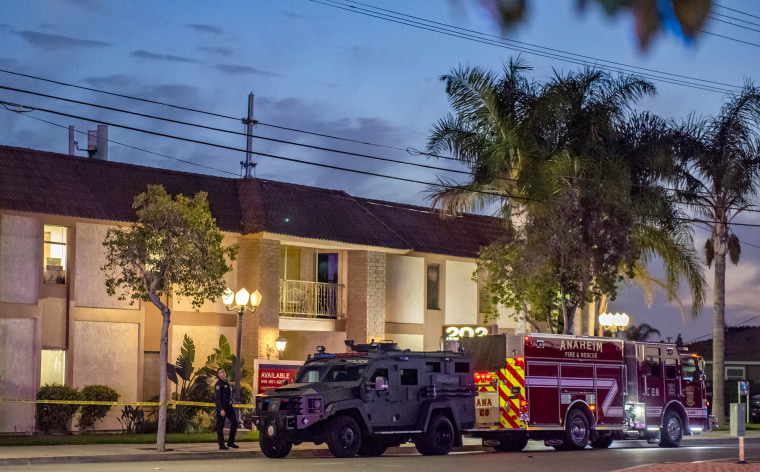 Spitzer said the suspect is eligible for the death penalty, calling the incident a special circumstances case with multiple victims.
"And we are now presently looking at whether his locking of the front and the back gates constituted a lying in wait, which would also be eligible for death," he said.
The building where the shootings occurred appeared to have several offices. Amat said the name of the business is Unified Homes, which sells mobile homes. There is an upstairs, downstairs and a courtyard area.
"It is a situation that was moving from different areas, so it's my understanding it's throughout that area," Amat previously said.
Gov. Gavin Newsom, who called the events "horrifying and heartbreaking," said in a statement that "our hearts are with the families impacted by this terrible tragedy tonight."
Rep. Katie Porter, D-Calif., said she was monitoring developments.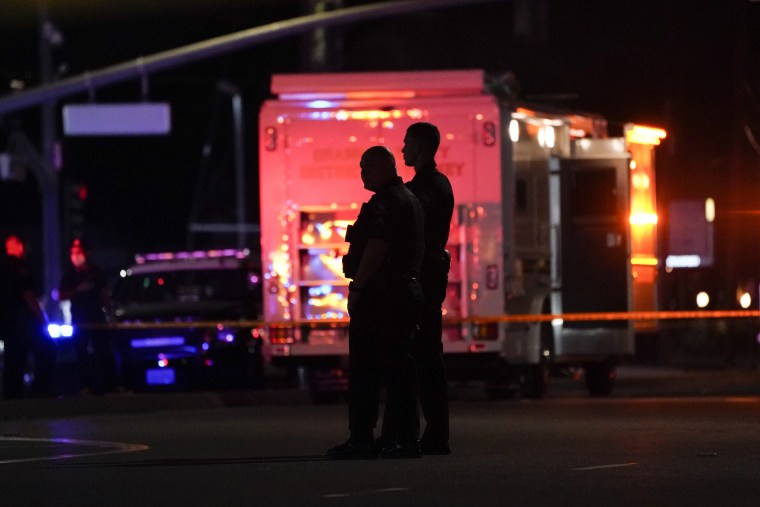 "I'm deeply saddened by reports of a mass shooting in Orange County, and I'm continuing to keep victims and their loved ones in my thoughts as we continue to learn more," she said in a statement. "My team and I will continue to monitor the situation closely."
The nation is already mourning recent mass shootings in Colorado and the Atlanta area. Ten people died last week when a gunman opened fire at a Boulder, Colorado, grocery store. A week earlier, eight people, including six women of Asian descent, were killed in three Atlanta-area spas.
Amat said there hadn't been a situation like Wednesday's in Orange since 1997, when a gunman killed four people at a California Department of Transportation maintenance yard. The gunman in that shooting, who had been fired by the department for stealing, killed four workers and wounded others before he was killed by police.
Orange is a city of about 140,000 people 30 miles southeast of Los Angeles.