A convicted murderer and another inmate with a violent past escaped while being transferred to a New Mexico prison, prompting a manhunt, authorities said Thursday.
Inmates Joseph Cruz, 32, and Lionel Clah, 29, were taken from the Penitentiary of New Mexico in a van toward the Southern New Mexico Correctional Facility when they fled, the New Mexico Corrections Department said in a statement Thursday.
A preliminary investigation revealed that the men may have escaped between Roswell, New Mexico, and Las Cruces, the department said.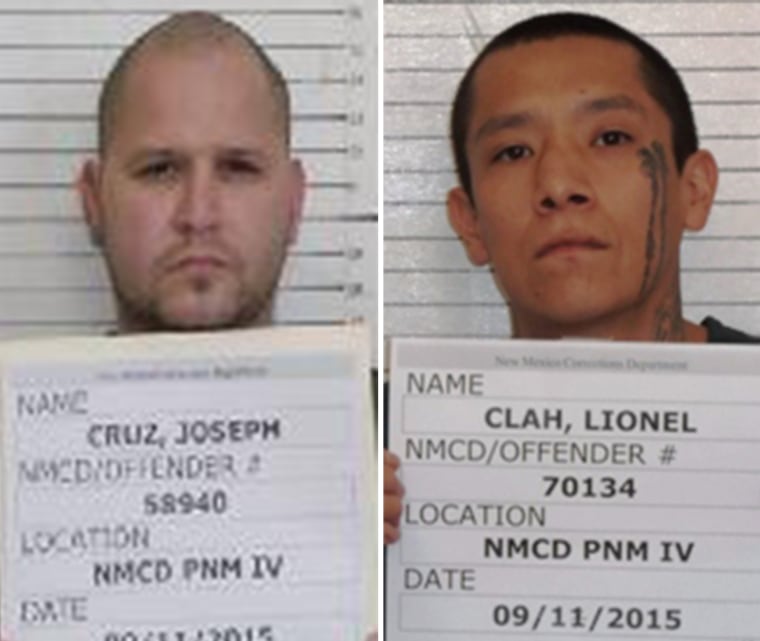 The inmates were last accounted for around 8:30 p.m. MST on Wednesday as Cruz, Clah and three other inmates were being transported between facilities in Roswell and Las Cruces, according to the Associated Press.
It appeared that corrections officers in charge of transporting the men did not check on the prisoners during the two stops, New Mexico Corrections Secretary Gregg Marcantel told the AP.
"Somehow we failed," Marcantel said. "We just don't have the detail at this point."
Cruz was sentenced to prison in Nov. 2006 for first-degree murder, attempted murder in the first degree and child abuse, according to the Corrections Department. Clah was convicted in April 2009 of armed robbery with a deadly weapon, conspiracy to commit armed robbery and assault with intent to commit a violent felony upon a peace officer.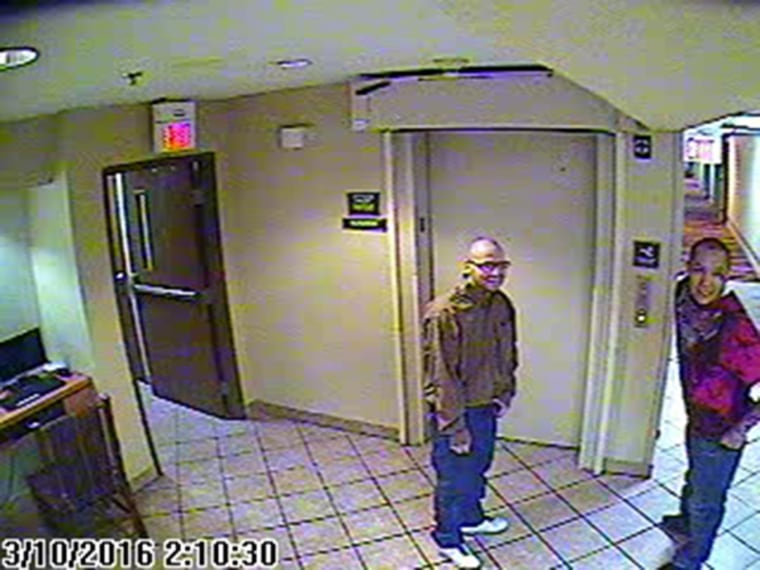 Both men were fully shackled with leg irons, belly chains and handcuffs, and were wearing white paper transport suits, the statement said.
The escapees were spotted on surveillance video at an intersection Albuquerque around 4:30 a.m. MST, state police told NBC affiliate KOB Thursday evening. Police said they now believe the inmates are in Albuquerque or northern New Mexico.
In the video, Clah wore a red or maroon shirt with a white design, blue jeans and dark shoes, according to KOB. He was also wearing a brown hoodie.
Cruz wore eye glasses, a tan or light brown long-sleeved shirt, blue jeans, and white shoes.
Albuquerque police had set up a perimeter in the northwest part of the city at 6 p.m. MST, where a police spokesman told KOB the inmates are believed to be.
Albuquerque police came close to catching two men believed to be the escaped inmates after that perimeter was set up, Albuquerque police said Thursday evening.
Police acting on a tip followed a car in the city before the two suspected inmates and a woman bailed out and fled on foot, police said at a 7 p.m. news conference, according to KOB.
The men escaped, but the woman was taken into custody and is being questioned, police said. Police warned residents in the area to lock their doors. As of 9:50 p.m. neither inmate had been found, and officials were unsure how long the search would last.
Cruz has a tattoo reading "Alias" on the back of his neck, a tribal symbol on his right ear and the phrase "13 smiley" on his right elbow," officials said. Clah has a feather tattoo on his left cheekbone and multiple tattoos on his arms. They should be considered armed and dangerous.
The incident is being investigated by the New Mexico State Police Department.