Rain from Tropical Storm Barry, which threatened to drop more than 20 inches and whip up dangerous storm surges along the Gulf of Mexico, had begun making its way on shore early Saturday.
By early morning the storm was nearing hurricane strength with winds of 70mph, according to the latest update from the National Weather service. Thousands in Louisiana were without power, meanwhile, according to utility company Entergy's online outage map.
The storm is anticipated to make landfall as a hurricane later in the morning, officials said.
Its slow movement also means it "poses a significant flooding threat," according to the National Weather Service.
President Donald Trump declared a federal emergency for Louisiana late Thursday, ordering U.S. government assistance to state and local response efforts.
Barry's slow movement over the warm gulf is anticipated to increase the storm's power to at least a Category 1 hurricane designation, according to the hurricane center.
The National Weather Service issued a hurricane warning Friday afternoon for parts of Louisiana.
New Orleans issued a shelter-in-place order to go into effect at 8 p.m. Friday as residents rushed to prepare themselves for the worst.
Floodgates were closed throughout the city in anticipation of life-threatening flooding along the central Gulf Coast and into the Lower Mississippi Valley due to the storm's slow movement.
"It's powerful. It's strengthening. And water is going to be a big issue," National Hurricane Center Director Ken Graham said ahead of the storm.
Forecasters have warned that the main threat affecting Louisiana is the heavy rain and storm surge with the potential for life-threatening flooding, but damaging winds can also be expected along the storm's path.
By Friday night, Grand Isle had no power, and there was already flooding in the town south of New Orleans, which had previously been ordered evacuated.
"Around 2:30, 3 o'clock today a tidal surge inundated the island, we had a lot of major flooding," in Grand Isle, Jefferson Parish Councilman Ricky Templet said. He said there were no reports of flooded housing.
Louisiana Gov. John Bel Edwards said he was confident that the Mississippi River wouldn't overtop levees but urged residents to take maximum precautions.
"This is going to be a major rain event across a huge portion of Louisiana," Edwards, who authorized the activation of up to 3,000 National Guard personnel, told reporters. "Look, there are three ways Louisiana floods — storm surge, high rivers and rain. We're going to have all three."
The National Weather Service said late Friday that the forecast crest of the Mississippi river at New Orleans was just over 17 feet and the river was dropping. It said the river rose approximately 1 foot due to storm surge, and the next crest is expected to occur Monday.
The city's levees can protect against 20 feet in the lowest areas and up to 25 feet at its highest points.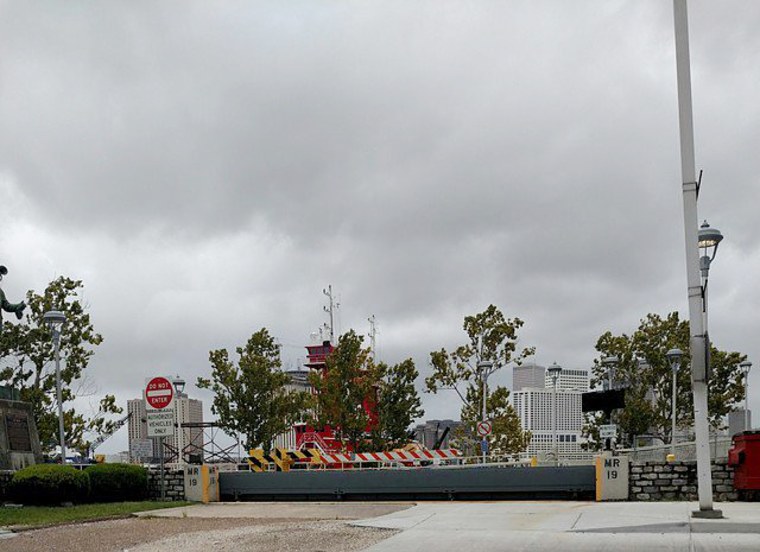 New Orleans has 24 pump stations, which contain 99 stormwater management pumps and 21 dry-weather pumps and is comprised of more than 68,000 catch basins, 1,400 miles of lateral, underground drainage pipes, 280 miles of open and underground canals, NBC-affiliate station WDSU reported.
Richard Rainey, of the Sewerage & Water Board of New Orleans, told WDSU that the pumps could become overwhelmed if massive amounts of rain hit the area in a short period of time. On Wednesday, 8 inches of rain fell over a three-hour span.
"So if we get that kind of volume and that kind of intensity, you'll see street flooding," Rainey told WDSU.
Around 10,000 people or more in exposed, low-lying areas along the Gulf Coast have been told to leave, but there were no evacuation orders issued for New Orleans, the Associated Press reported.
"My concerns are just hoping it's not going to be another Katrina," Donald Wells, a restaurant cook in New Orleans, told the AP.
Mississippi Gov. Phil Bryant on Friday signed a state of emergency proclamation for parts of that state expected to be affected by the storm. A tropical storm watch was in place from the Pearl River in Louisiana to the Mississippi-Alabama border, and southwest Mississippi could get heavy rain, the hurricane center said.