Northwestern fired baseball coach Jim Foster on Thursday, just days after the university terminated football coach Pat Fitzgerald in the wake of a burgeoning hazing scandal that's rocked the Big Ten school.
Foster was "relieved of his duties effective immediately" after just one season in the dugout leading the Wildcats, athletic director Derrick Gragg announced.
Gragg didn't reveal the exact reasons for Foster's dismissal, but made vague references to "building a culture" at the prestigious school just outside of Chicago.
"Nothing will ever be more important to Northwestern than providing its students a place that allows them to develop in the classroom, in the community, and in competition at the absolute highest level, and building a culture which allows our staff to thrive," Gragg said in a statement.
"This has been an ongoing situation and many factors were considered before reaching this resolution. As the Director of Athletics, I take ownership of our head coaching hires and we will share our next steps as they unfold."
Foster was formerly head baseball coach for Army at West Point, where he had been Patriot League coach of the year in 2022 and had led the Black Knights to four consecutive league titles and NCAA playoff appearances.
The baseball coach could not be immediately reached for comment on Friday at publicly listed phone numbers and e-mail addresses linked to him.
Foster's dismissal came days after the school parted ways with its long-time football coach, Fitzgerald.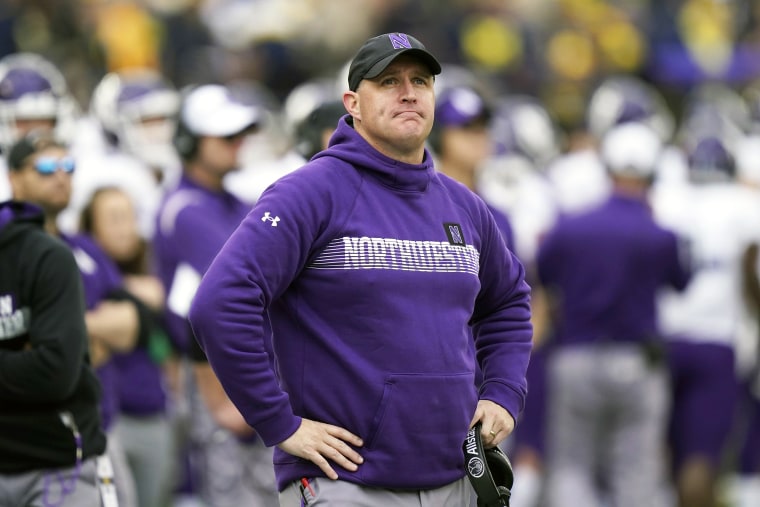 The school last week announced it had suspended Fitzgerald for two weeks in the wake of a hazing probe before Northwestern elected to fire him.
Fitzgerald has maintained he had no knowledge of any hazing in his program and said the school's independent probe into the matter absolves him of culpability.
"Attorney Maggie Hickey conducted a thorough investigation spanning several months into the allegations that led to my termination," Fitzgerald said in a statement earlier this week. "Her investigation reaffirmed what I have always maintained — that I had no knowledge whatsoever of any form of hazing within the Northwestern Football Program. "
The hazing allegations were first reported by the campus newspaper, the Daily Northwestern.
The Wildcats baseball program is now led by interim coach Brian Anderson, a former Chicago White Sox outfielder who earned a World Series ring after the Southside team won it all in 2005.
Northwestern's football program is now in the hands of David Braun, who was elevated from defensive coordinator to interim head coach.
Fitzgerald was head coach for 17 seasons, turning the Wildcats into a consistently competitive team, no small feat in the hyper-competitive Big Ten.
A Northwestern alum, Fitzgerald was 110-101 in his time leading the team, a program best known for a 34-game losing streak that stretched from 1979 into 1982.