A nurse at Cedars-Sinai Medical Center in Los Angeles said she was sent home after refusing to wear a surgical mask instead of a protective respirator to treat COVID-19 patients — and that she was denied a coronavirus test even after she began displaying symptoms.
A nurse at a hospital in Kentucky said she was reprimanded for insubordination and reassigned for refusing to treat COVID-19 patients when the hospital would not supply her with an N95 mask.
A nurse in New Jersey said he was fired after speaking out publicly about the lack of proper protective gear during the pandemic.
All three nurses said they believe they are being persecuted for simply trying to protect themselves and others, and some experts agree.
"I think it's important to speak up if you see inadequate conditions for patients or yourself," said Arthur Caplan, head of the division of medical ethics at the New York University Grossman School of Medicine. "I think we would expect people to do almost as whistleblowers and get protected — not punished."
Full coverage of the coronavirus outbreak
The nurses in Los Angeles and Kentucky both said they spoke directly to managers, not publicly on social media, but were reprimanded for raising concerns. Caplan said that was simply "absurd."
"It's even more ridiculous if you're going up the chain of command," he said. "We expect people in health care to take some risk. And the reason is it's in their codes of ethics. Medicine and nursing say, 'Put the patient first, not your own interest,'" he said, referring specifically to the American Nurses Association code of ethics. "That's where it comes from. It's not legal. It's ethical.
"So if I say, 'I'm not going to work here unless you give me an N95 mask and an adequate gown and gloves, you can't make me go in there,' I think you're right," Caplan said. "You cannot be forced to take very dangerous risks."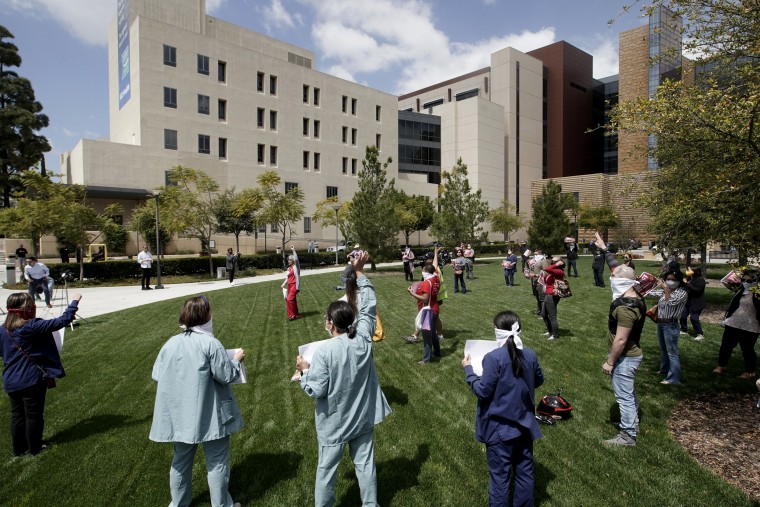 'I don't have a choice. Otherwise I won't have any income.'
In a phone interview with her attorney on the line, the nurse in Kentucky, who requested anonymity out of fear of retribution, said she has asthma and needs the protection of an N95 mask, which provides a higher level of protection than a surgical mask and has been in short supply. At the start of a shift in late March, she said, she was reprimanded for not wanting to go into a COVID-19 patient's room at Norton Women's and Children's Hospital in Louisville without an N95 mask.
"My reprimand was insubordination for not following policy," she said. "They sent me home on the spot."
Less than a week before, she said, N95 masks were in abundance on a supply cart with other personal protective equipment, or PPE, that she and her colleagues wore while treating patients battling COVID-19, the disease caused by the coronavirus.
But the hospital's policy now reserves N95 masks for certain procedures in which the virus could be airborne, such as a respiratory treatment.
Kate Eller, a spokeswoman for Norton Healthcare, denied that the nurse was subjected to any disciplinary action, saying, "We found her a position that meets her needs."
The new position she has undertaken does not involve caring for patients, however, which the nurse said has left her feeling hopeless.
"I don't have a choice. Otherwise I won't have any income," she said. Her attorney said his client was told that "if she doesn't report to this job, they will assume this is a voluntary resignation." She has not taken any formal legal action.
Norton Healthcare said it is operating under the guidance of the Centers for Disease Control and Prevention.
"Since the beginning of this pandemic, we have followed CDC guidelines regarding the use of PPE," Eller said.
The nurse is welcome to return to a clinical position, Eller said, "as long as she agrees to wear the right mask for the right task per CDC guidelines, which is not always an N95 mask."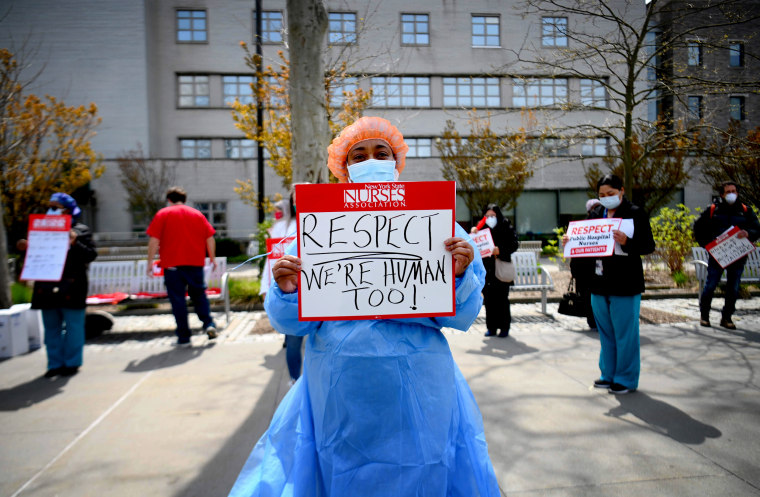 'The CDC policy is built on shortage. It's not built on proven evidence.'
The CDC's guidance is a large part of the problem, nurses and experts say.
"We know that the CDC policy is built on shortage. It's not built on proven evidence," said Caplan, who has built a career advising doctors on moral issues. "Reusing things, it's a policy that is trying to adapt to the reality of shortage. And so, to say you have to follow CDC guidelines isn't enough in a pandemic."
Caplan said that Washington and the CDC are partly to blame for inadequate numbers of tests and amounts of equipment and that he can understand why some health care workers "would be leery of trusting messages about protective gear that come from Washington."
Download the NBC News app for full coverage and alerts about the coronavirus outbreak
Dr. Ezekiel Emanuel, chairman of the Department of Medical Ethics and Health Policy at the University of Pennsylvania, said, "It's not like management has control of all the variables."
"So I think it's important to recognize that, too," Emanuel said. "You know, if you're a good manager, you say to people: 'Look, here's my situation. How are we going to handle this together?'"
Sometimes CDC guidelines aren't even met, N.J. nurse says
Adam Witt was fired from Jersey Shore University Medical Center after he said it did not have proper protective gear in a public post on his Facebook page. New Jersey has the second-highest number of coronavirus cases, behind New York.
"The CDC has continued to water down the standards of what is appropriate protection to meet supplies versus supporting the science," the post said. "Sometimes we don't even meet their reduced standards."
Witt, president of the local nurses' union, said his problems began when he learned that a nurse at the hospital had been disciplined for raising concerns about coronavirus exposure in a post in a private Facebook group. Witt said he told his manager last month that he would be taking a day off to defend the nurse at a disciplinary hearing, a customary responsibility for a union leader. "I've used a union day numerous times for exactly this type of scenario without issue in the past," Witt told NBC News.
A week later, on March 31, the hospital said he was being suspended because he took an unauthorized day off. Witt was fired after a disciplinary hearing April 6.
The hospital, where he worked in the emergency department, said he was terminated because he abandoned his shift on March 24, "not for the 'reasons' now being suggested by him or his surrogates."
"At all times — but especially during the ongoing COVID-19 crisis — his first responsibility should have been to the JSUMC patients," said Mary Jo Layton, a spokeswoman for Hackensack Meridian Health, which operates the facility. Layton said Witt gave less than 24 hours' notice when he requested off "for what amounted to a 35-minute telephone conference call."
"Under these circumstances, Adam's refusal to comply with his leaders' instructions and his refusal to report to work disregarded his responsibility to his patients," Layton said. "As a direct result, his fellow nurses and other dedicated health care workers had to shoulder an additional burden in an extremely challenging situation."
Witt said he told his managers verbally and via email that he was using a "union day" and was never denied. "They did not respond to my email, nor did they call or text me on the day they alleged I didn't show up," he said. The hospital said that Witt was advised that his request was denied because of the surge of pandemic patients in the emergency department and that he was directed to report to work as scheduled.
He is appealing his firing.
Nurses being told not to wear masks to avoid 'paranoia'
The nurse at Cedars-Sinai Medical Center in Los Angeles, who asked not to be named for fear of having her nursing license revoked, said that after she raised concerns with her bosses about potential COVID-19 exposure from patients she had treated, she asked whether she should wear an N95 mask in the hospital.
She said she was instructed not to, "as it could cause paranoia," and was told to keep the supply shortage in mind. She said that in a follow-up conversation with her managers in which she questioned whether doctors were being given priority over nurses in the distribution of protective respirators, she received a similar response as the nurse in Kentucky, who was referred to CDC guidance. When she expressed discontent with having to wear a surgical mask to treat COVID-19 patients, a protocol that has been authorized by the CDC but that has come under scrutiny, she said, she was sent home.
The nurse also said she was denied a COVID-19 test this month even after she began exhibiting symptoms.
She said: "I asked my administrator if I could get a test. And she said: 'What would change? If you got a test, how would your behavior change?' And I said, 'Well, it wouldn't, really.'" The nurse had already been self-isolating outside work.
She said her administrator responded: "'So all it would change is, if you were positive, it would prevent you from coming in to work? At this point, we presume all the nurses are positive.'"
Cedars-Sinai had also sent nurses guidance on extended use and reuse of N95 masks. In an email dated April 15, provided to NBC News by the nurse, Cedars-Sinai acknowledged that while the "reuse and extended use of PPE is a departure from previous infection control guidance," the process is safe if done properly and "has been endorsed by the CDC" and other health agencies. The email noted that the safety of health care providers was the "top priority."
But, as Caplan said, the CDC's policy is not necessarily built on proven evidence.
The CDC's website notes that "there is no way of determining the maximum possible number of safe reuses for an N95 respirator as a generic number to be applied in all cases." It says safe reuse is "affected by a number of variables."
The website also acknowledges that risks may be involved with the extended use and reuse of respirator masks.
"Although extended use and reuse of respirators have the potential benefit of conserving limited supplies of disposable N95 respirators, concerns about these practices have been raised," the website says.
Sally Stewart, a spokeswoman for Cedars-Sinai, said April 10 it is following current national and state guidelines, which "call for N95 masks to be used only in aerosol-generating procedures," such as CPR and intubation.
"We offer the same standard of protection for doctors, nurses, respiratory therapists, environmental health personnel, chaplains and other staff who work in patient areas," Stewart said.
In a statement April 17, a spokesman said the hospital currently has an adequate supply of N95 masks to make them available for staff when caring for suspected or confirmed COVID-19 patients. "To ensure that we maintain supplies amid a potential surge of patients in the weeks ahead, we are collecting N95 masks for reprocessing," the spokesman said. "However, we are not distributing reprocessed masks at this time."
The role of management and of administrators is to protect a very stressed, heroic, sometimes burnt-out workforce, Caplan said.
"If people want nurses and doctors ... and first responders to be heroic, then you've got to cut them some slack," he said.
"Remember, the CDC guideline is minimal, not the most. Can we pull this boat with the oars going in the same direction, or are we really going to have labor standoffs in the middle of a plague?"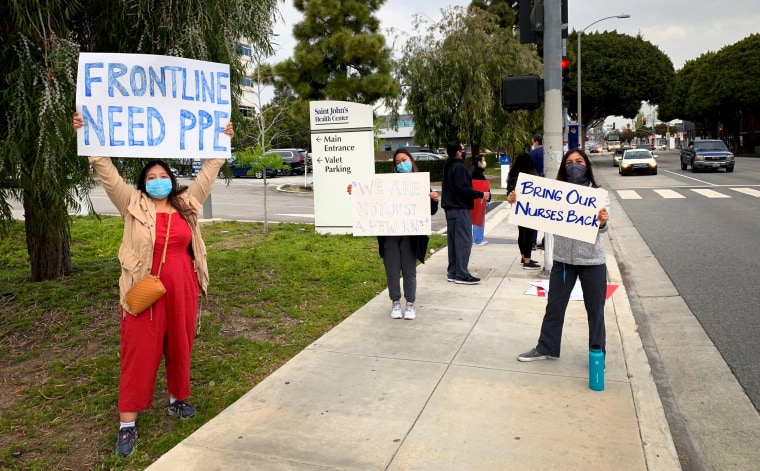 Concerns could push nurses to unionize as protests erupt
Nurses across the country have already begun organizing protests.
Nurses at DMC Sinai-Grace Hospital in Detroit staged an hourslong sit-in at the hospital this month. Salah Hadwan, a registered nurse in the emergency department at Sinai-Grace, posted a Facebook Live video on April 5 shortly before midnight. Hadwan said the nurses were eventually asked to leave. "We basically were told to leave because we refuse to accept unsafe patient loads," Hadwan said in the video.
Brian Taylor, a spokesman for the Detroit Medical Center, acknowledged in a statement that this is "a very challenging time for caregivers."
"Our doctors and nurses continue to demonstrate their commitment and dedication to our patients," he said. "We are disappointed that one evening earlier this month a very small number of nurses at Sinai Grace Hospital staged a work stoppage in the hospital refusing to care for patients. Despite this, our patients continued to receive the care they needed as other dedicated nurses stepped in to provide care."
And in California, nurses at Providence St. John's Health Center in Santa Monica held a rally Friday to protest management's putting 10 nurses on paid leave for refusing to treat COVID-19 patients without what they consider proper protective gear.
Since April 9, the hospital has suspended 10 nurses, according to the California Nurses Association, a statewide union that represents them. Hospital management announced last week that it had changed the policy and that health care workers throughout the Providence system will be issued N95 masks to wear when treating confirmed or suspected COVID-19 patients, the union said. Eight St. John's nurses have tested positive for the coronavirus, including two who worked in the hospital's COVID-19 unit, according to the union. The hospital did not return requests for comment.
Caplan predicted that as more friction arises between the workforce and management, one of the fallouts is likely to be more unionization of doctors and nurses.
"If you make people feel like they're censored or being pushed around for expressing concern, you are driving them to unionize to protect themselves," he said. "And I don't think that's what management really wants."