Four days into their occupation, the anti-government activists who took over a federal wildlife refuge in Oregon hinted on Tuesday that their days there might be numbered.
Ringleader Ammon Bundy insisted they "have a plan" to help ranchers in Harney County avoid the fate of Dwight Hammond and his son Steven, who are now in federal prison for setting fires on their ranch that spread to government land.
"We are implementing this plan," Bundy said. "We see a time coming very soon where the community will begin to participate more in that and begin to take that over so they can claim their own rights."
Bundy did not divulge any details of their "plan." But he said that when the community is "strong enough to defend" their rights "then we will go home."
But LaVoy Finicum, one the gunmen who seized the headquarters of the Malheur National Wildlife Refuge on Saturday, made it clear he wanted to get back to his Nevada ranch.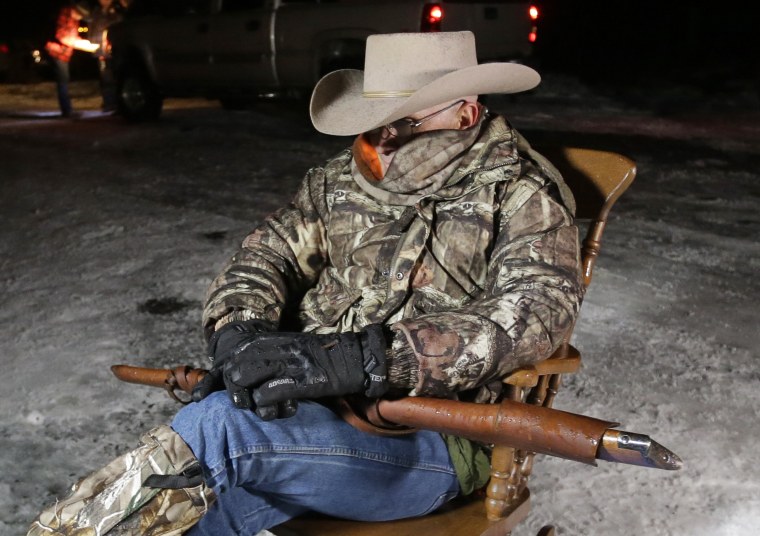 "I need to get home," he said. "I got cows that are scattered and lost."
Later Tuesday, Finicum told reporters that he believed authorities had signed arrest warrants for five people, including himself. The 54-year-old brought his rifle and made a small camp in the snow and said, "they can come serve it right here."
Ammon Bundy said members of the group heard that the FBI may move against them, but he did not say why he believed that or where he got his information. The group moved heavy equipment to a barricade Tuesday night.
"We have no information to release about arrest warrants, and we continue to work toward a peaceful solution," Beth Anne Steele, a spokesperson for the FBI's Portland office, said Tuesday night.
The Harney County Sheriff's Office also said it had no information about arrests.
Led by Ammon and Ryan Bundy — sons of Cliven Bundy, a Nevada rancher who became infamous for another standoff with the federal government in 2014 — the gunmen took over the unoccupied facility in remote Burns, Oregon in a bid to free the Hammonds and sound the alarm about what they claim is a government war against private ranchers.
Instead, the Hammonds voluntarily turned themselves in to the feds and disavowed both the Bundy brothers and their followers.
The local sheriff urged the Bundys and the others to get out of town soon "Militia Go Home" signs began being seen posted on telephone poles.
"I need to get home. I got cows that are scattered and lost."
Meanwhile, the FBI was monitoring the situation from afar and refusing to say whether it has a strategy in place for dislodging the invaders. But the feds appeared to be letting the situation play out — and letting cold and hunger work on the protesters.
Bundy began his remarks by thanking the locals for bringing them "meat" and was especially grateful to a rancher who brought them "very very good pot of soup that was very needed on a late night."
"We were very hungry," he said.