A partial power outage amid the record rain of Hilary at Los Angeles' White Memorial Hospital led to the evacuations of at least 28 "critical" patients and left nearly 250 patients in the dark, fire officials said. 
The outage was reported just after 11 p.m. Monday at the hospital's Specialty Care Center at its Boyle Heights campus. The tower houses a neonatal intensive care unit and obstetrics, gynecology and rehabilitation departments, Los Angeles Fire Capt. Cody Weireter told reporters overnight. 
A total of 241 patients were affected by the outage, 28 of whom were deemed "critical" and taken by ambulance to nearby hospitals, Fire Chief Kristin Crowley said at a news briefing Tuesday morning.
The remaining 213 noncritical patients were to be moved to another building that had power.
In a news release, the fire department said: "Firefighters are bringing them down to the ground floor, assisting ventilations as required, for transport."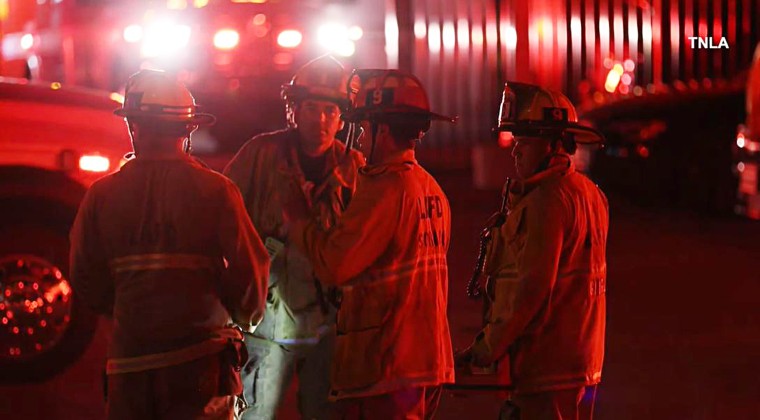 Weireter said one of the issues in responding to the partial hospital blackout was no light, meaning "zero visibility," and no working elevators. Firefighter paramedics had to assist patients down stairwells into ambulances. 
Officials said Tuesday morning that all the critical patients had been moved to other hospitals and that evacuations of noncritical patients were still underway.
John Raffoul, the president of Adventist Health White Memorial, said the main power went out around 3 a.m. Monday at the height of Tropical Storm Hilary's downpour. The historic storm hit Southern California with record rainfall.
Emergency generators immediately kicked into gear, but they failed around 1 a.m. Tuesday, Raffoul said.
A baby was born after the emergency generator went out, hospital spokesperson Grace Hauser told reporters. Doctors and hospital personnel flashed a cluster of flashlights toward the ceiling to illuminate the room during the delivery. An ambulance ultimately took the baby and the mother to another hospital for care.
The cause of the outage is under investigation, and a new emergency generator is on its way to the hospital, estimated to arrive at 9 a.m.
Overnight Tuesday, at least 2,500 customers were without power in Los Angeles County, according to PowerOutage.us. At 5:30 a.m., about 1,500 were without power.