A cache of court papers unsealed Tuesday in the Penn State sex-abuse case provides new details of allegations that legendary coach Joe Paterno and some of his assistants knew about Jerry Sandusky's inappropriate contact with young boys for many years.
Among the revelations in the documents:
A man who claims he was molested in the 1970s says he went to Paterno, who told him, "I have a football season to worry about."
A former assistant testified under oath that two ex-colleagues — Greg Schiano and Tom Bradley — were aware of Sandusky's behavior in the early 1990s.
An accuser says he was ordered to apologize to Sandusky and another Penn State official after he reported abuse 27 years ago.
The court records are part of an ongoing legal battle between Penn State and its insurance company over who is obligated to foot the bill for settlements paid out to Sandusky's victims.
The insurance company contends there were at least six times that Penn State officials were told about the abuse and did not take action.
The papers include a deposition from Mike McQueary, a former Penn State assistant who became a key witness against Sandusky, who is now serving a 30- to 60-year prison sentence.
McQueary revealed that after he witnessed abuse, he spoke with colleague Tom Bradley, who told him "another assistant coach had come to him in the early '90s about a very similar situation to mine."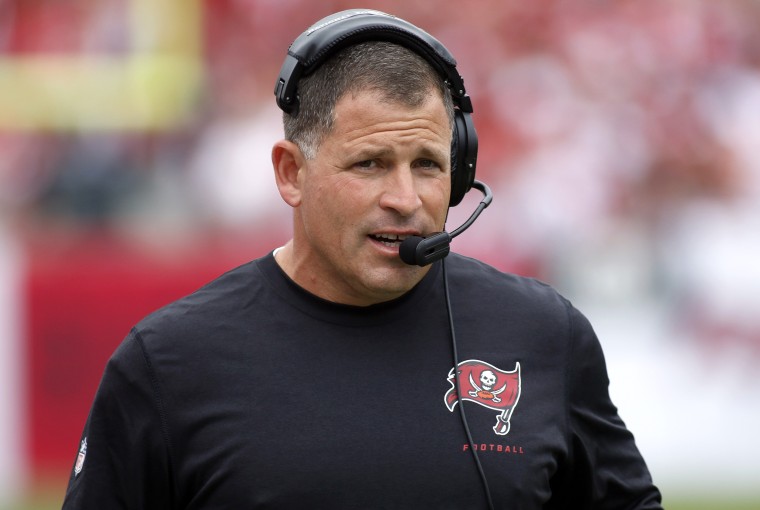 That coach was Greg Schiano, McQueary said. According to McQueary's account, Bradley told him in the early or mid 2000s that "Greg had come into his office white as a ghost and said he just saw Jerry doing something to a boy in the shower."
Bradley is now the defensive coordinator for UCLA. His attorney denied McQueary's allegation.
"At no time did Tom Bradley ever witness any inappropriate behavior. Nor did he have any knowledge of alleged incidents in the 80's and 90's," lawyer Brett Senior said. "He has consistently testified as such. Any assertions to the contrary are false. When he became aware of the 2001 incident it had already been reported to the University administration years earlier."
Schiano, who went on to coach in the NFL, is now defensive coordinator and associate head coach for Ohio State.
"In response to media reports from earlier today: I never saw any abuse, nor had reason to suspect any abuse, during my time at Penn State," he said via Twitter.
RELATED: Sandusky Case Bombshell: Did 6 Coaches Witness Abuse?
McQueary has previously said that after he saw Sandusky abusing a boy in the locker room in 2001, he told Paterno.
But the new court papers include an allegation that Paterno was aware much long than that — and gave the alleged victim the brush-off.
The man, identified only as John Doe 150, said in a 2014 deposition that Sandusky molested him in a shower with a half-dozen other boys present.
The next day he went to speak to Paterno, who invited him to walk with him to a meeting, and he told him what Sandusky had done.
"Is it accurate that Coach Paterno quickly said to you, I don't want to hear about any of that stuff, I have a football season to worry about?" an attorney asked John Doe 150.
"Specifically. Yes," he replied.
"What was your reaction when he said that to you?" the lawyer asked.
"I was shocked, disappointed, offended," John Doe 150 said. "I said, is that all you're going to do? You're not going to do anything else?"
He said Paterno "just walked away" from him and never responded. They never spoke about it again.
The family of Paterno, who died in 2012 at the height of the scandal, denied that he knew about Sandusky's abuse decades ago and did nothing.
"The materials released today relating to Joe Paterno allege a conversation that occurred decades ago where all parties except the accuser are now dead," they said in a statement released by their attorney.
"In addition, there are numerous specific elements of the accusations that defy all logic and have never been subjected to even the most basic objective examination. Most significantly, there is extensive evidence that stands in stark contrast to this claim."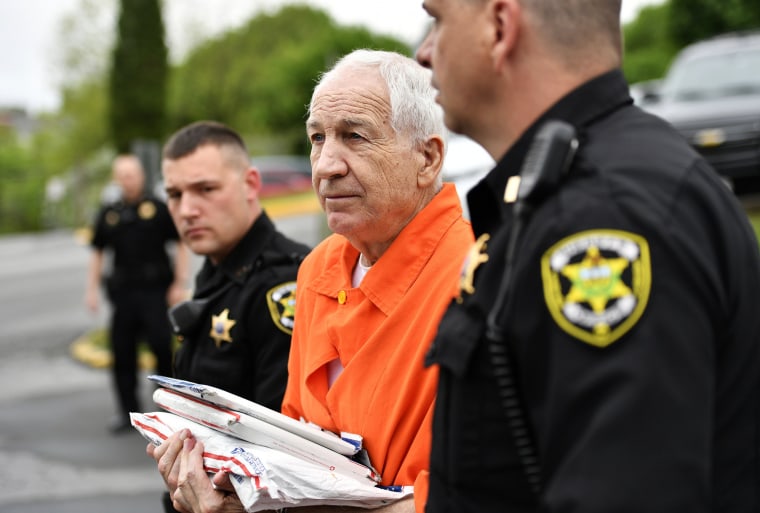 The newly unsealed papers also include excerpts of a 2014 deposition of a man identified as John Doe 102 regarding alleged abuse that occurred 27 years earlier.
He said that after he was abused by Sandusky at age 16 he reported it to the director of the "Nittany House," a group home, and others.
"I got the impression he [the director] thought I was lying to him and just wasting his time; and then at some point they stopped questioning me and talked among themselves," John Doe 102 said.
He said he witnessed Sandusky and a man he believes was former Penn State athletic director Jim Tarman leaving Nittany House several hours later.
"I was told that I would write them a letter of apology," he testified, adding that he was threatened with being kicked out of the house.
In the deposition, he said that he bolted from the house — "I just had to get the hell out of there" — and that no one from the house, Penn State or child-welfare authorities ever followed up about his allegation.
Tarman suffers from dementia and could not comment, but a family spokeswoman said the claim that he went to Nittany House was "unsubstantiated."
"Ignoring allegations of child sexual abuse would be entirely inconsistent with the man the family knew," the spokeswoman said in a statement. "Throughout his career, Mr. Tarman was widely regarded as a highly principled person who could be counted on to do the right thing."
Penn State President Eric Barron said the university would not comment on the new documents.
"Although settlements have been reached, it also is important to reiterate that the alleged knowledge of former Penn State employees is not proven, and should not be treated as such," he said. "Some individuals deny the claims, and others are unable to defend themselves."