An ominous sight has appeared in downtown Phoenix, where temperatures Wednesday were expected to top 110 degrees for a 27th straight day — refrigerated containers capable of holding bodies.
Ten of the 8-by-20-foot coolers were trucked in this week to a parking lot near the office of the Maricopa County medical examiner, a county official confirmed.
"While we typically see a surge in intakes in July, this year has been worse than prior years," said Jason Berry, a Maricopa County spokesman.
The M.E.'s office has what Berry called "standard capacity," which means room to store 224 bodies. And it has "surge capacity," which means extra space can be carved out to hold up to 358 bodies, he said.
"Right now we're between standard capacity and surge capacity, so we thought it would be prudent to bring in the refrigerated containers as a precaution," Berry said.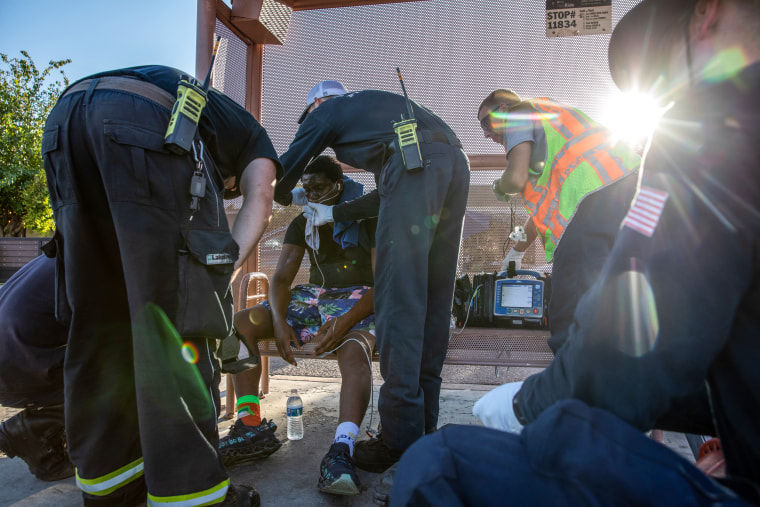 No bodies are being stored in those containers now, Berry said.
The M.E.'s office has recorded 25 "heat-associated deaths" this year, and 249 are still under investigation.
Five of the victims were people whose bodies were found inside residences with air conditioners that either weren't working or weren't turned on, the M.E.'s report shows. The rest succumbed to the blistering heat while outside.
The vast majority were ages 50 and older, the M.E.'s office said — 32% were 75 and older.
Asked who they were, Berry said that "the deceased who are brought into the medical examiner's office are typically people whose deaths are considered suspicious or who die under unique circumstances, like heat-related deaths."
A number of those "were likely people who experienced homelessness," Berry said. "I have also heard anecdotally about hikers who went out hiking without being fully prepared for high heat."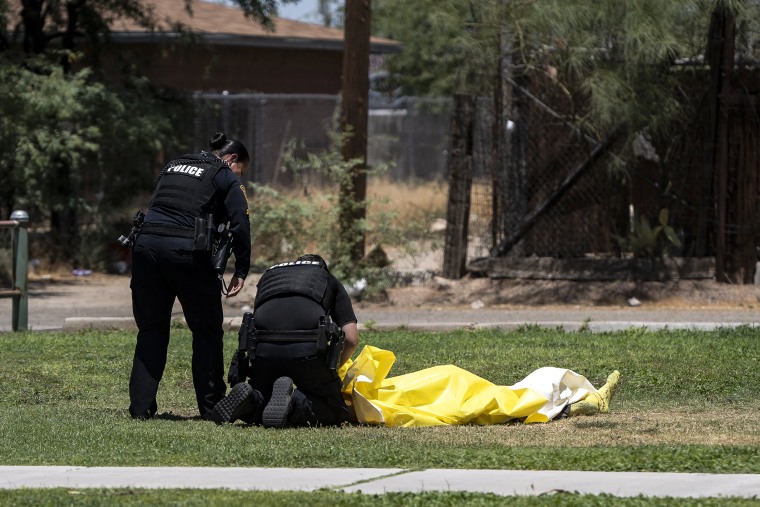 Last year at this time, the M.E. had recorded 38 confirmed heat-related deaths. But the first was reported in March 2022, a whole month before the first such death was recorded this year, according to the M.E.'s report.
It isn't the first time the M.E.'s office has leased refrigerated containers, Berry said. When Covid was surging through Phoenix last summer, 10 of the units were brought in to store the bodies of pandemic victims.
The fiberglass containers were leased from Polar Leasing, an Indiana-based company with affiliates across the country. It didn't immediately reply to a request for comment.
There's no relief for Phoenix from the 100-plus temperatures, according to the latest seven-day forecast from the National Weather Service.
"Phoenix may get a break this upcoming Monday," NBC News meteorologist Kathryn Prociv wrote in an email. "We've been tracking their streak of days 110+ as the heatwave benchmark, but the forecast on Monday is to dip below that threshold which would snap their ongoing heatwave by current standards."
There's also, according to the NWS, a 50% chance that residents could get something this weekend that they haven't seen in months — rain.