The lights began going out Saturday night for thousands of Californians in what is expected to be the largest precautionary blackout in state history.
"We have begun implementing the public safety power shutoff for approximately 940,000 customers across 36 counties," Mark Quinlan, an incident commander for the state's largest utility, Pacific Gas & Electric, said at an early evening news conference.
The outages, expected to affect more than 2 million people, were spurred by a forecast of dry, offshore winds that create high fire danger. The National Weather Service's Storm Prediction Center said Saturday that "extreme" and "critical" winds overnight would whip across areas inhabited by more than 11 million Californians.
More people were ordered to evacuate in Northern California on Saturday night in the face of an ongoing blaze in wine country.
The now-26,000-acre Kincade Fire in Sonoma County continued to roar with only 11 percent containment, prompting an expansion of evacuation orders for more than 89,000 residents, according to the California Department of Forestry and Fire Protection. Seventy-seven structures, including 31 homes, have been destroyed so far.
The winds that rush down mountain ranges toward the sea would compose the second major fire weather event in a week. PG&E meteorologist Scott Strenfel said at the utility's news conference that "significant damage" to the utility's infrastructure was expected overnight.
"Wind storm" is a fair descriptor of the fire weather, said a spokesperson for utility giant PG&E and a National Weather Service meteorologist.
Download the NBC News app for breaking news
Gusts of up to 90 mph, which would be hurricane-level, were possible in the North Bay mountains, the meteorologist, Steve Anderson, said.
He also expressed alarm at the expected duration of the event — more than 24 hours.
"The winds will be extremely high in the fire zones," he said. "It's a very long-duration event."
Pacific Gas & Electric spokeswoman Tamar Sarkissian said that although the utility doesn't track average customers per account, using common metrics, the phased outages, could affect well over 2 million people.
The number of people in the dark is likely to outnumber the previous record, when fire weather prompted PG&E to cut power to 738,000 customers on Oct. 10, she said.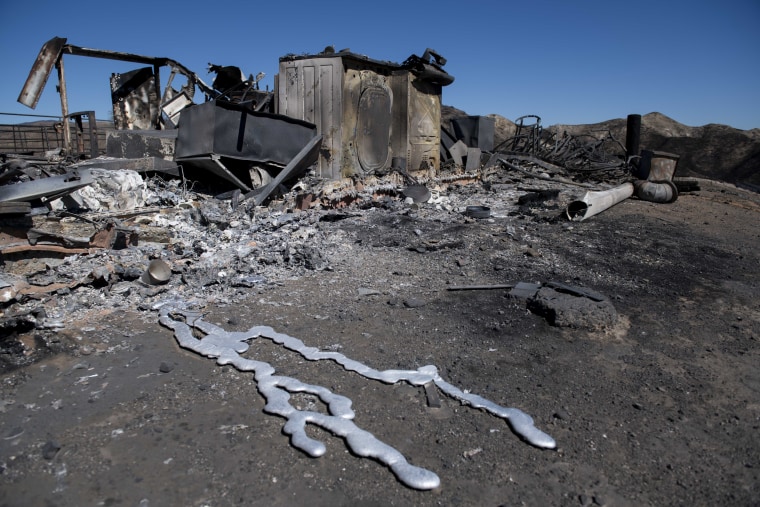 The week's fire weather impacted the entire state and even Baja California, south of the U.S. border, but Southern California was expected this weekend to see onshore winds, higher humidity, temperatures that are 10 degrees cooler, and a return to a cool marine layer of clouds, said National Weather Service meteorologist Keily Delerme.
Southern California's largest blaze, the 4,600-acre Tick fire in northern Los Angeles County, was 55 percent contained Saturday, according to the California Department of Forestry and Fire Protection.
Los Angeles Sheriff's Department officials said human remains were found Saturday in the fire's burn zone in the city of Santa Clarita. "It appears that the remains are at least a year old, and the individual did not die as a result of the Tick Fire," Deputy Morgan Arteaga said in a statement Saturday evening.
Fire weather could return to Southern California late Sunday and then again Wednesday through Friday, the National Weather Service said.
The planned power outages have been slammed by Gov. Gavin Newsom, who said Friday that PG&E has failed over the years to take steps to guard against its power lines sparking wildfires.
Newsom said the utility has shown "a lack of intentionality and focus on hardening their grid, undergrounding their transmission lines. They simply did not do their job."
PG&E began the preventative outages June 7 as a response to its alleged culpability in past blazes, including the deadliest wildfire in state history, last year's Camp Fire, which state fire officials said was sparked by PG&E transmission lines.
On Friday, PG&E CEO Bill Johnson acknowledged that the origin of the ongoing Kincade fire in Sonoma County was near one of the utility's transmission towers, which malfunctioned around the same time the blaze started.
He said there was "a broken jumper on one of our transmission towers" but that state investigators have not yet determined the fire's cause.
The tower was not part of the last round of pre-emptive power outages, Johnson said.
PG&E's phased outages were expected in the following counties: Amador, Butte, Colusa, El Dorado, Glenn, Nevada, Placer, Plumas, San Joaquin, Sierra, Siskiyou, Shasta, Tehama, Yuba, Lake, Marin, Mendocino, Napa, Solano, Sonoma, Yolo, Alameda, Contra Costa, Monterey, San Benito, San Mateo, Santa Clara, Santa Cruz, Stanislaus, Alpine, Calaveras, Mariposa, Tuolumne, Humboldt, Trinity and Kern.