Remains found last week have been identified as those of a missing 4-year-old Oklahoma girl, authorities said Thursday.
The Oklahoma State Bureau of Investigation had initially been unable to confirm the remains, found Jan. 17 in rural Grady County, were those of Athena Brownfield and said a medical examiner would make the identification.
The bureau said Thursday that the Oklahoma Office of the Chief Medical Examiner positively identified the remains as Athena's.
The bureau didn't provide any additional comment, citing a gag order filed in Caddo County District Court that prohibits law enforcement agencies from making public comments about the investigation.
Authorities and volunteers had been searching for Athena since Jan. 10, when a postal worker spotted her 5-year-old sister alone near the girls' home in Cyril, the state bureau said. At that point they realized another child was missing, agency spokesperson Brook Arbeitman said.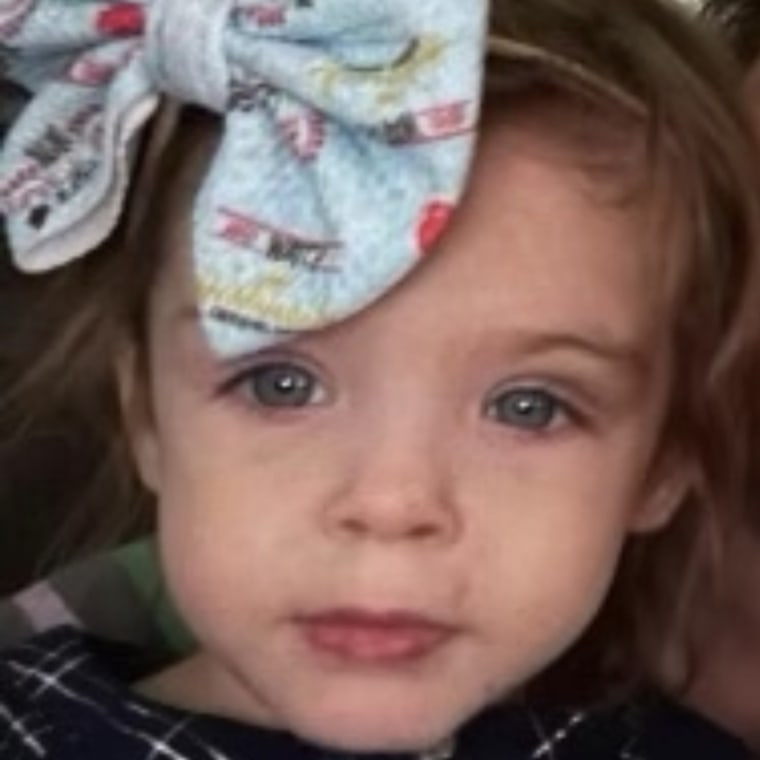 On Jan. 16, investigators said their search had shifted to a "recovery operation" to find her remains.
The remains were found outside Rush Springs, about 16 miles southeast of Cyril, in neighboring Caddo County, the state bureau said. Authorities haven't released additional details about where and how they were found.
Ivon Adams and his wife, Alysia Adams, were arrested Jan. 12 in connection with the case.
Ivon Adams, 36, was arrested in Phoenix and faces one count of first-degree murder and one count of child neglect, the state bureau has said.
Alysia Adams, 31, was arrested at the Grady County Sheriff's Office and faces two counts of child neglect. She is being held in the Caddo County Jail, officials said.
Ivon Adams waived extradition and is in jail in Oklahoma, according to online court and jail records and NBC affiliate KFOR of Oklahoma City. Attorneys listed for both did not immediately respond to requests for comment Thursday evening.
According to arrest affidavits for the pair, Alysia Adams told a state bureau special agent her husband beat Athena to death on Christmas. She said he told her he buried her body near their old residence in Rush Springs, the affidavit said.
The State Bureau of Investigation has said that Alysia Adams is related to the two girls and that the sisters had been in her care for at least a year.
Athena's sister was placed into state protective custody, Arbeitman said.
Agents have interviewed the girls' biological parents, and they are cooperating with the investigation, the state bureau said.
After her 5-year-old sister was found, authorities launched a widespread search for Athena, who was described as having limited verbal skills.
The search expanded to neighboring Grady County, and officials had searched ponds and other bodies of water in the area, according to KFOR.
Cyril is a town about 65 miles southwest of Oklahoma City in Caddo County.