Secretary of State Rex Tillerson, the former ExxonMobil CEO, has recused himself from any deliberations involving the Keystone XL oil pipeline from Canada to the Gulf Coast, the State Department confirmed.
Energy company TransCanada requested a permit last month to move forward with construction of the estimated $8 billion, 1,179-mile pipeline to transport crude oil from heavy tar sands in Alberta to refineries in the U.S.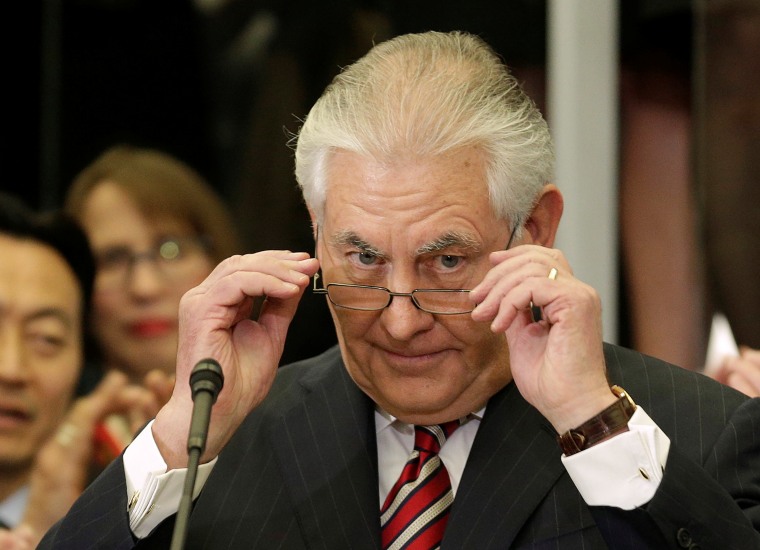 Acting State Department spokesperson Mark Toner said Tillerson made the decision to recuse himself in early February. "He has not worked on that matter at the Department of State, and will play no role in the deliberations or ultimate resolution of TransCanada's application," Toner said.
Toner did not say why Tillerson, a former oil company executive, had recused himself.
The State Department announced the decision in the wake of a letter to the department and the Office of Government Ethics this week from environmental advocacy group Greenpeace, demanding Tillerson's recusal.
President Donald Trump in January ordered the secretary of state to "reach a final permitting determination" within 60 days of TransCanada's request, which came on Feb. 10.
"Secretary Tillerson's recent employer, ExxonMobil, is heavily invested in producing crude oil from Canada's tar sands and would directly and predictably benefit from the approval of TransCanada's Presidential Permit," Greenpeace said in the letter.
Former President Barack Obama's administration rejected the Keystone XL pipeline in November 2015, saying the project "would not serve the interests of the United States."