Ten thousand feet in the air, in the majestic Sierra Nevada mountains, California's huge drought crisis can be measured in inches with a hollow tube.
Frank Gehrke, chief of snow surveys for the California Department of Resources, drives the pole into the snow and retrieves a sample that is used to measure the water content.
Normally, he'd find 26 inches of water content in the snow pack. This year, it's only 4 inches — and that's a big problem for those who depend on the snow melt for their H2O.
"It's the worst year on record," Gehrke told NBC News on an expedition to the range that functions as nature's ice box.
On the way up to Tioga Pass, the road is dotted with orange markers that are supposed to show how much snow has fallen. In one part of the Sierra, there was nothing to measure.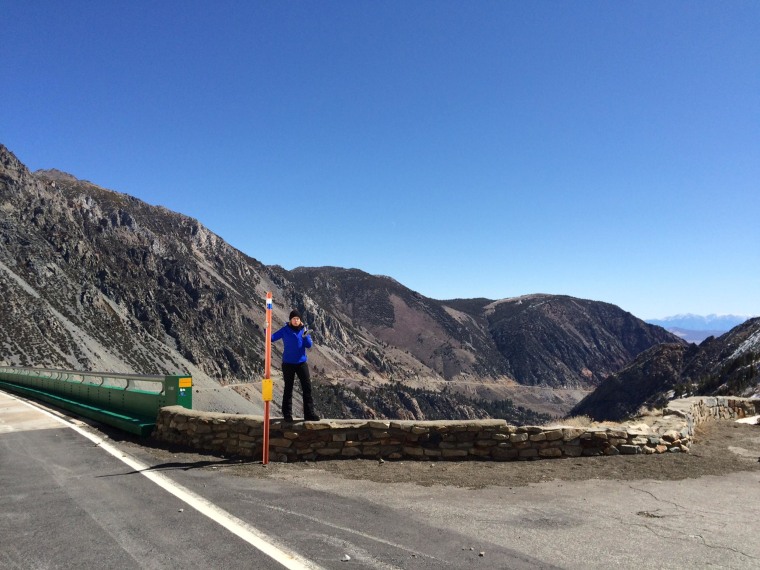 Gehrke's team aren't the only ones keeping a close watch on the pass, the point at which water from the melting snow is sent in two directions, to the Bay Area and Southern California.
NASA is using cutting-edge technology — an airborne snow observatory equipped with lasers — to measure the snow depth.
Tom Painter, the lead investigator for the observatory, says NASA's equipment doesn't just gauge how much snow is up there. A spectrometer also looks for "reflectivity" — how much sunlight it absorbs.
"The reason we need to know that is that the absorption of sunlight is what controls the timing of the snow melt," Painter said.
"The timing of that and knowing how much is going to come out is absolutely critical to the operation of those reservoirs — to meeting the water users' needs and also making sure that you can capture the water you need to generate electricity."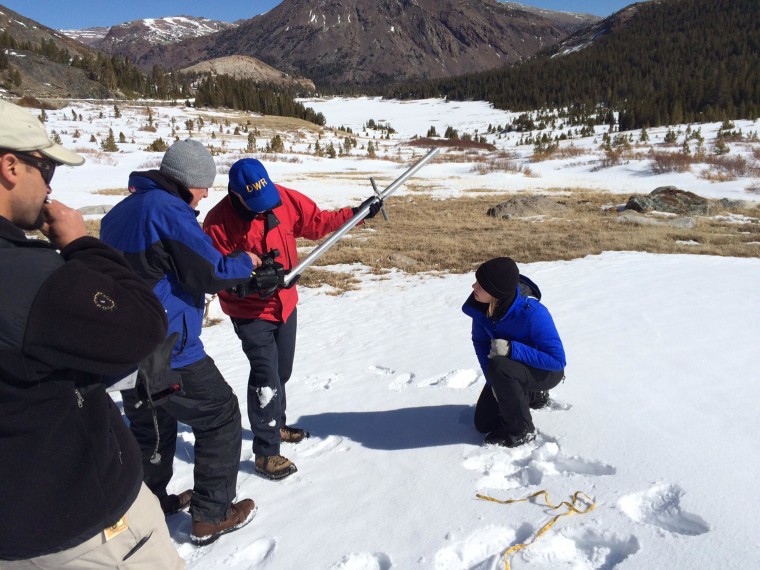 But Painter doesn't need any fancy equipment to see the problem on a small mountain in the distance that is normally covered in snow.
"During graduate school, I lived over at the Sierra Nevada Aquatic Research Lab and in April, I would ski up to the top of the mountain and ski off every afternoon," he said.
Now, it's just dirt.
"We've been in a really, really intense drought and it's also been really warm," he said. "The combination of that is really tough on the water resource."
Many of the seasonal storms that make up half of California's annual precipitation have either gone too far north or stayed off shore this year, said Marty Ralph, a research meteorologist with the National Oceanic and Atmospheric Administration.
And the stingy snow pack is only worsening the crisis.
"The snow accumulates in the winter normally and acts as a natural reservoir that then melts in the spring and fills the the physical reservoirs," Ralph said. "So without that snow pack, it's really hard for the reservoirs and water supply to be available during the very dry part of the summer."
PHOTOS: More Dirt Than Snow for California Skiers During Historic Drought