The suspect accused of killing Ivy League student Blaze Bernstein returned to the park where the 19-year-old's body was found, prosecutors said on Wednesday.
Samuel Woodward, 20, was under surveillance after Bernstein, who was home in California on break from University of Pennsylvania, was reported missing on Jan. 3, Orange County District Attorney Tony Rackauckas said during a press conference.
While he was under surveillance, Woodward was seen cleaning out his vehicle and later returning to the crime scene, Rackauckas said. Woodward also had abrasions and cuts on his hands when he was taken into custody. The exact time and place of the murder is still under investigation, Rackauckas said.
Rackauckas added that prosecutors had "absolutely not" ruled out the possibility that Bernstein's death was the result of a hate crime but gave no indication that was the case.
Related: Body of missing UPenn student Blaze Bernstein found in California park
A day earlier, Bernstein's parents, Jeanne and Gideon Bernstein, said in a statement that their son had "nothing to hide" and that they "stood in solidarity" with their "son and the LGBTQ community."
"There is still much discovery to be done and if it is determined that this was a hate crime, we will cry not only for our son, but for LGBTQ people everywhere that live in fear or who have been victims of [a] hate crime," the statement read.
The Bernsteins in an interview with Today's Natalie Morales set to air Thursday praised law enforcement and said they trust the investigation will be thorough and they want the suspected killer to get a fair trial.
"They are going to be very thorough," Jeanne Bernstein said of law enforcement. "They are going to be very fair, and that's what we want."
The Orange County Sheriff's Department announced that it had found Bernstein's body on Jan. 10 during a search of Borrego Park in Southern California.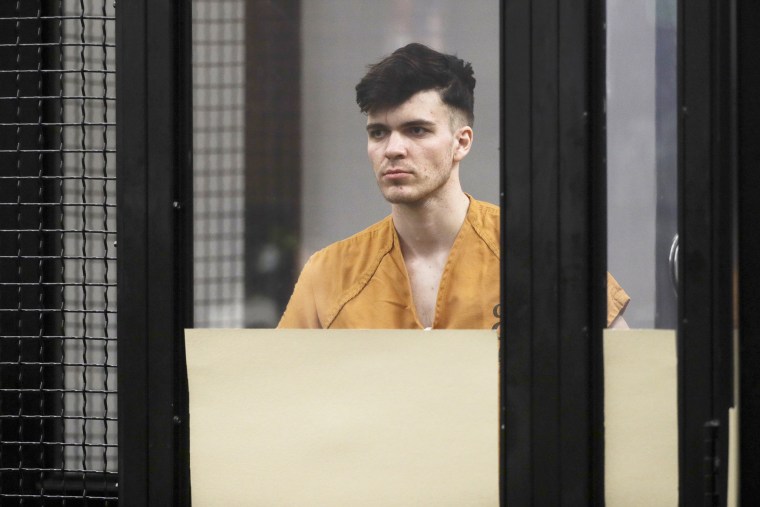 Woodward, of Newport Beach, Calif., was later arrested as a suspect in the murder.
During Wednesday's press conference, Rackauckas confirmed that Woodward had been charged with one count of felony murder with a sentence enhancement for using a knife.
He declined to elaborate on Woodward's motive or if the 20-year-old had confessed. He said the two went to the same high school in California, but had not been friends at the time.
Woodward communicated with Blaze through Snapchat on Jan. 2, and picked him up at his parents' home, the prosecutor's office said. Rackauckas said in a statement that the case was solved "through old-fashioned detective work and surveillance, as well as sophisticated examination of digital, physical, and DNA evidence."
Although Rackauckas would not elaborate on the motive, The Orange County Register reported on Tuesday that a search warrant affidavit described Woodward as saying Bernstein had kissed him on the lips after Woodward picked Bernstein up on the night of Jan. 2. Investigators said that Woodward recalled the moment, clenching his jaw and fists, saying he wanted Bernstein to "get off him."
Woodward told investigators he pushed Bernstein away and wanted to call him a "f----t," The Orange County Register reported of the 16-page affidavit.
The affidavit has since been sealed and NBC News has not been able to verify the reports.
Woodward is being held in Orange County jail without bail. He appeared in court Wednesday and an arraignment was continued until February.
Jeanne and Gideon Bernstein recalled their son as a "renaissance man" who was helpful and was finding his own way in life. They marveled at the support they've received, which included people calling asking how they can help and celebrities including NBA great Kobe Bryant who posted on social media in an effort to find the young man when he was missing.
The large turnout at a memorial service "meant a lot to me," Jeanne Bernstein said in the "Today" interview. "It reminds me that — that people are good. And people really do care about each other."
The hashtag #DoGoodForBlaze encourages people to help one another in their son's memory.
One person bought coffee for everyone for an afternoon at a Starbucks, others have helped the homeless, and one person emailed to say they want to start a scholarship program in Blaze's name and honor, Gideon Bernstein said.
"So to me, that's been the inspiration, is the story and trying to turn this into something that could be magical," he said.
Jeanne Bernstein echoed those sentiments. "They should do good for each other, because Blaze isn't here anymore. But we all are."
"And so it's a choice now to fix the world, and not waste time on anything else, worrying about things that we can't fix, worrying about things that happen that cause us so much pain," she said. "So, we choose to focus on what we can do for our future. We want to look at the future now, not — not at the things in the past that we can't change."