A Michigan woman accused of gunning down her husband appeared in court Friday, but the only witness to the alleged crime remained behind bars.
A bird cage, to be exact.
The case of Glenna Duram made national news last year when it was revealed that her parrot Bud was the sole witness of the fatal shooting of her 45-year-old husband Martin on May 12, 2015. And remains to be seen if he will sing like a canary during the trial.
"Don't f---ing shoot," Bud could be heard on a video that family members recorded several weeks after the killing — and in which they insisted he was mimicking the couple as they were arguing.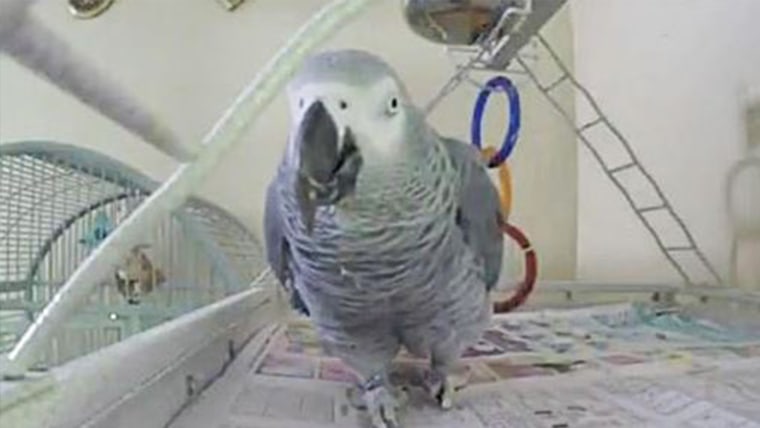 "That bird picks up anything and everything," the victim's mother, Lillian Duram, told Today in June. "He's got the filthiest mouth around."
Duram, who survived what prosecutors believe was a self-inflicted gunshot wound to the head, is charged with first-degree murder.
Witnesses took the stand as Duram heard evidence against her at the preliminary hearing Friday. One witness said the state of the house suggested a struggle, NBC affiliate WOOD in Grand Rapids reported.
The local prosecutor previously told the station that he has not ruled out putting the African Grey parrot on the stand.
But Bud's current owner told the station the prosecutor believes he has enough evidence against Duram to convict her and won't need to make the caged bird sing.
Still, if the prosecutor puts Bud on the stand — the legal feathers could fly.
"This is unusual," NBC analyst Lisa Bloom said earlier on Today. "We don't often have an animal being called to come in and testify as an eyewitness to a murder."
Duram was her husband's second wife and police said the marriage was strained by financial and gambling problems.
Police, earlier, said Duram left several suicide notes. She denied writing them and is being held without bond at the Newaygo County Jail.