An anxious witness called to alert Texas police that a driver was swerving recklessly through traffic Wednesday before the pickup truck plowed head-on into a passenger bus, killing 13 church members, recordings of 911 calls revealed Friday.
"I don't know if he's drunk or what the deal is, but somebody needs to stop him, check him," a driver named Jody told an emergency operator just after noon. Over the course of a two-minute call, the worried driver told the operator at least three times that someone needed to intervene immediately. "Call somebody quick," he urged, "before he hits somebody." The operator said she would send a deputy to the area.
Less than 20 minutes later, a driver later identified as Jack Dillon Young, 20, crossed the center line and plowed into a church bus, according to accounts by Texas authorities. Only Young and one of the 14 people on the bus survived. The crash is still under investigation.
Young was still trapped in the cab of his Dodge pickup when he reportedly told a witness that he had been on his phone, texting, at the time of the crash, the Houston Chronicle reported Friday. A federal investigator Friday did not confirm whether texting played a role.
"He said, 'I'm sorry, I'm sorry. I was texting on my phone,'" the witness said, according to the newspaper.
The witness, Jody Kuchler, later told NBC News that the truck swerved into the oncoming lane and the bus tried to move out of the way, going over the white line toward the guardrail, but was unable to move out of the way any further and they collided.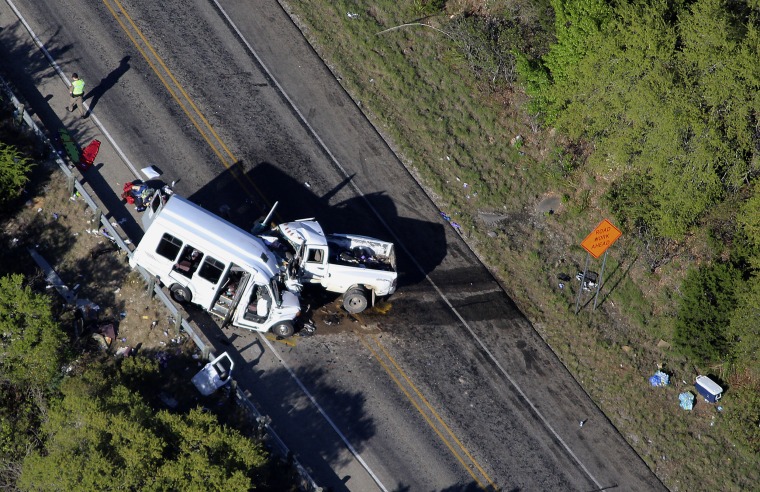 The National Transportation Safety Board declined to comment Friday on the reports that Young was distracted at the time of the crash or to speculate on other possible factors.
Jennifer Morrison, investigator in charge for the NTSB, said during an afternoon press conference that preliminary indications were that "most, if not all" of the elderly passengers of the church van were wearing their seat belts at the time of the wreck.
The alarmed caller reported being on Highway 83 driving toward the town of Uvalde when he saw the white pickup "all over the road." He added: "He's almost in the oncoming traffic awhile ago."
Another caller who contacted 911 after the crash said the wreck was serious. "They need a 911 ambulance," the man said, "if any of these people are still alive."