FORT WORTH, Texas — Rodeo owner Mike Vergari ticks off his grandkids' injuries like top grades on a report card.
The 13-year-old boy's had a broken foot, elbow and wrist — and a severe concussion, to boot. And the 6-year-old girl busted an arm when the sheep she was riding slipped on some wet ground and flew into a fence.
"It's not a matter of when you get hurt. It's a matter of how bad you get hurt," Vergari, founder of the Texas Youth Bull Riders, told NBC News.
"Every kid knows that when he gets on that animal, there's always that chance that something bad could happen. Do we want it to happen? No, definitely not. We take all the precautions that we can against it."
Despite those precautions — a state law requires helmets with face cages to prevent split skulls and broken teeth, and Kevlar vests to protect young torsos from the hooves of 1,500-pound beasts — the sport can be perilous.
University of Calgary researchers found that catastrophic injury or death at rodeos among all ages doubled in the last three years of a 20-year study.
Of 18 recorded bull-riding deaths over the last two decades, seven were minors, and in 11 cases, the victims were wearing protective vests. Bulls are getting bigger and stronger, and sometimes animals bred for the professional circuit can wind up in the junior mix.
The rodeo kids accept the risks and the pain as a trade-off for the thrill of competition and the buckles and cash prizes they can win. Their parents say it's up to the children if they want to ride and note that they easily could get hurt playing football or zipping around on a skateboard.
"We laugh about it because Lance has not really had any broken bones or anything, until his first year in baseball last year," Deanna Laura said of her 10-year-old son. "His first game of the season he slid into second and broke his arm."
Earlier, her 7-year-old daughter Jadeyn was bucked off a calf after about five seconds and rolled under the animal.
"She was pretty tough about it," Laura said. "It stepped on her stomach a little. But she was good after a Snickers bar."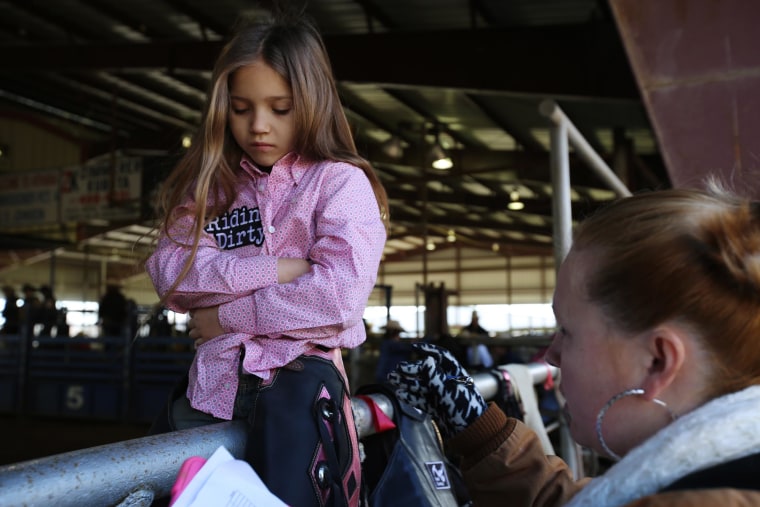 Youth rodeo attracts children as young as four, who start out as sheep-riding mutton-busters before graduating to calves and mini-bulls. They idolize veterans like Austen Malone, a 17-year-old who won the world championships in 2013 and wants to turn pro.
"It's what I've dreamed of. Pretty much what every kid dreams of growing up," Austen said. "If I could get on five, six bulls every day, I'd be in heaven pretty much."
Austen has broken his arms, legs and collarbone. After one ride, his ankle was fractured so badly, his foot was pointing the wrong way. He has dislocated his neck twice and had several concussions.
"I covered my bull but I had a really bad get-off," he said. "And I came off the side of him and I went down on my stomach and he actually fell on top of me and collapsed my lungs."
The teen spent two weeks in the hospital but proudly notes he's "still standing here today." In fact, the day he spoke to NBC News, he'd just gotten out of a cervical collar and ended the competition with three dislocated toes.
Paramedic Vicki Turner, who works for Phoenix Medical Services and has been working rodeos for 37 years, said a few misplaced toes is the least of what she's treated.
"Really, really bad head injuries or abdominal injuries or the large major bones, like the femurs and stuff like that," she said.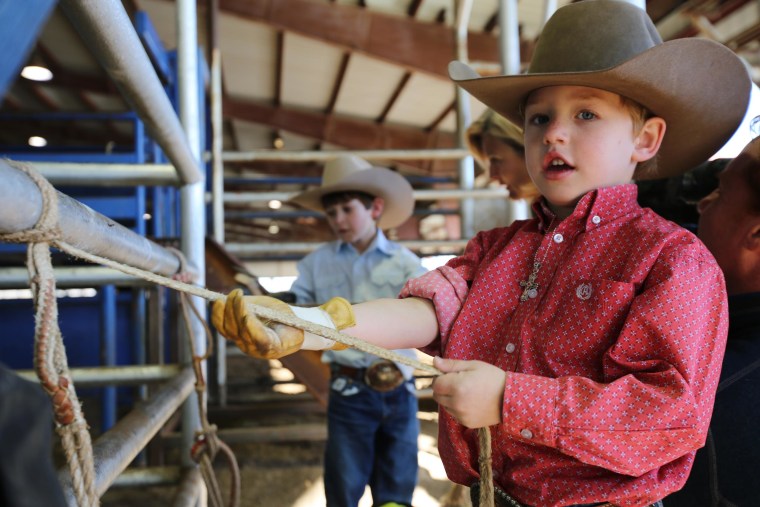 The biggest danger comes after a rider has been bucked off, when the calf or bull can trample them before a bullfighter can intervene.
"The ground doesn't give much," Turner said. "And with all that weight coming down on top of you, it gets pretty ugly sometimes."
The injuries she sees these days are less severe than the ones she treated before Texas passed a law — championed by Vergari — mandating protective gear.
The Texas Youth Bull Riders haven't had any fatalities, but vests and helmets can't always save a life. In 2009, 12-year-old Wayde Hamar died minutes after being bucked off and trampled at a Colorado rodeo. Two years later in Florida, 16-year-old Brooke Coats was kicked in the side and died.
"Some of them — they're more dangerous than they look," 7-year-old Ryder Rutledge, who's still riding calves, said of the bulls.
"I won, like, three trophies," he boasted. "I won money, belt buckles, everything."
His dad, bull rider Cody Bunn, said Ryder gets to make the call on whether he wants to continue.
"I'm gonna let him do whatever he wants. You know, if he wants to ride, that's fine. If he don't wanna ride, we'll go play baseball," Bunn said.
Jake Seymour, whose son W.K. is Ryder's best friend, said the bumps and bruises and broken bones are the price of important life lessons.
"It teaches him all kinds of good stuff — hard work, determination. These kids at six understand that it't not like T-ball. Not everybody gets a trophy...You gotta get out there and hustle and work hard if you're gonna get anything out of it," he said.
"There's kids that get hurt and killed, you know, playing motocross or playing football," he added. "Accidents happen. Maybe more so in my sport, maybe not. But this kid's doing what he loves. And there's no way that I could be able to look him in the eye and tell him, 'No, we're not gonna rodeo any more.'"
NBC News' Aliza Nadi contributed to this report.