Getting to Grandma's house for the Thanksgiving feast could be tricky for many Americans this year.
Snow is in the forecast for the Upper Peninsula of Michigan and northern New York state, parts of Vermont, New Hampshire and Maine, and some sections of the Rocky Mountains, the National Weather Service reported Wednesday.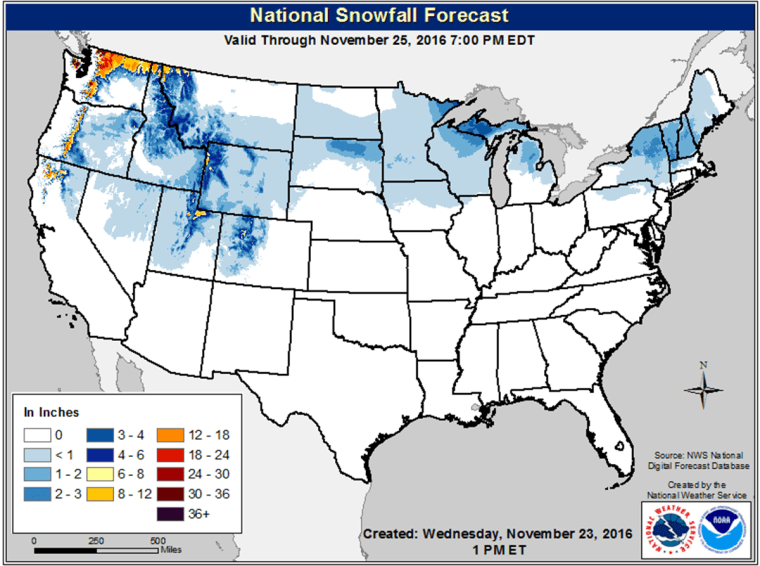 And while the accumulations are likely to be light — a few inches at most — the combination of snow and freezing rain could make roads treacherous in the affected areas, NWS meteorologist Andrew Orrison told NBC News.
But a blizzard it's not likely to be.
"It should be pretty light," Orrison said. "It's nothing like what they had."
"They" being the folks in the Northeast who got buried Monday with as much as 2 feet of snow.
"Upstate New York hit the jackpot," Orrison said.
Tug Hill, which is about 90 miles north of Syracuse, got slammed with more than 50 inches of snow.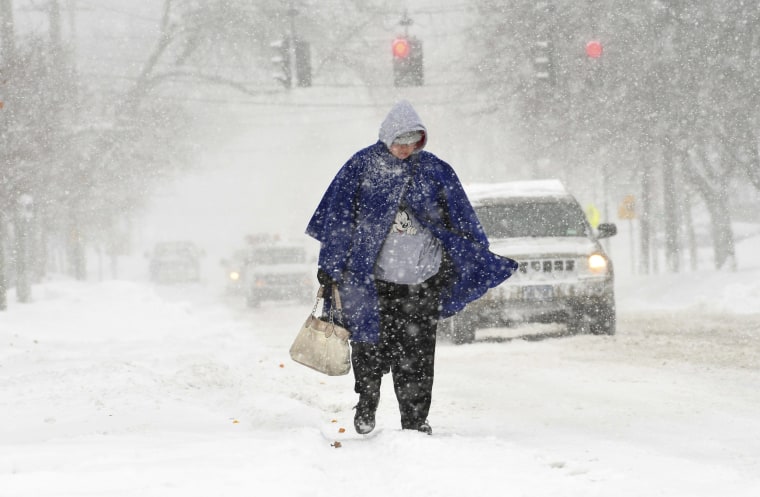 "This snow is not going to be a repeat of that," Orrison said.
The balmiest corner of the country will be the Southeast, where temperatures are expected to be 5 to 10 degrees above normal in Florida, Georgia, Alabama and the Carolinas.
Meanwhile, the forecast high for Palm Beach, Florida, is 80 degrees when President-elect Donald Trump and his family sit down to carve up the turkey there.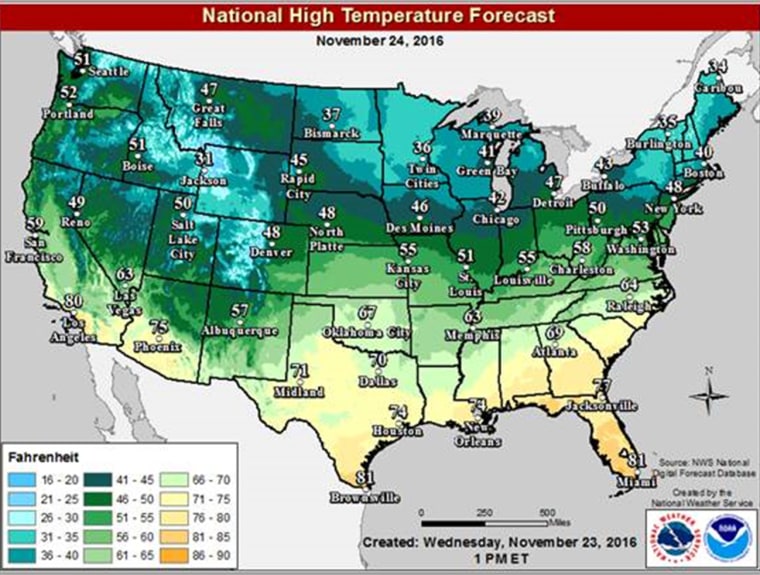 More than 48 million Americans are expected to travel 50 miles or more for the holiday, an increase of about a million from last year, and the most since pre-recession levels in 2007, according to AAA.
Of those, a record 3.6 million are expected to be flying, 43 million will be driving and 750,000 more will be taking trains to their Thanksgiving destinations.