Track Palin, the oldest son of former Alaska Gov. Sarah Palin, called police officers "peasants" and "moved around in a strange manner" before he was arrested for allegedly breaking into his parents' house and assaulting his father, according to a police affidavit.
Police were called to the Palin family home on Saturday night after Sarah Palin, the 2008 Republican vice presidential nominee, told officers her son was "freaking out" and on "some type of medication," according to the affidavit, contained in a court filing.
Todd Palin, Track's father, "appeared to have injuries to his face and head based on the visible blood running down his face," Wasilla Police Officer Adam LaPointe said in the affidavit.
Todd Palin told police the dispute began after Track Palin, 28, called to say he would come get his truck. The father told police he told his son not to come over, but "Track told him he was [going to] come anyway to beat his ass," LaPointe said. That's when "Todd retrieved his pistol to protect his family," he added.
Track Palin told police he broke a window, disarmed his father and "put him on the ground," where he "starting hitting Todd in the head." By the time police arrived, Todd and Sarah Palin were outside the house, and the former governor was "visibly upset," LaPointe said.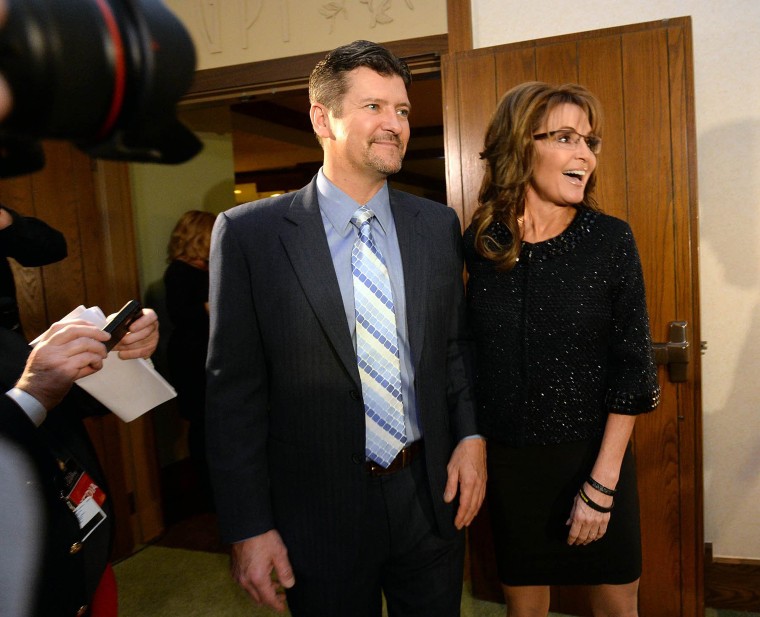 Track Palin, who was arrested without incident, told police he had "consumed a few beers earlier," according to LaPointe. He was arraigned on Sunday and charged with felony burglary, assault in the fourth degree and criminal mischief for causing an estimated $250 to $999 in property damage, according to court records.
He was previously arrested on domestic violence charges in January 2016. At the time, Sarah Palin suggested Track Palin's arrest stemmed from post-traumatic stress order following a year-long military deployment to Iraq.
Related: Vets: Don't blame Obama for Track Palin's arrest
"My son, like so many others, they come back a bit different, they come back hardened, they come back wondering if there is that respect for what it is that their fellow soldiers and airmen every other member of the military so sacrificially have given to this country," she said.