President Donald Trump is considering former lawmaker Mike Rogers, a Republican from Michigan who served four terms in Congress, to be the next permanent FBI director, sources familiar with the situation told NBC News.
Rogers, who worked in the 1990s as an FBI agent, retired in 2015 from the House, where he served as the chairman of the intelligence committee.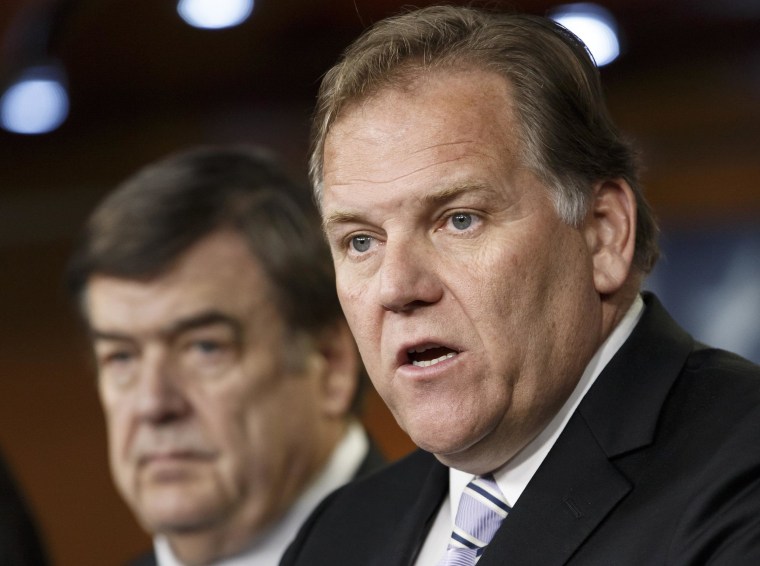 He led Trump's national security transition in 2016 until he was let go. His associates said his ouster was related to a purge of people brought in by New Jersey Gov. Chris Christie, who was pushed out of his role leading the transition. Rogers' associates also said he clashed with Mike Flynn, who was national security adviser but has since been fired.
A source close to Rogers said he's had "informal feelers," from White House officials about his interest in the job. A senior White House official confirmed Rogers was under consideration.
The speculation is unfolding even as Washington continues to grapple with President Trump's decision to abruptly fire FBI Director James Comey — a move Democrats suspect was designed to quash the FBI's investigation into Russian interference in the election. Acting FBI director Andrew McCabe assured the Senate intelligence committee Thursday that the investigation would continue unabated.
"Simply put, sir, you cannot stop the men and women of the FBI from doing the right thing, protecting the American people and upholding the Constitution," he said in response to a question from Sen. Marco Rubio (R-Fla.).
Rogers, 53, won high marks as intelligence chairman for creating an atmosphere of bipartisanship. He was criticized by Republicans over a report on the 2011 attack of the diplomatic facility in Benghazi, Libya, that debunked some conspiracy theories.
But Rogers is a hard-line conservative who may be regarded with suspicion by some of the Senate Democrats who would be asked to confirm him to a 10-year-term.
In his intelligence oversight role, Rogers was instrumental in pushing President George W. Bush's administration to expand its use of drones to kill al Qaeda operatives in Pakistan — a tactic the Obama administration dramatically expanded.
Other names being mentioned as potential permanent choices include John Pistole, a former FBI official who led the Transportation Security Administration under President Obama; and Fran Townsend, who was George W. Bush's counter terrorism adviser.
It may be some time before a new FBI director is confirmed by the Senate. Among those being considered to be interim director, officials have said, are William Evanina from the Office of Director of National Intelligence; Adam Lee, the special agent in charge of the FBI's Richmond, Virginia, office; Michael Anderson, the special agent in charge in Chicago; Paul Abbate, the FBI's executive assistant director for the Criminal, Cyber, Response and Services Branch; and McCabe, the acting director.