Two men, including a firefighter, died after the swimming leg of an Iron Man 70.3 triathlon in Madison, Wisconsin, over the weekend, according to authorities.
Todd Mahoney, 38, an apparatus engineer with the Madison Fire Department, and Michael McCulloch, 61, were both found unresponsive in the water, according to the Madison Fire Department.
The Iron Man 70.3 is a grueling three-part athletic competition where participants swim 1.2 miles, bike 56 miles and run 13.1 miles.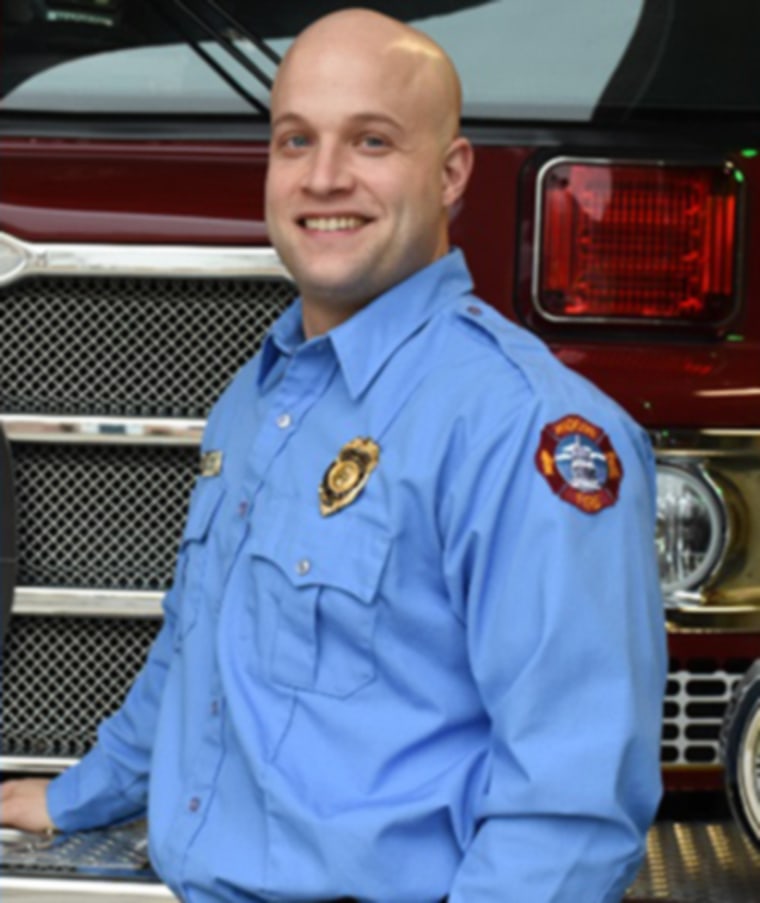 Mahoney was rescued from the Lake Monona on Sunday morning, and taken to a hospital, where he remained in critical condition for 48 hours before passing away Tuesday morning, authorities said in a statement.
He began his career in 2010 and was a nine-year veteran of the Madison Fire Department, occasionally serving as an aid to the chief, the statement said. He is survived by his wife and three young sons.
"Our members grieve the loss of their beloved colleague. MFD would also like to thank members of Fire Fighters Local 311 for supporting the Mahoney family during this time," said the fire department in a statement.
McCullough, an area resident, was found in the water an hour before Mahoney and later pronounced dead at a hospital, authorities said. Preliminary autopsy results confirm that his death "was consistent with an accidental drowning due in part to a medical event," according to The Milwaukee Journal Sentinel.
He survived by his wife and daughters, according to a statement by Madison Mayor Satya Rhodes-Conway.
"My thoughts are with the families and loved ones of the two athletes who died while competing in the Half Iron Man on Sunday. We know that in the past this, and other Madison athletic events, have been safe and fun competitions for both participants and their families," said Rhodes-Conway in a statement. "It is a tragic coincidence that two men died competing in the same event."
While the men's deaths are still under investigation and pending an official medical cause of death, the incidences shine new light on some of the potential health risks of competing in triathlons and other extreme sports.
A 2017 medical study published in the Annals of Internal Medicine by researchers at the Minneapolis Heart Institute Foundation, examined deaths and cardiac arrest data from about 9 million triathlon participants over a 31-year period. The study found that "deaths and cardiac arrests during a triathlon are not rare events" and the incidence was about "1.7 per 100,000 people," which is slightly higher than for those competing in marathons.
"We don't want people to be overly alarmed, but they should be aware of it," said Kevin Harris M.D, a cardiologist with the Minneapolis Heart Institute Foundation who authored the study.
Most of the cardiac arrests and deaths occurred in men who were middle-aged and older and first-time participants, according to the study.
The study also showed that a vast majority of triathlon deaths occurred during the swim portion of the competition. Of the 135 deaths and cardiac arrests examined in the study, two-thirds happened during swimming.
"It's not like swimming laps in a pool. It's the most stressful part of the race. There are environmental factors involved and it could be more difficult to signal for help when you're in open water," Harris said.
The swimming segment has very "unique risks" said Aaron Baggish, M.D, the director of the Cardiovascular Performance Program at Massachusetts General Hospital.
Some of these risks include drowning, pulmonary edema, or an elevated burst of adrenaline causing the heart to ramp up too high, he said.
Baggish advises those considering triathlons to simulate the swimming portion in several practice sessions in open water which will best mimic the race. He also advises novices to stay in the back or to the side of the pack during the swim leg.
But Baggish stresses that although there are some bad health outcomes, those represent a very small segment of the majority of triathlon participants. "For most, it is a positive experience where the benefits far outweigh the risks," he said.
Preparation is key, said Edward Laskowski M.D, co-director, Mayo Clinic Sports Medicine, and specialist in physical medicine and rehabilitation at Mayo Clinic. "You want to gradually condition your body for the demands it will experience during the event, and specifically train for each of the events involved. So, you will need to spend time in the water, on the bike, and on the pavement," he said. "You shouldn't just run triathlons to be in shape, you should be in shape to handle the stresses the triathlon places on the body."
Harris hopes triathlons will begin instituting mandatory health screenings for certain high-risk individuals, such as those over 50, before they are cleared to participate. He advises those interested in entering a triathlon to talk to a doctor who can properly assess their health status before jumping into the race. "Know your body, know what you can do, and get everything checked out."