AUCKLAND, New Zealand — U.S. goals — and wins — have been few and far between this World Cup, but American confidence isn't lacking.
Despite three lackluster group matches that saw the reigning champions squeak through to knockout play, key players insist they're not shaken by "noise" from the "outside," firmly believing the United States' best soccer is still to come.
"We are not panicking," experienced forward Lynn Williams told reporters in Auckland on Thursday. "I think that we haven't played our best soccer yet, which is the most exciting part for us."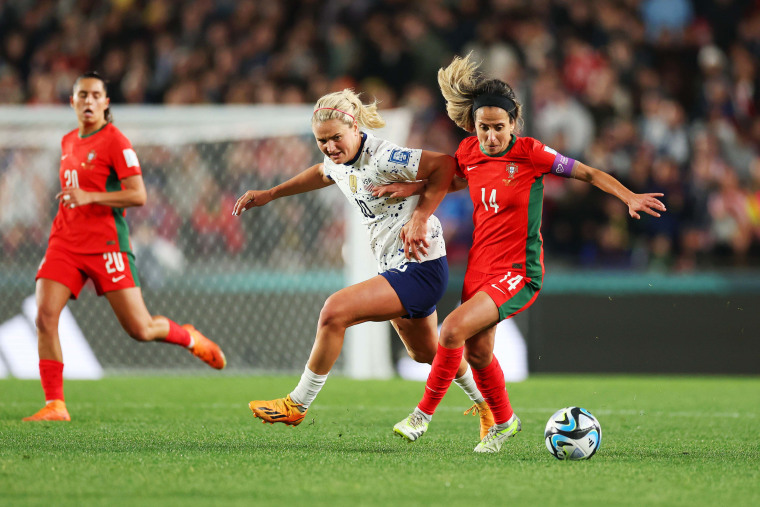 The price for failing to win Group E will be a round-of-16 date with a longtime rival on Sunday. World No. 3 Sweden decisively won Group G, winning all three matches and outscoring opponents 9-1.
The two-time defending champion Americans won just once, tied twice and were inches away — on a late Portuguese shot that hit the goal post — from an unthinkable elimination.
Brazil and Germany, two pre-tournament favorites and longtime powerhouses in women's soccer, have both been sent home early as new forces emerge.
The narrow survival of the U.S. has critics wondering out loud if the days of U.S. domination are numbered.
"Yeah, the only thing I would say on that is again, it is noise," midfielder Lindsey Horan said. "Sometimes, you know, you hear it, you see it and sometimes it's hard to get away from it."
The team faced high-profile criticism following the difficult match against Portugal, including for interacting with fans, smiling and not outwardly showing disappointment.
But both Williams and Horan on Thursday frequently invoked the word "joy" in their news conference, saying they won't shake the delight they feel playing the sport they love on this, the world's biggest stage.
"I think the most important thing," Horan told NBC News, is "finding those pieces of the joy, you know, finding that confidence in ourselves."
Fans will be hoping for more of that joy against Sweden on Sunday.
Molly Hunter and Susan Archer reported from Auckland, and David K. Li reported from Los Angeles.