A Philadelphia officer who fatally shot a man sitting in his car will be fired, authorities said, one day after security video was released showing the officer opening fire seconds after police pulled up next to the man's vehicle.
Officer Mark Dial, a five-year veteran, was initially placed on restrictive duty after the deadly Aug. 14 shooting of Eddie Jose Irizarry. Police Commissioner Danielle Outlaw said at a news conference Wednesday that Dial has been suspended with the intention to be terminated after 30 days.
She said the suspension was related to Dial's allegedly having refused to cooperate with the investigation.
Shaka Johnson, an attorney for Irizarry's family, released security video Tuesday that he said contradicts police's earlier claim that Irizarry lunged at the officers at the time he was shot.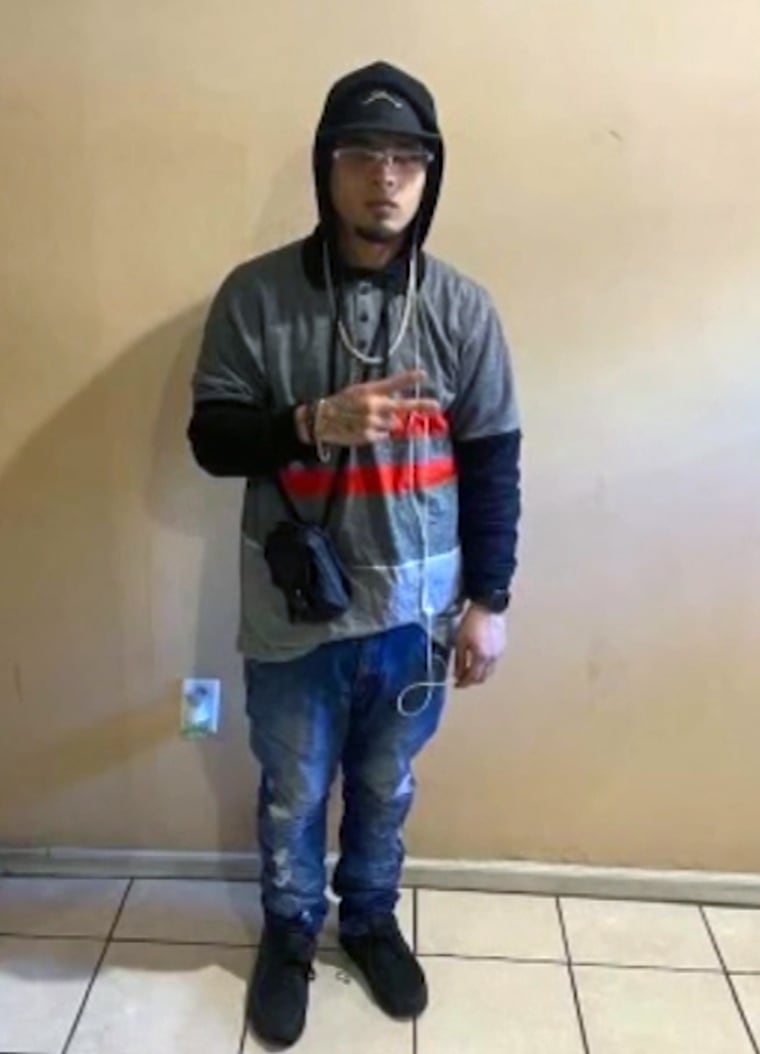 The Ring camera video, which was played at a news conference Tuesday, shows Irizarry haphazardly pulling into a parking spot, running over a cone. A police vehicle pulls up next to him, and two officers hop out, the video shows. The officers are heard repeatedly yelling "show me your hands" as they aim their weapons at Irizarry's car. One of the officers then fires multiple shots at the car a few seconds later, the video shows.
One of the officers opens the driver's side door and pulls Irizarry out. Both officers carry him out of the frame of the video.
Johnson said Irizarry, who moved from Puerto Rico when he was 19 and spoke very little English, had been driving erratically and pulled over.
Irizarry was taken to a hospital, where he was pronounced dead, police said.
An investigation continues, and Dial could face additional disciplinary charges if he is found to have violated department policies, Outlaw said.
Dial could not be reached at phone numbers listed for him. His attorney did not immediately respond to a request for comment.
'A death sentence is not called for'
Johnson said Irizarry should not have been killed.
"On Aug. 14 it appears he committed the cardinal sin of driving erratically, which I don't care how you unpack this, a death sentence is not called for, for erratic driving," Johnson said.
He said Dial should be arrested and charged. The Citizens Police Oversight Commission had called for Dial's termination.
At a news briefing at the scene, police initially said Irizarry was outside the vehicle. At a news conference Aug. 16, Outlaw, the police commissioner, said, "Evidence clearly indicates that the male was not outside of the vehicle and was seated inside of the vehicle at the time of the discharge."
"At the time we gave that information, that was the best information that we had available," she said. "And we always strive to clarify and update that information as quickly and accurately as possible."
Outlaw did not say how authorities obtained inaccurate information that Irizarry was outside his vehicle. The police department did not immediately respond to a request for comment Wednesday.
Johnson accused the police department of initially having told the public "a patent lie."
"When you look at this video, I want you to ask yourself, look at it critically and ask yourself how, based on what you will soon see, could the narrative have ever been this was a police chase?" he told reporters before the security video was played.
"How could Ms. Reilly have ever taken to a podium as a spokesperson for the police department and said that Mr. Irizarry, Eddie, got out of that vehicle, wielded a knife, and I believe I heard Ms. Jasmine Reilly say: 'Officers gave commands to drop the knife whilst Eddie was outside of the vehicle. He did not do that. He in fact lunged at police officers and then was shot.' We know that that is a patent lie," Johnson continued. "It is a fabrication. It did not happen that way at all."
Reilly, a corporal, is a spokesperson for the police department.
Outlaw said the two officers were in a marked police vehicle when they saw a Toyota Corolla "driving erratically" at about 12:28 p.m. Aug. 14. The officers followed the vehicle as it drove the wrong way down a single-lane one-way street, she told reporters. When the vehicle pulled into a parking spot, the officers got out of their vehicle.
One of the officers tried to open the passenger-side door and told the other officer that the driver had a weapon, Outlaw said. Irizarry turned toward the second officer by the driver's-side door, and that officer "discharged his firearm multiple times into the vehicle, fatally wounding the driver," Outlaw said.
Irizarry was pronounced dead at the hospital at 12:48 p.m., she said.
Family demands to view police body camera
Two knives, one that appeared to be a "kitchen-style knife" and the other a serrated folding knife, were seen in the vehicle, authorities said.
Johnson said Irizarry's father gave him one of the knives because Irizarry worked as a mechanic.
Both officers had their body cameras activated, Outlaw said. The video has not been released publicly.
Johnson said Irizarry's family has asked the city through the district attorney's office to allow them to view the body camera video privately. He said that they were supposed to watch the videos Friday but that the district attorney's office rescinded the offer, citing the investigation.
A spokesperson for the district attorney's office said in an emailed statement that it has been in contact with the family's attorney.
"We look forward to meeting with them and their legal counsel in person, in the near future," spokesperson Jane Roh said in a statement. "The DA's Office intends to keep its sworn obligation to seek justice for all those involved in the fatal shooting of Mr. Irizarry, as well as for all those Philadelphians who are not directly involved but who care deeply about fairness, justice, and independence."
The police department said it is up to the district attorney's office to decide when the body camera video is made public.
Irizarry remembered as a 'great person' who worked on cars
Irizarry's aunt told reporters that he was a "great person" who enjoyed working on cars and listening to loud music.
"I just want him to be remembered that he was a good kid," she said, crying. "Never was in trouble and loved his family."
Johnson said Irizarry battled schizophrenia and other diagnoses, noting that Irizarry had never been arrested or had a negative encounter with police before last week's shooting.
Irizarry's aunt said that Dial took "someone very special to us" and that she wants "him to pay for what he did."
The police department's officer-involved shooting investigation team is conducting a criminal investigation parallel to the district attorney's investigation. The police department's internal affairs unit is also conducting an administrative investigation into whether the officers violated policy and procedure.