The defense for Alex Murdaugh, the disgraced South Carolina lawyer accused of killing his wife and a son, called into question the integrity of the crime scene in the second day of their case while also trying to distinguish between Murdaugh's alleged deceptions, including financial misconduct, and the double murder charges he is on trial for.
Mark Ball, a former law partner who once considered Murdaugh a close friend, testified Wednesday morning in Walterboro that there were no roadblocks at the crime scene and that he was able to freely wander throughout Murdaugh's property in Moselle after the killings.
Click here to follow live coverage.
"There was a piece of Paul's skull, about the size of a baseball, laying there," he recalled seeing, referring to Paul Murdaugh, the son Murdaugh is accused of killing.
The defense questioned Ball about what he encountered that day, seeking to discredit the investigators' handling and preservation of the crime scene.
It was a misty day with intermittent drizzling, and water was dripping off the shed onto Paul's body, Ball said.
Ball testified that he was concerned that the crime scene had water "dripping all over the place."
While Ball is upset with Murdaugh for the financial misdeeds and for destroying the law firm they'd worked at for decades, he also said that doesn't mean he killed Margaret, 52, and Paul, 22.
After Murdaugh resigned from the law firm, Ball discovered evidence of misappropriated funds when he went through Murdaugh's desk. "I'm not sure I know that person," he said.
"I'm mad as hell," he said. "But on the other hand, I'm not saying that because he did that he's done what he's accused of."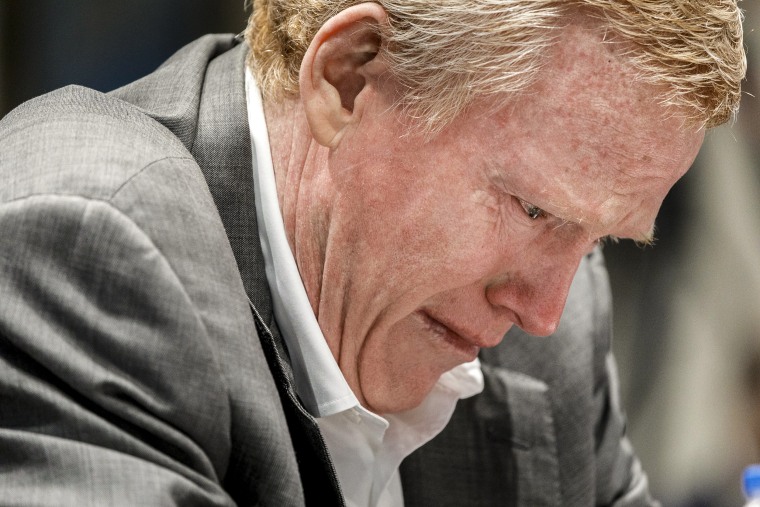 It's still possible the jury will hear from Murdaugh himself.
Before jurors entered the courtroom at the start of the day, defense attorneys said their client is still considering taking the stand. They expressed concerns, however, about his right not to self-incriminate and sought to pre-emptively limit the scope of the prosecution's cross-examination, specifically about Murdaugh's alleged financial crimes.
State Circuit Judge Clifton Newman declined to rule in advance and said he would evaluate the evidence as it is presented.
The defense team told NBC News on Wednesday afternoon it is still considering calling Murdaugh to the stand Thursday.
So far, the prosecution has presented compelling evidence that Murdaugh was in the dog kennels with his wife and son minutes before they were shot and killed, contrary to what he had told investigators.
Still, the state's biggest hurdle has been the lack of any direct evidence that would pin Murdaugh to the killings, such as witnesses or a murder weapon.
The second witness called to the stand Wednesday, Dawes Cooke, represented Murdaugh in a wrongful death lawsuit from a 2019 fatal boating crash. Paul Murdaugh was driving a boat that Murdaugh owned when it crashed, leading to the death of Mallory Beach, 19.
Mark Tinsley, the lawyer who filed the suit, previously testified for the prosecution that Murdaugh was on the hook to pay $10 million, the majority of it out of pocket. He had a Progressive policy for the boat that would pay $500,000, Tinsley said.
Cooke said he wasn't aware of Murdaugh's personal financial burden from the boat case.
"It was unknown. I'll have to say I didn't really pay attention to that issue at the time. I think there was still a declaratory judgment action pending that was going to decide whether there was some additional insurance," Cooke said.
"I wouldn't have said that he had no personal exposure, but that was certainly not the focus of our attention at that time," he added.
Prosecutors say Murdaugh killed Margaret and Paul that evening near the hunting lodge's outdoor dog kennels to distract from the widening investigation into long-running financial misdeeds, which included allegations of stealing from his clients.
The court also heard testimony from family housekeeper Barbara Ann Mixon, who worked for Murdaugh's parents. Mixon testified that on the day of the murders, she had called Alex to check on his mother, who was agitated and crying a lot because her husband was gone, at the hospital.
An investigator called by the prosecution had testified that it seemed strange for Murdaugh to visit his mother, who has Alzheimer's disease, at night, when symptoms may be worse.
The prosecution and the defense differ over those details, spanning the months before and after the murders.
Ball questioned his relationship with the longtime friend he thought he knew and said he is still upset about the breakdown of the law firm.
"He's torn down an entire legacy," Ball said.
"I spent 33 years in this one place. It's the only law firm I've ever worked at. I put everything in. It's all my children have known, my family's known. It's gone."