Earth on Monday notched its hottest day since record-keeping began — only to smash that record again the very next day, according to preliminary data from the U.S. National Centers for Environmental Prediction and scientists with the Climate Reanalyzer project.
The global average temperature hit 17.01 degrees Celsius, or 62.6 degrees Fahrenheit, on Monday, according to the University of Maine's Climate Reanalyzer, a tool often used by climate scientists to gauge conditions around the world. The next day, July 4, the average global temperature climbed to another high, reaching 17.18 C, or 62.92 F.
High temperature records were surpassed July 3 and 4 in Quebec and northwestern Canada and Peru. Cities across the U.S. from Medford, Oregon, to Tampa, Florida, have been hovering at all-time highs, said Zack Taylor, a meteorologist with the National Weather Service.
Much of the U.S. has been baking under an extreme heat wave, with temperatures spiking along the West Coast and across nearly the entire southern portion of the country. The South, in particular, has endured triple-digit temperatures and high humidity for days — and in some cases, weeks — on end.
In China, meanwhile, parts of the country have been hit with intense rainfall and sweltering heat. Beijing reported nine straight days last week when the temperature exceeded 35 C (95 F).
This global record is preliminary, pending approval from gold-standard climate measurement entities like the National Oceanic and Atmospheric Administration. But it is an indication that climate change is reaching into uncharted territory.
It legitimately captures global-scale heating and NOAA will take these figures into consideration when it does its official record calculations, said Deke Arndt, director of the National Center for Environmental Information, a division of NOAA.
"In the climate assessment community, I don't think we'd assign the kind of gravitas to a single day observation as we would a month or a year," Arndt said. Scientists generally use much longer measurements — months, years, decades — to track the Earth's warming. In addition, this preliminary record for the hottest day is based on data that only goes back to 1979, the start of satellite record-keeping, whereas NOAA's data goes back to 1880.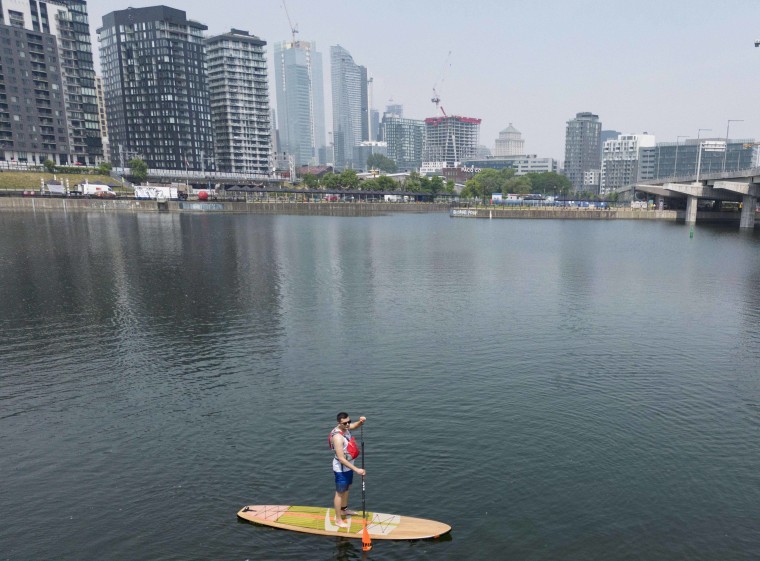 But Arndt added that we wouldn't be seeing anywhere near record-warm days unless we were in "a warm piece of what will likely be a very warm era" driven by greenhouse gas emissions and the onset of a "robust" El Niño. An El Niño is a temporary natural warming of parts of the central Pacific Ocean that changes weather worldwide and generally makes the planet hotter.
Human-caused climate change is like an upward escalator for global temperatures, and El Niño is like jumping up while standing on that escalator, Arndt said.
The University of Maine's Climate Reanalyzer is based on a NOAA computer simulation intended for forecasts that uses satellite data. It is not based on reported observations from the ground. So this unofficial record is effectively using a weather tool that is designed for forecasts, not record-keeping.
Still, the preliminary record stoked fear and indignation within the scientific community.
"Totally unprecedented and terrifying," Bill McGuire, a famed volcanologist and emeritus professor of Earth sciences at University College London, tweeted Wednesday about the preliminary back-to-back records.
Robert Rohde, lead scientist at Berkeley Earth, a nonprofit research organization that focuses on climate data analysis, tweeted that recent extremes have been fueled by El Niño conditions on top of ongoing global warming, adding that "we may well see a few even warmer days over the next 6 weeks."
This average temperature may not seem that hot, but it's the first time in the 44 years of this data set that the temperature surpassed the 17-degree Celsius mark.
Hotter global average temperatures translate to brutal conditions for people all over the world. In the U.S., heat advisories are in effect this week for more than 30 million people in places including portions of western Oregon, inland far northern California, central New Mexico, Texas, Florida and the coastal Carolinas, according to the National Weather Service Weather Prediction Center. Excessive heat warnings are continuing across southern Arizona and California, it said.
When the heat spikes, humans suffer health effects.
"Those hotter temperatures that happen when we get hotter than normal conditions? People aren't used to that. Their bodies aren't used to that," said Erinanne Saffell, the Arizona state climatologist and an expert in extreme weather and climate events.
Saffell added that the risk is already high for the young and old, who are vulnerable to heat even under normal conditions.
"That's important to understand who might be at risk, making sure people are hydrated, they're staying cool, and they're not exerting themselves outside and taking care of those folks around you who might be at risk as well," she said.
CORRECTION (July 5, 2023, 12:15 p.m. ET): A previous version of this article misstated the name of the U.S. government agency that does climate assessments. It is the National Oceanic and Atmospheric Administration, not Association.