Jason Hallick stared at the terrorist pressure cooker bomb he was tasked with disabling. Inside his 90-pound armored suit, his body began to overheat.
"The sweat was pouring into my eyes," the New York bomb squad technician told NBC News Nightly News anchor Lester Holt.
Earlier, the bomb squad had used a robot to place the device inside a containment vehicle, so that no one else could be hurt if it went off. Now, Hallick's life was on the line as he began to take it apart.
"Unequivocally we could say anybody in proximity would receive a very serious if not life-threatening injury," said Mark Torre, the bomb squad commander.
The New York Police Department bomb squad detectives spoke in an exclusive interview with Holt about how they disarmed a terrorist explosive device found in Manhattan in September.
The accused bomber, Ahmad Khan Rahami, was allegedly inspired by Osama bin Laden. He was wounded in a shootout with police and has pleaded not guilty.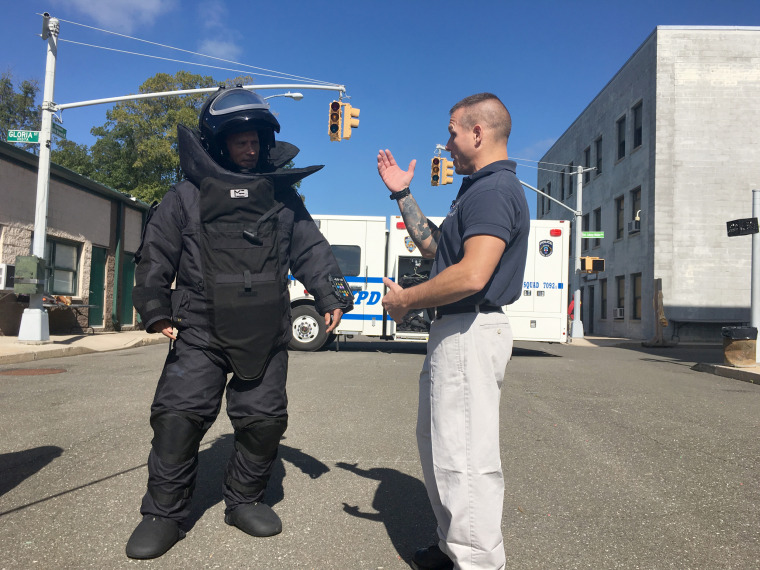 After planning the attacks for months, he set off bombs in New Jersey and in the Chelsea section of Manhattan, authorities say.
The bomb that went off in Chelsea injured 31 people and propelled a steel Dumpster more than 120 feet through the air, according to court records.
Then state troopers spotted a second device. They took a picture and sent it to the bomb squad.
"[When I] looked at that picture, knowing that we had a confirmed IED explosion on 23rd Street, I realized we had a major problem brewing," Torre told Holt.
They used a robot to move it to a containment vehicle, out of the range of civilians. But when the bomb squad technicians donned their protective suits and began an operation to disable the device, they knew their lives were at risk.
"Nobody here can ever be paralyzed by fear," Torre said. "But we all have that very healthy respect for the force of explosives and what it can do. So there was a healthy degree of tension. Everybody's very, very focused."
"What is that like, when you're literally face-to-face with what you strongly believe is an explosive device?" Holt asked Hallick, a technician who helped disarm the bomb.
"You want to complete your mission, so you just don't…I just don't think about it," Hallick replied. "I'm so focused on what it is and completing it and finishing it."
Holt mentioned that another device allegedly planted by the same bomber exploded in New Jersey when a robot was working on it.
"It definitely is a thought in the back of your head, " Hallick said. "You had one detonate when they were working on it, and you had one detonate in the actual city. So it is definitely in the back of your mind there when you're working on it that hopefully it doesn't happen to you."
But you have to put that out of your mind, said Timothy Brady, another bomb squad technician who worked the case.
"One of our things as we're suiting up is talking through the job and what you're going to do, and it helps to push that further in back of your head," he said. "Your family, your kids. You concentrate on what you're doing at the moment. And then, you know, you worry about that stuff when it's all done."
To give Holt an idea of how they do their jobs, the bomb squad outfitted him in one of their bulky, 90-pound protective suits.
"In that suit that you don't have a lot of dexterity," Hallick said. "But the other thing, it was a pretty hot day. And the sweat was pouring into my eyes."
Since the Chelsea bombing, the NYPD has seen an uptick in reports of suspicious objects.
If one turns out to be real, the bomb squad will be there to disarm it.
"Taking care of it without it detonating on you is a big plus," Hallick said. "To collect the evidence and the perpetrator actually caught? That's a great feeling of satisfaction."
Added Torre, "You never want to have a bad day in the bomb squad."