SAN BRUNO, Calif. — The father of YouTube shooter Nasim Aghdam apologized for her attack Wednesday and said he didn't understand how a woman who devoted so much energy to protecting animals could open fire on innocent people because of a grudge against the company.
"She never hurt one animal, one ant. I don't know how she did like this," Ismail Aghdam told reporters. "I apologize to all the U.S. people, all the humans. I am sorry. I can't believe it."
As evidence of his daughter's peaceful nature, he pointed to her "movies" — the dozens of videos about animal rights and veganism she posted on her website, social media accounts and YouTube channels.
Aghdam's family told NBC News that the 38-year-old San Diego resident believed that YouTube was discriminating against the videos she uploaded onto the site, restricting their viewership and cutting into her income.
And police said that appeared to be the motive for Tuesday's attack at the YouTube campus in San Bruno, which left three people wounded and Aghdam dead of a self-inflicted gunshot wound.
She was upset with YouTube," San Bruno Police Chief Ed Barberini said at a news conference. The investigation is ongoing, but police revealed new details about Aghdam's actions on Wednesday morning.
Her family had not been able to contact her since Saturday and reported her missing on Monday, police said.
Officers in Mountain View, about 30 miles from San Bruno, found her early Tuesday sleeping in her car. The woman confirmed her identity after police matched her license plate to the missing-person report, and her family was notified that she had been located.
"According to our report, at no point in our contact with the woman did she indicate she was a threat to herself or others," a Mountain View police official said.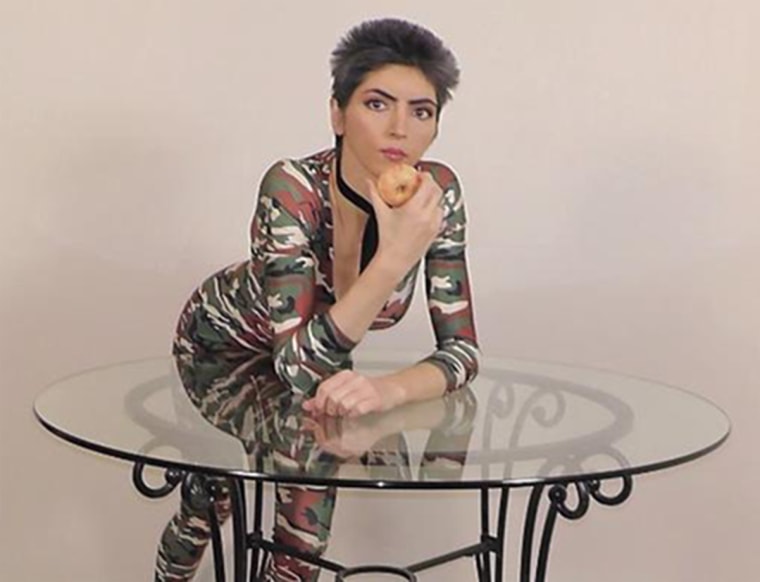 Barberini said his department was investigating reports that Aghdam's family told police that she "hated" YouTube and might be at its headquarters. He said that message never made it to his team.
At some point later Tuesday morning, Aghdam visited a gun range in the area, Barberini said, declining to identify which one.
Then, around lunchtime, she entered the YouTube campus through a parking garage and began shooting in the courtyard with a Smith & Wesson 9 mm semiautomatic handgun that she had bought legally, Barberini said.
He said Aghdam fired "quite a few" shots but there is no indication that she was targeting specific people. When police arrived, they found one wounded victim on the site, two others who had fled to a neighboring building and Aghdam dead.
"I will tell you that the evidence at the scene suggests that she was not superproficient" with a firearm, Barberini told NBC News. "There seemed to be no kind of method or rhyme or reason to what she was doing."
By Wednesday morning, two of the victims had been treated at a hospital and released, and one remained in serious condition.
At the Menifee, Calif., home of Aghdam's parents, police and agents from the Bureau of Alcohol, Tobacco, Firearms and Explosives gathered evidence while relatives came and went.
One family member, who did not want to give her name, expressed frustration that police had not taken Aghdam into custody after she was found in her car and that she was allowed to buy a firearm without a psychiatric exam.
Mostly, she said, she was sad about what had happened. "I am so sorry for those people shot," she told reporters.
Aghdam was an Iranian-born refugee who had lived in California since her late teens. the relative said. An extremist vegan, she was obsessive about animal rights, her social media accounts show.
"For me, animal rights equals humans rights."
On her website, she claimed that YouTube was discriminating against her videos, which included bizarre musical parodies and workout videos.
"Youtube filtered my channels to keep them from getting views!" Aghdam wrote on her website.
"There is no free speech in real world & you will be suppressed for telling the truth that is not supported by the system. Videos of targeted users are filtered & merely relegated, so that people can hardly see their videos!"
Earlier, Aghdam's father told NBC News that she believed that she had been cheated out of money from video views. Widely viewed videos earn money when YouTube puts ads on them, giving the video creator a cut of the advertiser's payment.
YouTube "stopped everything and now she has no income," Ismail Aghdam said in a brief phone interview Tuesday night.
It appears that Aghdam was a longtime animal rights activist. Nearly a decade ago, she took part in a demonstration organized by People for the Ethical Treatment of Animals at Marine Corps Base Camp Pendleton in California to protest the killing of pigs during a military exercise.
News accounts from the time said she carried a plastic sword and wore pants spattered with fake blood. "For me, animal rights equals humans rights," she was quoted as saying.
PETA on Wednesday said Aghdam had not been affiliated with the group in recent years. "She appeared at a few demonstrations about nine years ago, but changed her phone number and dropped out of sight," the animal rights group said in a statement.
By last year, Aghdam had turned to protesting YouTube. Her Facebook page shows a photo of her standing on a street corner in February 2017 with the heading "YouTube Dictatorship" and the message: "Hidden policy: Promote stupidity, discrimination, suppression of truth."
In one Instagram video, Aghdam appears in a black hood and asks her audience: "When it comes to freedom of speech, do you think that Iran is better than USA or USA is better than Iran?"
In the wake of the shooting, YouTube said it was increasing security at its offices worldwide and encouraging employees in San Bruno to take time off, work from home or take advantage of counseling services.
Employees arriving Wednesday morning said they had been instructed not to speak to the media. But some, speaking anonymously, said they were concerned that the violence could affect the company's culture.
"I don't want to be scrutinized every time I walk into the workplace. I don't want to be checked," one worker said. "Given the culture here, which is all about openness, I don't think anyone wants things to change. They want it to stay open. People think it's one of the best places to work and that is one of the reasons why."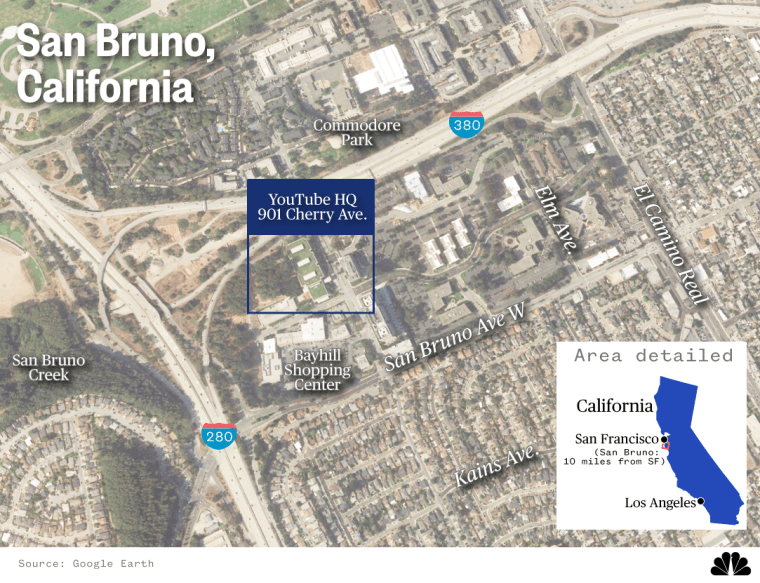 Several staffers said there was little YouTube could have done to prevent the attack.
"I mean, this is America in the 21st century," said one young man. "It's tragic and it's awful, but what can you do?"
Another worker agreed: "You can have metal detectors. You can try other things. But at the end of the day, it doesn't guarantee it won't happen again."
Stephanie Gosk and James Rainey reported from San Bruno, and Courtney McGee and Tracy Connor from New York. Andrew Blankstein contributed reporting from Los Angeles.