After four years of a historic drought that has ravaged virtually every corner of California, this winter could usher in a new challenge: A series of storms with rains so heavy and so punishing that mudslides and flooding would be the norm, forecasters warn.
That's because of an El Niño weather phenomenon that will target California — perhaps in ways that haven't been documented for decades, said Bill Patzert, a climatologist with NASA's Jet Propulsion Laboratory.
"This is larger, it's more intense, and it's still growing," Patzert told NBC News' Al Roker.
Related: In California, Ski Resorts Celebrate Early Storm, Pray to El Niño
The El Niño weather pattern creates an occasional warming of the Pacific Ocean around the equator, and when it occurs, it typically brings more winter rain to California and much of the South and East.
El Niño is causing temperatures in the normally cold Pacific to rise about three degrees higher, and the subtropical jet stream, which typically moves south of California, to shift farther north.
"Riding that jet stream will be a series of storms like a conveyor belt — almost like a convoy," Patzert said.
But how dire the above-average rainfall would be remains to be seen. Los Angeles County's "El Niño 2015-2016" report puts it this way: "Most weather experts acknowledge the weather phenomenon is as temperamental as a toddler."
Still, even before winter, Southern California has already gotten socked by grueling storms this season. Deadly flooding trapped hundreds of motorists and triggered massive mudslides last month just north of Los Angeles, forcing the heavily traveled Interstate 5 to close for several hours.
"It's going to be a mess ... when these great rains come. There's nothing to hold the water and we are expecting debris, mud, water to come pouring out of the mountains," Patzert warned.
Normally, vegetation helps soil to cling to hillsides, but after a fire burns it off, the dry land is barren and susceptible to major mud flows because of heavy El Niño rains, Roker added.
When the Colby Fire struck the hillsides above the Los Angeles suburb of Glendora in January 2014, it burned over 2,000 acres and left parched patches that exist today.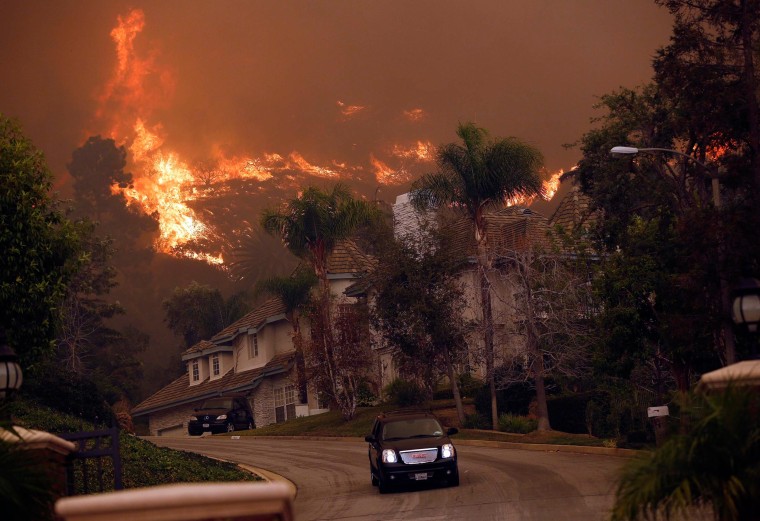 Glendora resident Sandra Blaydow said her home survived the wildfire, but it was in the crosshairs again last year when a monster mudslide sent four feet of the sludge flowing down the hillside.
She's heeding the warnings to be ready this time around.
"I'm very worried," Blaydow told Roker. "As a matter of fact, as of this morning, I was still making sure that everything got reinforced."
Federal and local emergency officials have been alerting California residents about what to expect this winter. They advise people to have their homes reinforced and escape plans in place.
Capt. Keith Mora, of the Los Angeles Fire Department, added that residents who decide not to flee the flames put emergency workers at risk.
Read more coverage of the wildfires
"If you're staying back when we're asking you to evacuate or get out, it's very dangerous," he said. "And hosing down your roof is not gonna protect your life and property. You need to heed the evacuation orders."
Los Angeles County launched an El Niño preparedness website to give residents up-to-date information while making sure they have a checklist in place if the weather turns volatile.
"The forecast(s) if they come true, there is potential for some very intense rains and some extreme weather events," said Gail Farber, the director of the Los Angeles County Department of Public Works. "And it's not just rain. It can be the wind that can bring down power lines and folks go without power."
"It's highly likely that we can see more of those extreme events," she added, "and that's what is so imperative — (that) our communities plan now."