The family of a missing 17-year-old boy sucked into a storm drain in eastern Iowa by surging flood waters remains hopeful he will be found alive.
As dozens of rescue workers and volunteers resumed the search Tuesday in Cedar Rapids following Logan Blake's disappearance the night before, his loved ones believe he has the fortitude to hang on.
"We know he's tough," dad Mark Blake told NBC News. "All of his family and friends are here, and we know that we will get him today. We believe it."
Mark Blake said he hopes that his son is hanging onto a pipe and, if necessary, is keeping his head above water in an air pocket somewhere within the storm sewer system.
But the conditions are perilous: The drains are pitch black, and the rushing water underground remained treacherous after Logan Blake was pulled in around 7:20 p.m. local time Monday.
"He's an athletic kid and very smart," Mark Blake said. "He has good instincts."
Logan Blake was with two other friends tossing around a Frisbee when the disc spun just out of reach, heading straight for a storm drain. About 5 inches of rain had fallen in the area earlier in the afternoon, flooding out roads and overwhelming the storm sewer system, city officials said.
"We know that we will get him today. We believe it."
The family of friend David Bliss, 17, said Blake chased after the Frisbee. Bliss went to help him, and was also dragged into the drain.
Bliss was carried about a mile-and-a-half and deposited into Cedar Lake, police said.
The third teen, Jacob Spurrell, ran to get help.
Bliss swam out of the lake and managed to walk to a nearby hospital, said city public safety communications coordinator Greg Buelow.
He suffered unspecified non-life-threatening injuries and was later released.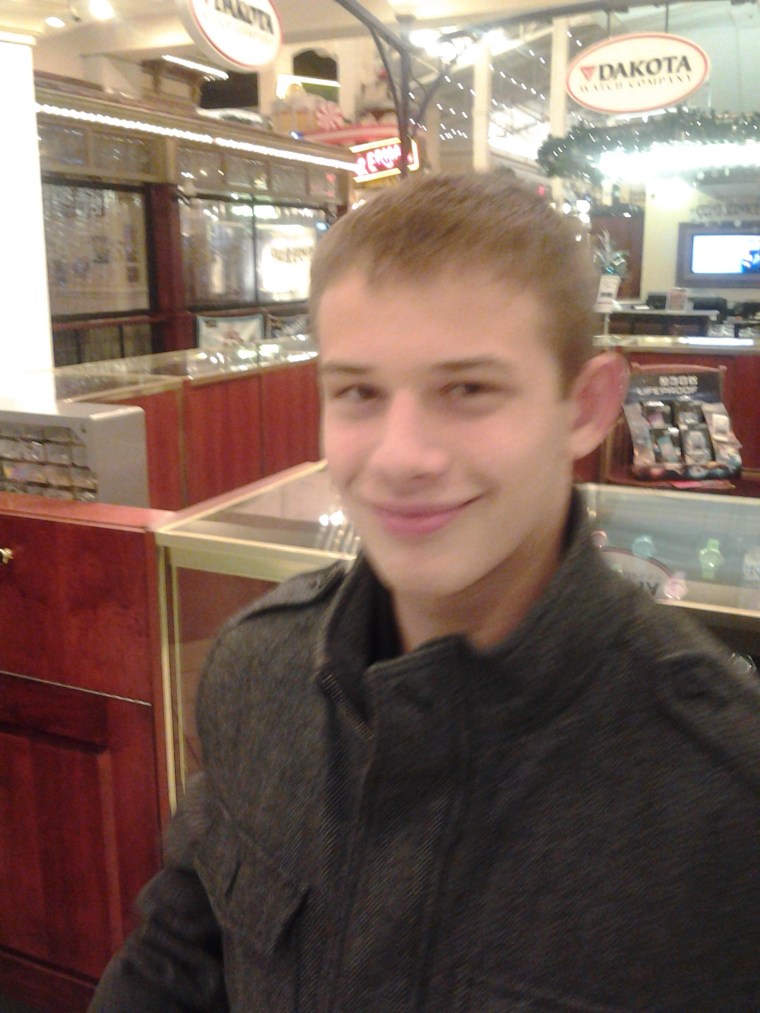 A family member who visited Bliss at the hospital told NBC News that the 6-foot-1 teen stayed mostly quiet and was worried for his friend.
Early Tuesday, city officials still considered the operation a rescue mission. The storm drain feeds into an underground concrete pipe about 4-1/2 feet wide at the culvert entrance of a city elementary school. That pipe runs about a mile-and-a-half southwest and is 10 feet in diameter where it empties into Cedar Lake.
Fire department crews were using sonar and divers to search the body of water, Buelow said.
Police officers searched along the path of the pipe by foot, pulling manhole covers as they went. Crews are using cameras to search the confined spaces.
As of the early afternoon, crews covered about 4,000 feet of the 8,000-foot-long pipe. The remaining pipe was filled with rushing water.
Rescuers have so far been unable to enter the underground sewer system because of the dangerously fast current, but they will assess the situation as the day progresses to see if those conditions ease, said Cedar Rapids Fire Department Battalion Chief Brian Gibson.
In some areas of the sewer, the water is estimated as high as 4 feet.
"Certainly the family members are holding onto hope, and we're being as thorough as possible so we can find [Blake]," Buelow told NBC News.
A band of strong storms washed across the Midwest on Monday evening. Police said a man in northern Indiana was killed when a tree fell onto a trailer home and another died when strong winds caused a building to collapse in eastern Iowa.
The raging storms left hundreds of thousands of people without power across Michigan, Indiana and Wisconsin.
— With The Associated Press