MIAMI — As evening approached and work ended Thursday, shopping center parking lots filled with residents preparing for Hurricane Dorian. Even the afternoon rain didn't keep them away.
Outside a supermarket in the Miami suburb of Coconut Grove, all the shopping carts were taken and shelves were starting to empty out.
Reyna Mejia, 27, a stay-at-home mother, was food shopping for the second time in one day.
"I saw the news this morning and I decided to get moving," Mejia, who has a 1-year-old, said.
During her morning trip, Mejia stocked up on water, baby food and other nonperishables. In the afternoon, she was on the hunt for fruits and vegetables.
"I'm not that worried because we don't know which way it will go," she said.
Jen Legil, 33, and her mother, Vicky, 53, were also making their second trip to the supermarket. They were not able to find water in the morning, but another shopper shared five bottles with them.
"Now, we're buying protein bars and anything else that can stay unrefrigerated," said Legil who is eight months pregnant and poised to experience her first hurricane after recently moving from New York. "Hopefully, it goes another way."
Dorian remained a Category 2 hurricane early Friday morning with maximum sustained winds nearing 105 mph, but was due to strengthen to become a major hurricane within the day, the National Hurricane Center said. It could grow to a Category 4 hurricane as it approaches the southeast corner of Florida on Tuesday morning, according to NBC's weather unit.
Florida has begun aggressive preparations, including rolling out disaster plans and telling residents to stockpile supplies.
Gov. Ron DeSantis declared a state of emergency in all 67 counties Thursday because of the storm's "uncertain projected path," and he urged residents to secure at least one week's worth of food, medicine and supplies ahead of the storm.
"All residents, especially those along the east coast, need to be prepared for possible impacts," DeSantis said. "As it increases strength, this storm has the potential to severely damage homes, businesses and buildings, which is why all Floridians should remain vigilant.
"Do not wait until it is too late to make a plan," he added.
The government of the Bahamas has issued a hurricane watch for the northwestern Bahamas and the storm could move near or over the area Sunday, the center said in its 5 a.m. advisory Friday.
"Dorian is likely to remain an extremely dangerous hurricane while it moves near the northwestern Bahamas and approaches the Florida peninsula through the weekend," the center said.
An earlier advisory issued by the center said Dorian is projected to hit somewhere along Florida's eastern coast and could deliver dangerous storm surges, heavy rains, hurricane-force winds and life-threatening flash floods as early as Sunday.
DeSantis said evacuations will likely occur if the storm stays on track to reach Category 4 strength. He has already requested a "pre-landfall declaration" from the federal government for protective measures and direct federal assistance for generators and pumps.
Florida officials are working to get more fuel into the state, the governor said Friday. Citing parts of the state that are out of fuel or where there are long lines for gas, DeSantis said highway patrols are escorting fuel trucks to get through the state quickly and his administration is waving service and truck rates to make it easier to bring gas in the state.
The National Guard has mobilized about 2,000 soldiers and airmen in response to the storm, and expects that number to double by Saturday. DeSantis also said the Florida Fish and Wildlife Conservation Commission is preparing resources for deployment, like shallow draft boats that could navigate flooded waters.
Several coastal cities have started preparing in anticipation of Dorian's potential fury, including Cape Canaveral, which is in the area where the storm is projected to make landfall.
"We are all in preparation mode," Todd Morley, a spokesman for the city of Cape Canaveral, said. Residents have stocked up on necessary items and all facilities are strengthened and shuttered, he said.
"We will ride it out in safe places with our loved ones," he said. "We don't know what the damage will be, but we do know how to recover."
Sara Picone, a Cape Canaveral resident, said she is proactively evacuating to ease the minds of out-of-state family.
"Honestly, my family is just really concerned about us, and they're such worrywarts that we're kind of just trying to appease them," she said, adding that the area is "thinning a bit" as others also evacuate.
Cape Canaveral's space ports, including the Kennedy Space Center, the Cape Canaveral Air Force Station and the Patrick Air Force Base are also prepping.
The Kennedy Space Center canceled visitor hours for Sunday and Monday and has already begun the process of transferring fragile multimillion-dollar equipment to secure areas.
The Navy announced Thursday that it was ordering aircraft at its naval air station in Jacksonville to start evacuating Friday.
Many Floridians across the eastern coast saw long lines at gas pumps and empty grocery store shelves as residents frantically rushed to buy supplies such as water, canned foods and batteries.
Outside a Miami Home Depot, that was slightly busier than usual for a Thursday afternoon, Jackie Keenan left empty-handed. "No water and no flashlights left," she said.
But Keenan said she was not very concerned. "I have been through it so many times," adding that she was around for Hurricane Andrew that devastated South Florida in 1992. "If it gets really bad, we'll leave."
Several stores said they were already sold out of water and fuel shortages were reported in many counties, according to DeSantis. He added that supplies would be quickly replenished since the state is under a state of emergency.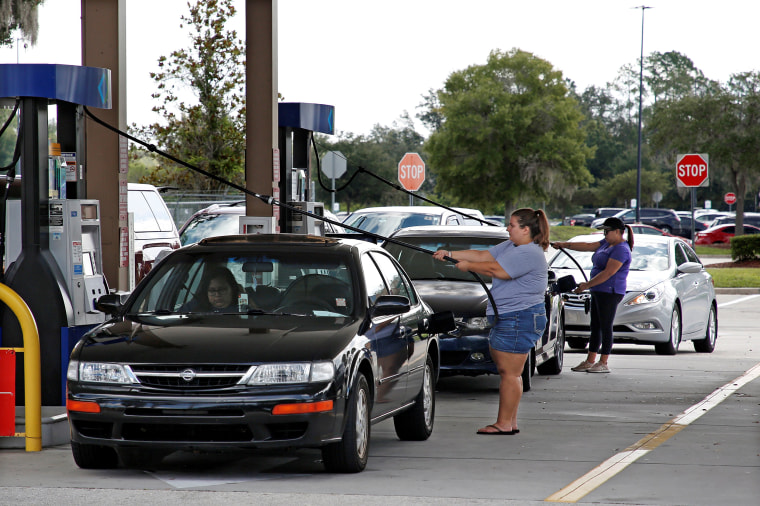 Two years ago, Hurricane Irma wreaked havoc on several parts of the state, causing mass power outages, extensive flooding and severe infrastructure damage. More than 120 people died in hurricane-related deaths, according to the CDC.
Much of the state is still trying to rebuild from Irma's devastation, including coastal town Flagler Beach, about 20 miles north of Daytona Beach.
Residents fear Dorian could kick them while they're still down.
"Stay away, stay away, Dorian, we don't need you here," Johnny Lulgjuraj, who owns a beachside restaurant in town, told NBC affiliate WESH in Orlando. "It's just so many things that happened to us in such short period of time."
Sesin reported from Miami, Ali from Chicago, and Kesslen from New York.