Déjà snow? For the third time in as many weeks, a storm is set to hit the Northeast overnight, causing massive travel complications for yet another Monday morning commute.
More than 36 million people were under winter weather advisories Sunday as a "long duration" storm intensified — after already dropping up to four inches in Upstate New York and southern New England, according to the National Weather Service. Almost 500 Monday arrivals and departure had been canceled at Boston Logan International Airport by midnight ET, along with 432 at LaGuardia and 217 at John F. Kennedy International airports in New York.
More than a foot of snow was set to accumulate in Vermont, New Hampshire, southern Maine, Massachusetts northern Connecticut, northern Rhode Island, and a large part of New York state, according to The Weather Channel.
"The long duration of the event should lead to impressive snowfall accumulations," with some totals up to 2 feet, the National Weather Service said in a bulletin. Meanwhile, many areas of Massachusetts, including Boston, are still struggling to dig out and clean up from back-to-back storms that also dropped snow measured in feet.
Worcester, Massachusetts, has already been hit with more than 55 inches in that two-week span, said Tom Moore, a coordinating meteorologist with The Weather Channel. Massachusetts Gov. Charlie Baker said Sunday that crews in the state had already plowed enough snow to fill Gillette Stadium more than 90 times.
"I have to laugh, because otherwise I may cry," Michelle Currie of Dracut, Massachusetts, told The Associated Press.
Boston Mayor Marty Walsh announced Sunday that public schools would be closed both Monday and Tuesday. Baker urged the public to stay off the roads and said state offices would be closed Monday, delaying the murder trial of former New England Patriots player Aaron Hernandez and jury selection in the Boston Marathon bombing trial of Dzhokhar Tsarnaev.
The Massachusetts Emergency Management Agency warned that travel conditions would be dangerous from Sunday night to Tuesday morning, as the snow isn't expected to stop falling in New England until late Monday or early Tuesday. Boston's Logan Airport had already announced Sunday that airlines would be on limited schedules Monday.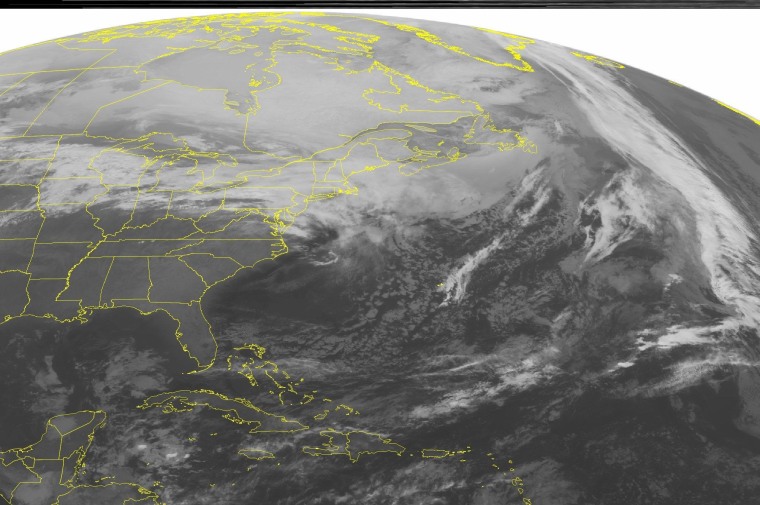 Travel impacts wouldn't be limited to New England. The Weather Channel reported that delays could be expected in airports from Southeast Pennsylvania, which is expected to get light accumulations, to Maine. Drivers on highways throughout the area will also likely experience delays due to slippery roads and low visibility.
While New York City will escape significant snowfall, freezing rain was expected Sunday night into Monday afternoon, causing the city to deal with its third straight wet and slippery Monday morning commute.
Once the snow ends, the Northeast can anticipate a "big, big dump of arctic air," Moore said.
High temperatures in areas spanning from the Great Lakes region to northern New England will likely be 30 degrees below average Friday, and Boston could see minus-20 wind chills throughout the weekend, Moore said, adding that it will "be dangerous to be outside."
IN-DEPTH
SOCIAL
— Elisha Fieldstadt and M. Alex Johnson