The death toll from Hurricane Michael's devastating march up the East Coast rose to 14 on Friday as the storm lashed Virginia and killed at least five people in the state.
Michael was making its way toward the Atlantic Ocean on Friday as a post-tropical cyclone, with winds gusting at 65 mph, according to the National Hurricane Center.
The hurricane center said that the storm was headed offshore but that it still posed a risk, with damaging winds extending more than 200 miles from its center. North Carolina, where one man was killed, could see more storm surge. Meanwhile, parts of the Northeast could get up to 5 inches of rain, the hurricane center said.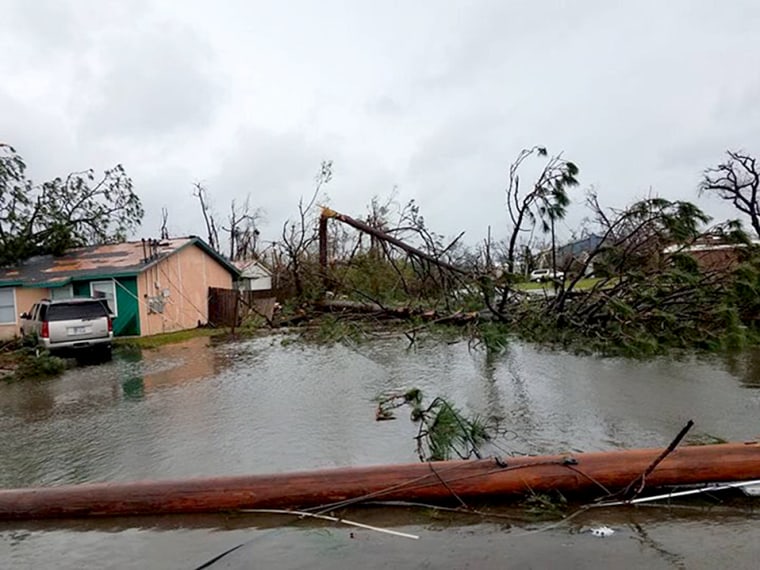 Virginia was the latest state to get hit by the storm, which brought tornadoes and flooding to the area. Five people were killed, and another person was missing, the state emergency agency said.
Four people drowned, and a firefighter, Hanover County fire Lt. Brad Clark, was killed when a tractor-trailer slammed into his engine as he was responding to a traffic accident on slick roads, the fire department said. Two other emergency responders were seriously injured, as was the driver of the tractor-trailer, who had to be extracted.
Power failures from Florida to Virginia finally dropped below 1 million on Friday night, with about a quarter-million customers apiece remaining without electricity in Virginia, Florida and North Carolina.
At least four people were killed in Gadsden County, Floria, and officials were still surveying the ravaged oceanfront neighborhoods of Panama City Beach and Mexico Beach. A fifth person, a 94-year-old woman, died in Clay County, the Florida Emergency Operations Center said Friday night, without providing details.
Most of Mexico Beach is uninhabitable, Donald Walker, interim fire chief for the city of about 1,000 people, told NBC News.
"This is a whole town that just got wiped off the face of the Earth," he said. "It's as simple as there's less than 5 percent of the buildings that will be livable."
Florida Gov. Rick Scott said as he toured Mexico Beach: "It's like a bomb went off. I mean, this is what you'd think a war zone would be like."
"This is the worst [hurricane] from what I've seen in a long shot," said Scott, who said his priorities were search and rescue and keeping people safe. He urged residents not to return yet because the area is hazardous, and he said he felt for the people who had come back.
"Seeing their faces, they're just devastated," he said.
Crews were trying to get food, water, electricity and cellphone service to those who stayed behind, but Scott said it was a challenge because they needed to be airlifted into Mexico Beach.
Charles Smith, owner of the Gulf View Motel in Mexico Beach, rode out the storm in Room 2, figuring the concrete construction would keep him and his cats safe.
But "I was wrong," Smith told NBC News. water started seeping in underneath the door, "and then I was like, 'aw, crap.'"
Then a wave came crashing into the door, Smith said.
"I'll put it to you like this: Where the roof is, the bed floated all the way up when I was looking through the bathroom door," he said. "I could only see the bottom of the bed."
Smith added: "Mother Nature's the strongest thing I know, I'll say that to this day."
Julie Touchton, 42, who lives about 3 miles inland and wasn't told to evacuate, said she had never seen a storm like Michael in her 20 years living near Panama City.
"We have all gone through a Cat 3 — that's nothing — but Michael was extraordinary, especially in how fast and strong he grew," she said. Michael was a Category 4 storm when it made landfall and remained a hurricane for many hours as it tracked inland.
Touchton and her family left their home to stay with friends because they had no power or running water. She said driving tree-covered roads in the neighborhood made getting out a struggle, describing destruction there was "catastrophic."
A few miles north of town, in Lynn Haven, Kaylan Cromartie, 4, gazed at the trees on top of houses and power lines littering yards.
"It looks like it's broken," Kaylan told NBC affiliate WTLV of Jacksonville. "All broken now. It makes me sad."
The storm killed an 11-year-old girl in Seminole County, Georgia, when winds picked up a carport and sent it crashing through the roof of a house and struck her in the head.
In North Carolina, one man was killed when a tree fell onto his car in Iredell County, north of Charlotte, and a man and a woman died after their car hit a tree that had fallen across the road in Marion, near Asheville.
"Unfortunately, I think you're going to see that number climb," said Brock Long, administrator of the Federal Emergency Management Agency. "We still haven't gotten into some of the hardest-hit areas, particularly the Mexico Beach area."
That part of the Florida Coast suffered up to 14 feet of storm surge, Long said, adding: "Very few people live to tell what it's like to experience storm surge."
Long said many parts of the Panhandle were still unsafe to visit, and he also urged people not to try to get back to their homes yet. He said that President Donald Trump would have visited Florida already but that he hasn't because "his presence could get in the way of the response."