The number of people who remain unaccounted for following a catastrophic wildfire that destroyed the historic Maui town of Lahaina last month has dropped to 66, Hawaii Gov. Josh Green said.
The announcement comes on the one-month commemoration of the wildfire, which killed at least 115 people and displaced thousands more.
Green said additional deaths could be announced in the coming months as Maui police continue to investigate dozens of fatalities.
"Some people will hold out hope that their loved ones will be found," he said, adding that the state will expand mental health services to survivors and the families of victims.
So far, Maui police have released the names of 55 of the dead. Of these, 22 were in their 70s, with another 13 in their 60s. There was one listed victim under the age of 10.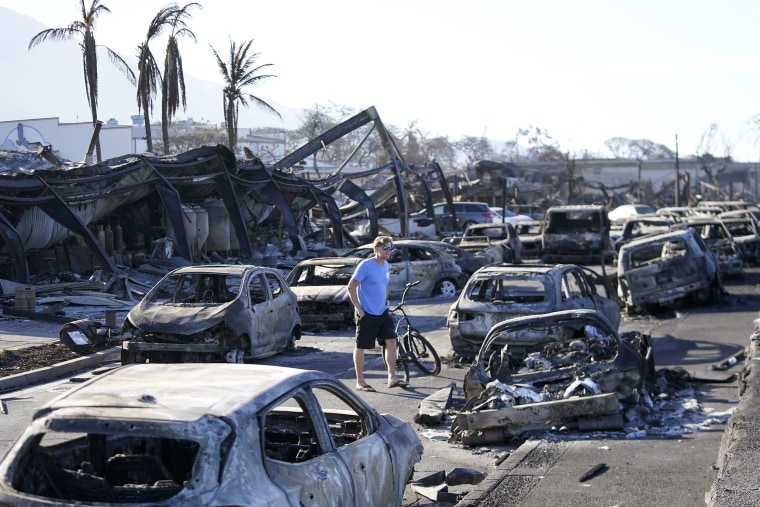 The governor also said that in the coming weeks, authorities will begin to schedule supervised visits for residents to return to and view their properties.
Last week, the governor said he anticipated the number of missing to drop into double digits from around 3,000 in the immediate aftermath of the Aug. 8 blaze.
On Friday, Maui police and the FBI issued a joint statement attributing the discrepancy to a "second list" that had been created with 385 names. The FBI removed 235 of those people after determining they were safe.
Currently, 53 individuals from the second list remain unaccounted for, officials said.
The process was further complicated by the sheer number of people who were initially missing following the wildfire. Since then, thousands of Lahaina residents fled off Maui or have been sheltering with loved ones, short-term rentals or in local hotels.
Advocates for homeless residents insist that the total number of missing is much higher than what state officials have reported, due in part to the transient nature of unsheltered people.
State officials will work with the Federal Emergency Management Agency to secure grants to build housing for unsheltered residents, who are not eligible for federal assistance, Green said Friday.
Since Aug. 16, federal and state agencies have relocated more than 7,500 displaced survivors from shelters to a total of 29 hotels and Airbnb rentals, the governor said.
Nearly 16,000 people have filed for relief from FEMA, he added.
"It's going to be a long process for us to rebuild and heal, and we are grateful for the love and support coming to Maui from around the country and around the world," Green said. "Please keep Maui in your hearts and your prayers as we start our long road to recovery."
Green addressed concerns over tourism, housing and financial assistance for people affected by the wildfires.
He encouraged visitors to aid recovery efforts by bringing in much-needed tourism money, but asked people to avoid Lahaina.
The state will also make up to $20,000 in grants available immediately to help businesses across Maui survive until the battered economy recovers.
Green also intends to help establish a fund for survivors and victims' families to access financial resources in the coming months. The fund would only be accessible to people who do not pursue litigation, he said, and is intended to cut back on court and legal fees.
"Money is never going to do enough for someone who lost a loved one," he said. "They will obviously be seeking some sort of financial settlement and I think we owe it to them to make it the most robust settlement we can to help them move on."