LAHAINA, Hawaii — Where is Rex Cole?
The question haunts residents and homeless-service providers who came to know the kind, white-bearded man before wildfire barreled through Lahaina, killing or displacing hundreds of people, including those who had been homeless before fire destroyed scores of houses.
They wonder what became of Cole, one of the most recognizable faces in the historic district, who smiled at just about everyone who walked by.
The full scale of the fire's impact on Lahaina's unhoused community has not fully emerged, but many worry the town's most vulnerable residents are among those hardest hit by the devastation: Unseen in life, they are now invisible in death. 
"Sometimes they don't have the emotional or mental ability to advocate for themselves," said Lisa Darcy, founder of Share Your Mana, a Maui-based homeless advocacy group. "It's beyond a crisis."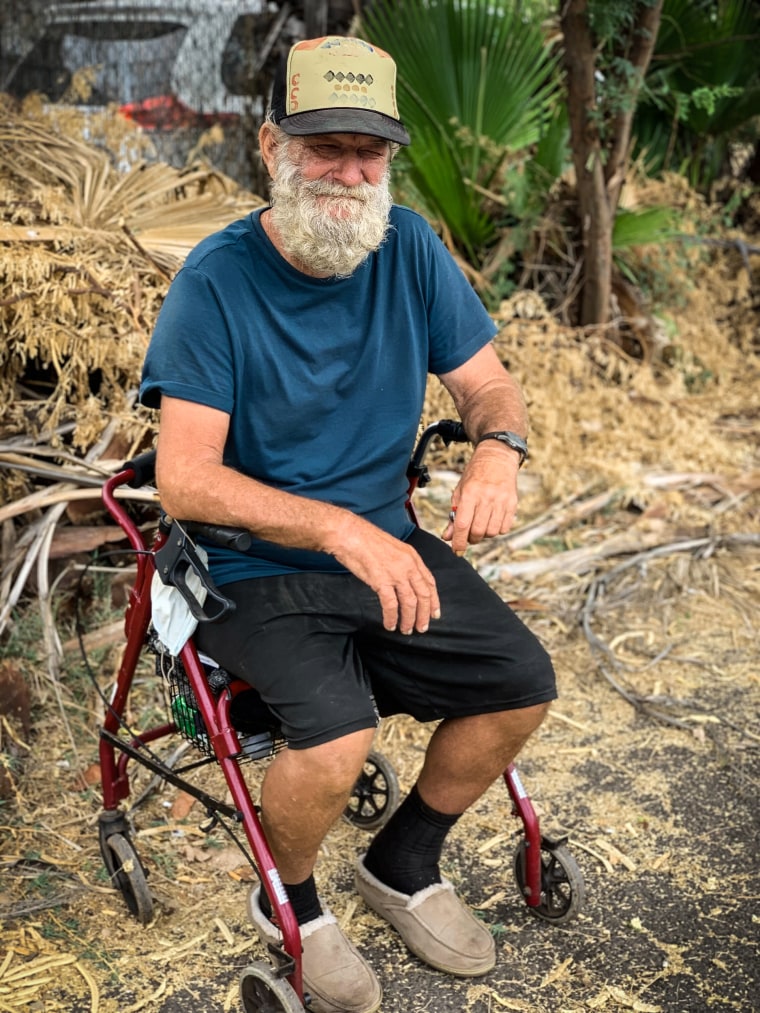 Darcy is among those who encountered Cole on the streets of Lahaina over the years. Another is Jelena Dackovic, former director of the Maui Rescue Alliance, who said Cole loved to sit under the plumeria tree near the wharf and comment on Vans shoes worn by passersby.
"I think it reminded him of living in California," Dackovic said. 
"You always have one of those who is your favorite person and that's what he is to me," she added. "When you met him, you want to hug him. He was loved by many."
People who knew Cole switch between present and past tense when referring to him. He has not been seen or heard from since wildfire leveled what was once the capital of the Kingdom of Hawaii, leaving behind little but toxic ash, soot and destruction. 
At least 114 people have been confirmed dead, and officials say an estimated 1,000 more could still be unaccounted for, making the complicated process of locating and identifying deceased victims even more difficult.
Finding missing or dead homeless residents is especially tricky because they do not always carry cellphones or have a dedicated group of people checking in on them. 
According to the 2023 federal point-in-time count, a total of 6,223 people experienced homelessness in the state of Hawaii. The majority, 4,028, were on Oahu, and 704 lived on Maui.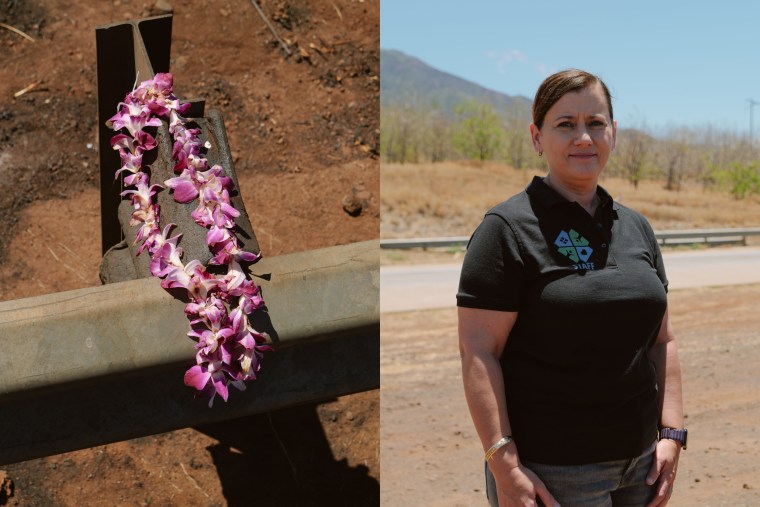 But the numbers are likely much higher, housing advocates said, because the state lacks the resources and political will to properly account for its homeless residents.
"The crisis remains shrouded in mystery," said Monique Ibarra, outgoing director of Ka Hale A Ke Ola Homeless Resource Centers.
When asked if she suspects Lahaina's homeless residents comprise many of those still missing, Ibarra said: "Absolutely."
Ka Hale A Ke Ola's Lahaina center, which housed more than 200 people, was one of at least 2,200 structures destroyed in the fire. Its Wailuku facility on the other side of the island was untouched and is now filled with evacuated homeless people.
Cole is not among them.
"I saw him right before the fire," said Chuck Challis, a friend of Cole's.
Sitting in a wheelchair outside a closed Ross discount store in Lahaina, Challis forked a plate of rice and meat provided by relief workers as survivors plucked through bins of clothing, dry goods and other donations.
Challis, who has been homeless on Maui for seven years, said he was nearly overrun by a firestorm so ferocious it felt like cannonballs were whizzing by his head.
He had been drinking beers with six friends at his usual haunt near the now-destroyed Pioneer Inn, the oldest continually operating hotel in Hawaii, when Challis saw heavy smoke billowing toward them.
Chaos unfolded around them as police officers instructed evacuees to run in one direction and then abruptly told them to turn and head the other way, Challis said. 
"Firefighters had no water and the cops had no imagination," he said. "They abandoned us all."
A lack of water on an island with limited supply conspired with high winds to create an inferno unlike anything Maui has ever seen.
Challis and his friends fled in all directions, but he moved slowly in his wheelchair with a companion who had lost his walking cane. The friend held onto the back of Challis' chair as the two inched to safety. 
The group found refuge near a tennis court and watched their beloved Front Street burn. 
"Has anyone seen Rex?" he remembers someone asking. 
Friends hoped Cole would pop up at his favorite homeless shelter, Ka Hale A Ke Ola's Wailuku center, but Ibarra said none of her outreach workers had heard from him.
Stephanie Commy, a relief volunteer in Lahaina, said she last saw Cole when the pandemic was at its peak and she and a friend were making giant bubbles near Front Street. Because Hawaii was closed to tourists, their only audience was a small group of homeless people hanging out in the park. Cole was there.
"I hope he's OK," she said after hearing that he remains missing.
Homelessness has long been a contentious issue in Hawaii, which relies heavily on tourism to maintain its economy. In Maui, officials have adopted a housing-first model, meaning resources are focused on getting homeless residents into temporary or emergency shelters before offering social services, Ibarra said.
The policy, which has been adopted in parts of California and other locations in the continental U.S., has come under criticism for allowing unhoused people to languish in the streets before a bed is found for them.
In Hawaii, some lawmakers have proposed sending homeless people from other states back to the mainland, while others prefer to clear out encampments from highly trafficked areas, including in parts of Maui.
The tension has sparked at least two lawsuits over whether homeless people can be moved if they have nowhere to go.
Maui officials who handle homelessness did not respond to multiple requests for comment. The Federal Emergency Management Agency and the Red Cross could not immediately be reached for comment on Cole's whereabouts.
Without a clear road map, advocates and service providers have taken matters into their own hands.
In the hours after the fire started Aug. 8, Dackovic, who now lives in Florida, activated her "coconut network" of outreach workers and program directors on Maui to create a spreadsheet of missing homeless people who had still not been found.
Most of the 209 people who first appeared on the list have been located, she said, but more than 30 remain unaccounted for, including Cole. 
"People living on the streets are very resilient, very resourceful," she said. "I like to think those skills they developed out of a desperate situation helped them run away. I need to keep that in my heart because otherwise it's too tragic."