Swaths of the Gulf Coast are under tropical storm watches and warnings as Tropical Storm Cindy moves toward land.
Alabama has even declared a state of emergency as the storm swirls toward its coast.
But before developing into Cindy, the storm was classified as "Potential Tropical Cyclone Three." Numerous warnings or watches were issued for those potentially in the storm's path before it was upgraded.
Had it developed at the same time last year, warnings would have started only once it officially had been a tropical cyclone.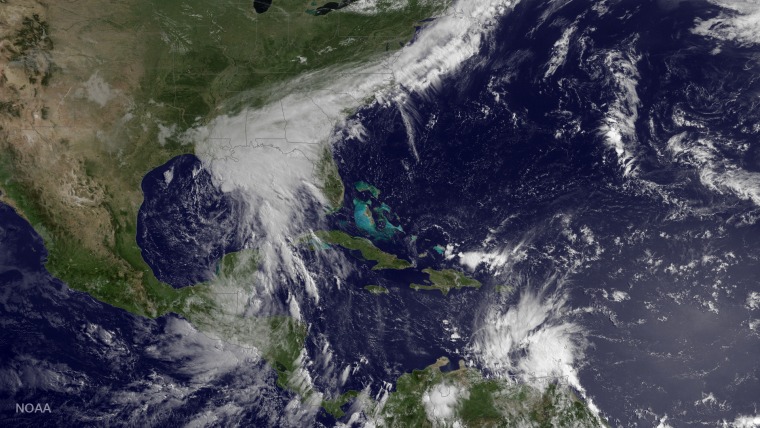 That's because this season, the National Hurricane Center has rolled out a new designation for systems that have the potential to cause tropical storm conditions on land and evolve into larger, stronger storms.
The National Hurricane Center "would not issue warnings until it was at tropical cyclone status," NBC News meteorologist Sherri Pugh said. "But now, if it's a system and looks like it could develop, they call it a potential tropical cyclone."
Two storms have been classified as "potential tropical cyclones" so far this year, and both have developed into tropical storms.
To earn the new designation, a storm must be on track to make impact with land.
"It has to be a threat to land," Dennis Feltgen, a spokesman for the National Hurricane Center, told NBC News. "We wouldn't do this for something out in the Atlantic Ocean."
Related: Can't Take the Heat? Stay Out of the West
In April, Tropical Storm Arlene formed in the Atlantic. Because it never threatened land, it never earned the classification of "potential tropical cyclone." However, because it was the first storm of the season, the next system that formed was given the name "Potential Tropical Cyclone Two."
That system, forming just hours before what would become Tropical Storm Cindy, eventually strengthened into Tropical Storm Bret. It was near South America on Tuesday night.
The strengthening of Cindy came as the Senate confirmed Brock Long as director of the Federal Emergency Management Agency. Long previously served as head of Alabama's Emergency Management Agency and was the agency's on-scene commander during 2010's Deepwater Horizon oil spill.
Feltgen said the National Hurricane Center hasn't changed anything it has done in years previous when it comes to tracking developing systems. But with the new naming convention, the center can start alerting people sooner, rather than later.
"You're getting the same thing whether the [system] has a name or not," Feltgen said. "What this does is allow us to get those warnings out sooner rather than waiting for this thing to be officially a tropical cyclone."
Tropical Storm Cindy is expected to have a serious impact on the Gulf states.
On Tuesday, the National Weather Service issued an advisory saying those in the storm's path could expect 6 to 9 inches of rain, with isolated maximums of 12 inches in parts of Louisiana, Mississippi, Alabama and the Florida panhandle.
With the potential for flash flooding in coastal Alabama, Gov. Kay Ivey declared a statewide emergency Tuesday morning, saying, "Heavy rain combined with the current saturated soil conditions will result in the potential for significant flash flooding, especially closer to the coast."
In Louisiana, tropical storm conditions were expected to approach the coast late Wednesday.
In parts of coastal Texas, tropical storm warnings (meaning people in the potentially affected areas should be preparing for bad weather) and tropical storm watches (meaning those in the path of the storm should take action to protect themselves) have been issued.
The Florida panhandle was also expected to receive intense rain.
It's the changes adopted by the National Hurricane Center this year that have allowed the warnings to go out to residents before the storm develops into a bigger problem.
"We can alert [residents] to possible tropical storm conditions before it becomes a tropical cyclone — before it's on their doorsteps," Feltgen said.