The death toll climbed to five on Monday after a devastating storm system rolled through Texas and Arkansas, spawning at least one tornado in a city east of Dallas where homes were reduced to splinters.
At least eight people were still unaccounted for in Van, Texas. Authorities said they were still not sure whether one or two tornadoes had struck the city, but they estimated that almost a third of the city had sustained damage.
Two people were killed in Van when the tornado struck Sunday night, authorities said. Two more were killed at a mobile home park in Arkansas, and a fifth died in a flood in Corsicana, Texas, where 10 inches of rain fell in five hours.
In Van, officers with search dogs went door to door overnight looking for people trapped in dozens of homes that were damaged or destroyed. Cars were flipped or crushed, and two schools were damaged.
Morgan Warrington, a high school senior, told NBC News that her parents' house was just outside the storm. Her aunt was not so lucky.
"She lost everything," Warrington said. "Her and her kids, and my grandma and her husband, had been at her house when it hit. Everyone is OK, but their house and the whole street was completely demolished. They're fine, just sore and bruised."
Alex Lopez told NBC DFW: "The people you hung out with a few days ago don't have homes anymore."
At least 26 people in Van were injured.
The two killed in Arkansas died at a mobile home park in the city of Nashville, which was hammered by "lots of flooding and strong winds," Arkansas Department of Emergency Management spokesman Rick Fahr said.
"This town is literally torn apart," Kamron Westbrook, a 19-year-old college student, told NBC News.
She said her family had retreated to a friend's house farther from the storm, but "driving around this morning it's way worse than we had heard about."
She added: "Multiple trees have been uprooted and are laying on houses along with power lines. Vehicles are smashed and debris is scattered everywhere."
At least 26 tornadoes were reported across the middle of the country on Sunday, and more rough weather was on the way. Up to 50 million Americans from Texas to Michigan were in the path of an expected band of thunderstorms on Monday.
The tornado threat was not expected to be as high, but large hail and damaging winds were psosible, including for Detroit and Columbus, Ohio.
In Van, a city of 2,600 people an hour east of Dallas, the damage ranged from "completely destroyed homes, damaged homes, to trees and power lines down," said Chuck Allen, emergency management coordinator for Van Zandt County.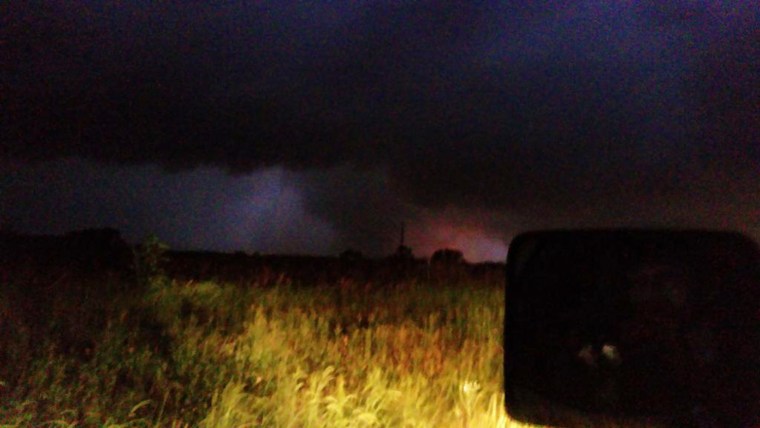 Nick Willkillurson, an 18-year-old student at Van High School, said the damage was "horrible." He told NBC News there were "trees uprooted and windows broken out of the school. The tennis courts were completely gone."
Around 100 local people took shelter in a church and were ordered not to leave, according to NBC station KETK. Officials repeatedly requested that people stay away from the damaged area to let rescue workers do their jobs.
Speaking to KETK, Van resident Chris Duwe described the moments the tornado hit.
"As soon as we opened the door up, boom, it was right there. Loud winds, high winds, rain," he added. "And as soon as we got us and the dogs in the bathroom, and closed that door, bam, the house was gone."
Emergency workers spent early Monday going door to door in search of other victims.
"Once we get daylight, we will be able to identify areas that are affected and lead responders in to verify the [houses] are clear of any individuals needing medical attention," Allen said.
The area was also hit by heavy rains and widespread flash flooding. Two groups of people had to be airlifted to safety on Sunday, authorities in Denton County said.
Elsewhere, more than 100 people were in a high school in Lake City, Iowa, when a tornado hit the building, NBC station WHO-HD reported. "Most of the roof of the building was torn off," witness Austin Jacobs added. "There was debris everywhere."
A rare May snowstorm that brought more than a foot of snow to parts of South Dakota and Wyoming was set to end by Monday morning, according to forecasters.
The remnants of Tropical Storm Ana was also set to continue drenching North Carolina. Meteorologists warned that minor flooding was possible.
The Associated Press contributed to this report.