A powerful spring storm that battered Colorado earlier this week reached the northern Midwest by Thursday, leaving three dead in Wisconsin and hundreds without power in Michigan.
In the south, Alabama and Florida remained in the sights of a band of severe thunderstorms that earlier bombarded parts of Texas, Arkansas and Oklahoma with golf-ball sized hailed and reportedly churned at least one tornado.
In Wisconsin — where Gov. Scott Walker had declared a state of emergency Wednesday — a van spun out of control on an icy interstate northeast of Milwaukee Thursday morning, Washington County Sheriff's Lt. Robert Stuesser said in a statement.
The vehicle slid across the median and into oncoming traffic, where it collided with an 18-wheeler. The van's driver and passenger, a 24-year-old woman from Oshkosh and her 15-year-old sister, were both killed. The truck driver was transported to a local hospital.
Another driver, a 23-year-old man, died Thursday afternoon in the same county in a two-car crash. The other driver, a 71-year-old woman, suffered minor injuries.
"I know everyone's trying to get to their Easter locations to be with their families, but unfortunately we lost some people today that aren't going to be able to do that," St. Lawrence deputy fire chief Paul Williams told NBC affiliate WTMJ.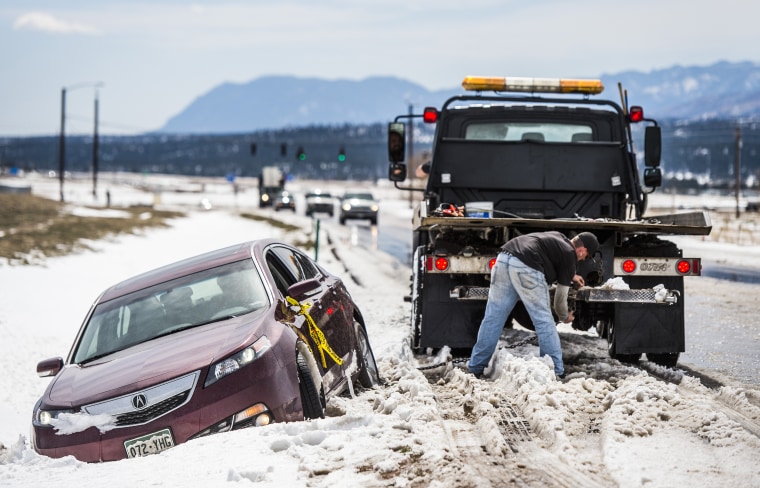 On the other side of Lake Michigan, snow, ice and wind knocked out power to hundreds of homes in three Michigan counties, the Associated Press reported.
And in Colorado, where roughly 200 people were stranded on a treacherous interstate on Wednesday night, transportation officials cleared everyone out by Thursday afternoon — but they are now preparing for another storm on Saturday, Transportation Department spokeswoman Amy Ford told NBC News.
In the South, clusters of severe storms were expected in Alabama and the Florida panhandle, Weather Channel meteorologist Dave Houtz told NBC News. The National Weather Service also warned that "severe thunderstorms with a few tornadoes, wind damage and isolated large hail will be possible on Thursday, across parts of the Tennessee Valley and Central Gulf Coast States."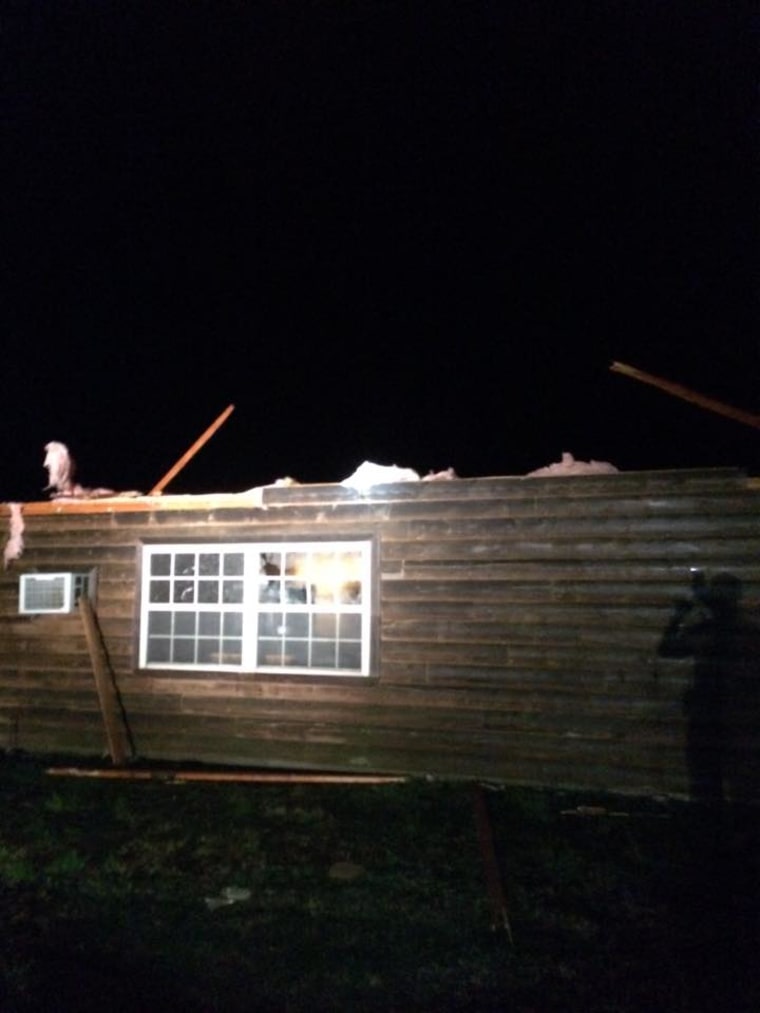 The overnight hail attack obliterated one home in Evansville, Arkansas, the Washington County Sheriff's Office reported in a Facebook post. Another three homes were damaged and one person received minor cuts, it added.
A tornado was also reported in the Arkansas town, Weather Channel forecaster Michael Palmer said, but it was unclear if it touched ground.
In Texas, residents posted videos of hailstones piling up outside homes.
Lightning was suspected of starting a house fire in Haslet, north of Fort Worth, NBC Dallas-Fort Worth reported.
Homeowner John Hipolito told the station that he was watching storm coverage on the TV when he "heard a loud bang" that sounded like an explosion.
"My son was up top, and he smelled the smoke and said, 'Hey Dad, it smells like something burning,'" Hipolito said.
It was "kind of a tough night" but his family had managed to escape safely from the home which was charred on the upstairs floor.
The National Weather Service also received reports of golf-ball size hail in nearby East Plano.