HONG KONG — American attention has focused on spying revelations and high-level talks. But in China this week's biggest news was a struggling economy rather than superpower relations.
A batch of disappointing data — headlined by record-breaking youth unemployment — suggested that an economic rebound prompted by the lifting of strict "zero-Covid" restrictions has lost momentum and left the country to confront long-term issues.
Calls for stimulus measures are growing just as Beijing is playing host to U.S. business leaders as well as President Joe Biden's top diplomat. Beijing's apparent openness to easing tensions with Washington may be no coincidence.
'A waste of time'
In the first month after graduating from university, Cassie Sun applied for jobs at more than 200 companies, staying glued to recruitment apps "from morning to night."
"The first day I submitted applications to 20 companies, then no reply," said Sun, 24, who studied finance at a university in the northern Chinese city of Tianjin. "I felt more and more anxious and applied to even more jobs every day," she told NBC News.
Though she's had a few part-time jobs and internships since graduating in 2021, none of them were related to her major. Now when she applies for jobs in finance, Sun said, hiring managers ask why she is a year out of school and still has no experience in the field.
"I feel like companies only want two types of people: fresh graduates or people working for many years," said Sun, who is now thinking about going abroad. "I don't apply for jobs anymore, it is just a waste of time."
Youth unemployment is a growing headache for China, the world's second-largest economy. The jobless rate among people between the ages of 16 and 24 was a record 20.8% in May, official data showed Thursday, up from 20.4% in April.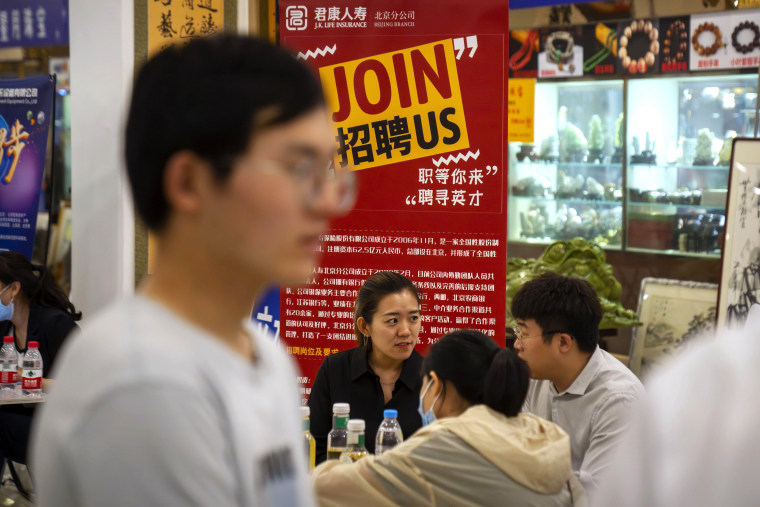 Fu Linghui, spokesperson for the National Bureau of Statistics, said many of them had not yet entered the job market, and that the employment situation would improve as the economy grows stronger.
But analysts said there was real cause for concern.
"The economic outlook in China is very gloomy," said Sun Xin, a senior lecturer at King's College London. "The rebound was much weaker compared to what people anticipated or expected three to four months ago."
Friends and foreign investment
The economic headwinds come as China is actively courting overseas investors, even as U.S. and other foreign companies complain about an increasingly uncertain atmosphere.
A slew of U.S. business leaders have visited China in recent months, including Microsoft co-founder Bill Gates, who met with Chinese President Xi Jinping in Beijing on Friday.
"You're the first American friend I've met in Beijing this year," Xi told Gates, according to state media. Without giving details, the Chinese leader said China and the U.S. could both benefit from cooperation.
Beijing's economic problems may give it greater impetus to stabilize its relationship with Washington, including during Secretary of State Antony Blinken's visit to China on Sunday and Monday.
Improving U.S. ties could help China "generate more confidence among foreign investors and among domestic investors because geopolitical risks are indeed a major concern among everybody in the markets," Sun said.
The Biden administration has tried to keep expectations low for Blinken's trip, which was postponed in February after the discovery of a suspected Chinese spy balloon over U.S. territory, telling reporters there is unlikely to be any "breakthrough." Chinese Foreign Ministry spokesperson Wang Wenbin said Friday that the door for dialogue between the two countries was always open.
Beijing has accused Washington of fueling tensions by sanctioning Chinese companies, imposing export controls on key technology, vowing to work with allies against China's "economic coercion" and signing a new trade deal with Taiwan, a self-ruling democracy that Beijing claims as its territory.
Delaying graduation
Youth unemployment, however, is mainly a domestic problem that was made worse by the pandemic, said Mao Xuxin, principal economist at the National Institute of Economic and Social Research in Britain.
China has long had a "structural mismatch" between the number of college-educated workers and the number of suitable jobs available to them, he said.
And the number of university students has only increased, with the enrollment rate rising to almost 60% last year compared with 30% in 2012, according to the Ministry of Education.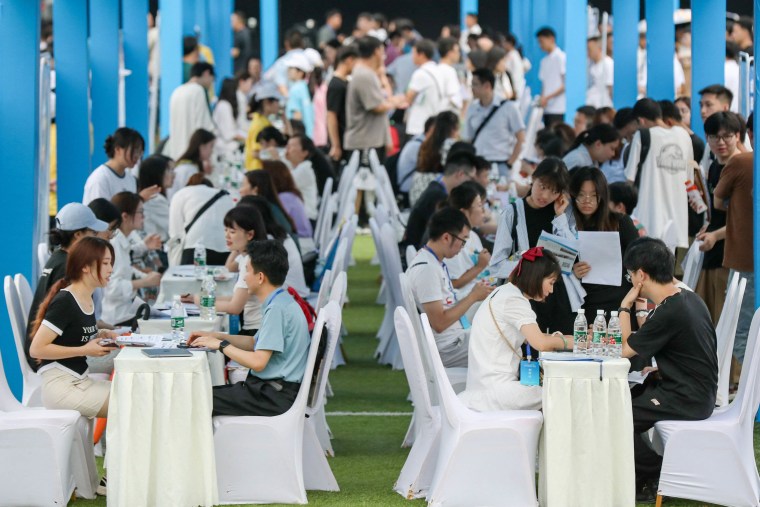 The pandemic has suppressed job creation even further while encouraging students to stay in school as long as possible, pursuing more advanced degrees.
"Accordingly, the young generation find it more and more difficult to find their dream job or even full-time employment," Mao said.
In social media posts, new job seekers express their anxiety about the future with mock graduation photos that show them trashing their diplomas or lying face-down on the ground in despair.
Others are trying not to leave school at all, hoping to retain the appeal of a new graduate prized by increasingly popular and competitive public sector employers. Many see government jobs as less demanding and more stable in an uncertain and stressful time.
According to a survey of college students published last month by the newspaper China Youth Daily, almost three-quarters of respondents said they knew one or more people who had chosen to delay graduation. One of the most commonly cited reasons was so that they could "keep their fresh graduate identity."
At a job fair this month at a shopping center in suburban Beijing, a mostly young crowd inquired at booths for companies in insurance, real estate, packing and transport.
Zhang Bo, 22, is one of almost 11.6 million new college graduates entering China's labor force this year, an increase of 820,000 from 2022. He said the job market was difficult for newcomers like him.
On recruitment apps, he said at the job fair, "many companies only read and do not reply to applicants' messages. Or even if that's not the case, a job opening will close in one day or two after being released."
There are more job seekers fast on Zhang's heels. According to Chinese state media, this year a record 12.91 million high school seniors took the gaokao, a grueling two-day national exam that determines where they'll attend university, or if they'll attend at all.
Sun, the recent graduate, says she expects competition to become less intense as the government makes policy adjustments and China's population continues to decrease.
But that is of little consolation to her and her friends: Of her six roommates from university, who majored in different subjects, four of them have still not found jobs.
"The pandemic really ruined the economy and impacted our generation negatively," Sun said. "I feel like we are the generation that has been abandoned."