LONDON — Pilots of a Boeing 777 flying across the Atlantic got sick at the controls because their cockpit was starved of air, an official report said Thursday.
The British Airways jet carrying 235 passengers and crew to Seattle on March 6 returned to London Heathrow for an emergency landing after all three crew members on the flight deck reported feeling unwell.
The pilots were forced to wear oxygen masks and open the door between the cockpit and the passenger cabin — in contravention of security rules brought in after 9/11 — according to the report by Britain's Air Accident Investigation Branch (AAIB).
It concluded that the air supply was blocked by debris including wire, bubble wrap and insulation material trapped in a ventilation duct below the cockpit floor.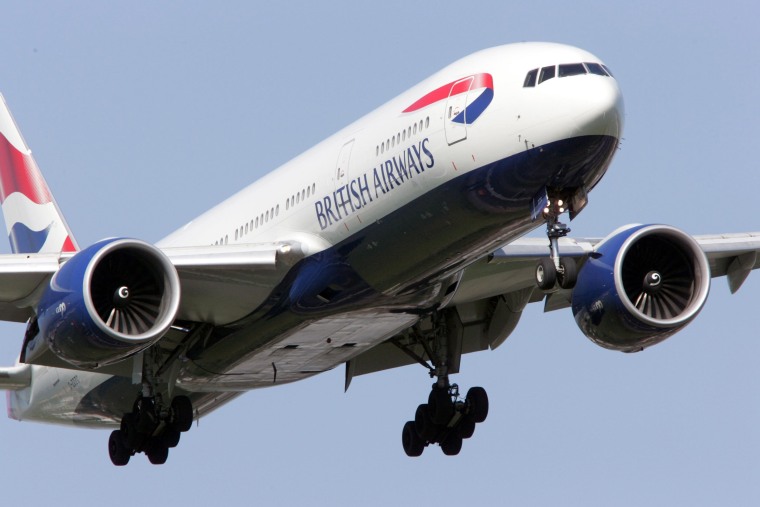 The pilots involved in the March 6 incident noticed during taxiing, take-off and climbing that there was "very low airflow," and that the cockpit was becoming unusually warm, the AAIB said.
They radioed engineers on the ground but were unable to identify the cause. At their cruising altitude of 34,000 feet, they began to feel unwell.
"The symptoms included headache, nausea, light-headedness, a constant urge to take deep breaths and difficulty maintaining concentration," the report said.
They also became concerned that the heat could affect electronics in the cockpit, the AAIB added.
Leaving the cockpit appeared to alleviate their symptoms so they decided to open the cockpit door. Two cabin crew members and "the 'heavy' co-pilot" stood in front of the cockpit for security, the report said.
With the plane by then over Scotland, the crew decided it would be safe to return to Heathrow if all three of them were wearing oxygen masks and the flight door was closed. The flight landed without further incident.
The AAIB said there had been reports of a similar issue in other 777s but these "were sufficiently rare that it could be concluded that such problems were not endemic."
The exact same plane involved in the March 6 incident had been reported for "inadequate airflow" twice in preceding weeks — on February 18 and February 26 — but engineers believed they fixed the problem, the report said.
Filters in the affected duct were due to be replaced every 400 days, and this had last been done in September 2014, the report said.
The AAIB said an internal investigation by British Airways after the scare had recommended "publicizing the event throughout the airline to improve awareness" and requesting additional technical advice from Boeing.