SHANGHAI — At a trendy bar in China's largest city, young men and women catch up with friends, dance, and — in something of a break with Chinese tradition — attempt to find love.
Contrary to previous generations' emphasis on status and wealth, China's millennials are making a stand by taking a more Western approach to dating.
"I've come here to have fun," said 30-year-old architect Lei Zhou, speaking at the nightspot on a recent Saturday. "I'm not pushing myself to find a girlfriend, I'd rather just meet her at some party or a friend's party. Sometimes I may face pressure from my parents but it cannot change my decision."
This attitude marks a stark departure from China's customary approach to matchmaking, the epitome of which can be seen every weekend at the Shanghai marriage market in the People's Park across town.
Proud parents tout their children with messages written on umbrellas: "Male, born in 1978, doctor who can speak French. Looking for a woman who is born after 1980 and 160 cm tall," and "Female Shanghaier born in 1982, 165 cm tall. Looking for a man who has his own apartment and a job. He should be at least 173 cm tall."
One of those openly shunning this more calculated approach is 26-year-old sales assistant Juan Zhang.
"I want to know him more before I commit," she said. "I don't need him to be handsome or rich. I believe that if we are in love with each other and willing to work hard, we will have all those houses and cars someday."
"Finding him takes time but it's in God's plan," added another woman at the bar, 28-year-old saleswoman Jing Wang. "I think when he shows up, he shows up."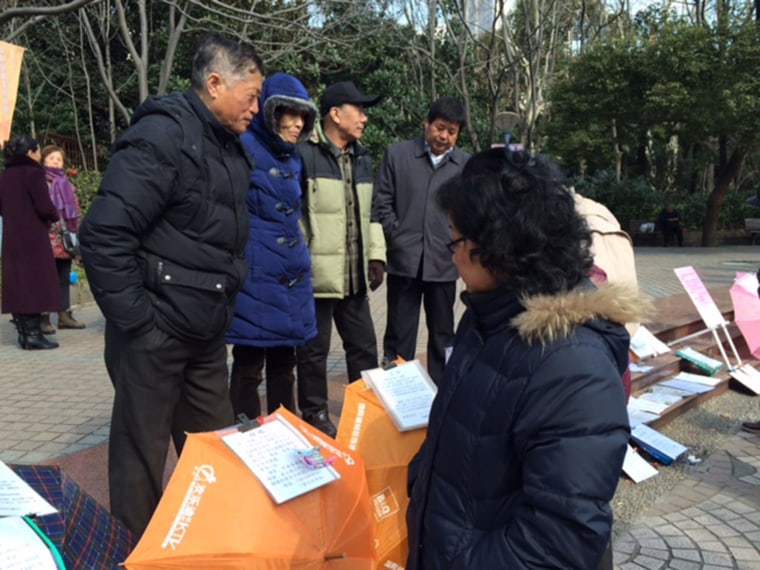 Recent census data supports the idea that young Chinese people are waiting to find love rather than going with parents' pressure to marry based on prospects alone.
The average age for men to get married rose from 25.3 in 2000 to 26.7 in 2010, according to national census data. Women were up to 24.9 from 23.4.
This was even more pronounced in cosmopolitan cities such as Shanghai, where the average marriage age for men is 32.7 and 30.3 for women, according to local Civil Affairs Bureau figures from 2012.
This has caused concern among parents.
"I've met some good boys here but my daughter's not interested"
"I'm looking for my perfect daughter-in-law," said Mr. Bai, a man in his 50s at Shanghai's traditional marriage market. "My son has a master's degree so she should at least have a bachelor's degree. She should be either a few years younger or a few years older than my son, no more than that."
He lamented the new generation's approach. "These young people are different from us," he said. "They don't worry about marriage, but I think there's a problem with their attitude."
Another parent, who would only identify herself as Ms. Ruan, was at the market to help her 45-year-old son find a wife. She had been coming for five years but had yet to find the perfect woman.
"I've met a lot of good girls here but they didn't work out because we have requirements," she said. "If we reduced our requirements I'm sure 90 percent of girls would say, 'yes'."
Ms. Deng, 62, had travelled from nearby Jiangxi province to help her daughter find a partner at the market.
She blamed today's modern lifestyle on the difficulties of young people finding love. "I've met some good boys here but my daughter's not interested," she said. "She is always busy so she doesn't get to know them very well. There's never a third date."
However, it wasn't just parents looking for partners for their children. Ms. Fan, 62, had seen her son successfully married off and was now looking for love for herself.
"I want someone I can communicate with easily, and for there to be a real feeling between us," she said.