President Joe Biden praised his "absolute courage" Saturday, but to his colleagues, Evan Gershkovich was "simply doing his job as a journalist" before he was detained in Russia over spying allegations.
At the White House Correspondents' Association dinner on Saturday, Biden vowed to continue to work to free Americans believed to be wrongly detained abroad, including Gershkovich, whose family was in attendance.
"Evan wanted to report in Russia to shed light on the darkness that you all escaped from years ago," Biden said, addressing Gershkovich's parents, Ella and Mikhail Gershkovich, who fled the Soviet Union in the 1980s. Their daughter, Danielle, also attended the dinner. "Absolute courage," Biden added.
Gershkovich, 31, was on assignment for The Wall Street Journal when he arrested in Yekaterinburg by Russia's Federal Security Service, or FSB, last month and detained on spying charges. He will be held in pretrial detention until at least May 29.
He was the first U.S. correspondent to be arrested on spying accusations since the Cold War, and the State Department has designated him as wrongly detained — an assessment his fellow reporter Matthew Luxmoore and his boss, Gordon Fairclough, agreed with, when NBC News spoke with them Friday.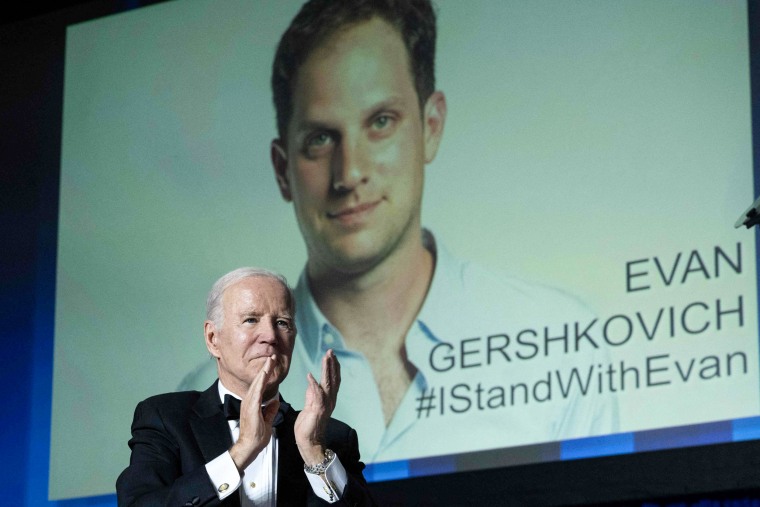 "He was arrested in Russia during the course of simply doing his job as a journalist, trying to gather material for people to better understand what's happening in the country," said Luxmoore, adding that he started at the Journal the same day as Gershkovich, Jan. 24, 2022, although the pair first met four years earlier.
Gershkovich, he said, was "incredibly excited" about covering Russia. "I remember he was telling me about all the books he was reading to familiarize himself more with Russia and Russian history."
Luxmoore, who is based in Ukraine, where he has been reporting on the war, added that Gershkovich was "very aware of the risks" of going to Russia.
"He wasn't delusional at all," he said. "He understood how dangerous it is. But he did feel it was very, very important to keep going back there, to keep covering that story at a time when very, very few journalists have the talent, the language skills and also the necessary documents to keep going back there."
Fairclough, the world coverage chief at the Journal, agreed that "there were so few people there to kind of get the story out and to tell the tale of wartime Russia."
Gershkovich, he said, had been "surveilled quite aggressively" during a reporting on a trip in the Russian city of Belgorod near the Ukrainian border.
"Evan's real gifts, I think, are curiosity and empathy, and that really has given him a real ability to step into the shoes, I think, of the people that he's writing about," he added.
Luxmoore and Fairclough thanked their fellow journalists, news outlets and the wider public for the widespread support the case had received.
And in a statement released through his Russian legal team Friday, Gershkovich said he had been "humbled and deeply touched" by all the letters he had been sent.
Russia may be willing to discuss a potential prisoner swap involving Gershkovich after a court delivers its verdict, Deputy Foreign Affairs Minister Sergei Ryabkov said this month. 
Fairclough said he hoped Gershkovich, who is being held without consular access or visits by friends and family, would be freed soon.
"He was a journalist who was doing his job, and journalism should not be a crime," he said.