PARIS — Violent unrest that swept France after the deadly police shooting of a teenager appeared to be calming Monday as authorities rallied to assert control and the victim's family called for calm.
French police said they arrested 157 people nationwide Sunday night as almost a week of violent protests and riots sparked by the 17-year-old boy's killing appeared to slow.
The numbers have decreased dramatically from the height of the violence late last week, when more than 1,300 people were arrested in a single night and tens of thousands of officers were deployed to the streets of major cities.
Throughout six days of protests, young demonstrators destroyed about 5,000 vehicles, burned and looted about 1,000 buildings and injured more than 750 police officers, the French Interior Ministry said.
Sunday night's diminished riots bookended a week of extraordinary violence in a nation that has long been accustomed to social and political unrest. But long-standing tensions between police and minority groups in France's "banlieue" — the suburbs that ring many of its major cities and are often dominated by high-rise public housing — appear likely to persist.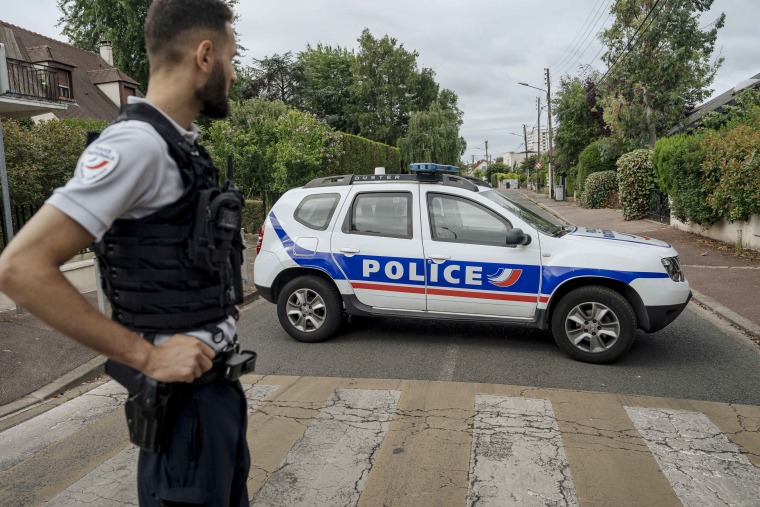 As French people returned to work Monday morning, though, authorities appeared to have reclaimed a tenuous hold on public order — and public opinion.
At Paris's ornate City Hall, local elected officials gathered for a rally to denounce the nationwide violence, in particular an attack on the private home of Vincent Jeanbrun, the mayor of the Paris suburb of L'Haÿ-les-Roses on Saturday night.
Jeanbrun's wife was severely injured as she and the couple's children fled a mob that attacked their home. At the time of the attack, Jeanbrun was at his office monitoring events, according to French media.
The solemn gathering in front of the Paris City Hall featured mayors and public officials from around the capital region. Paris Mayor Ann Hidalgo gave brief remarks condemning the violence while flanked by officials wearing sashes with the French tricolor.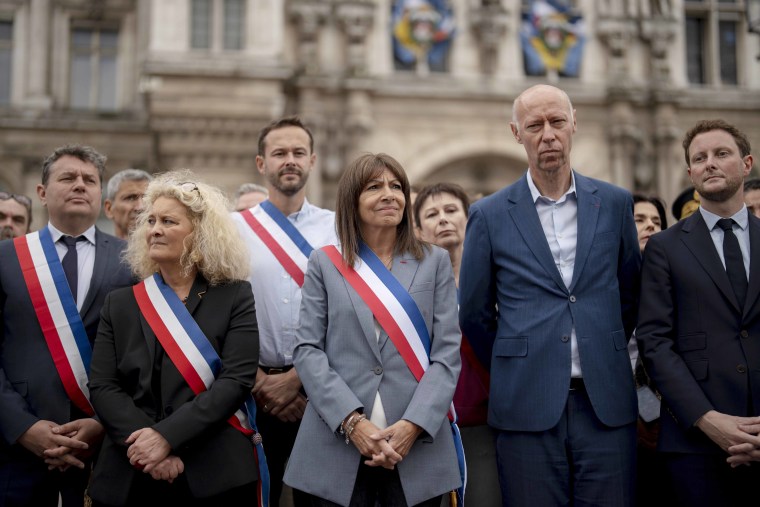 "Nothing justifies the violence," she said. "Vincent Jeanbrun has our support for these unacceptable and unqualifiable acts and the response will be at the height of these acts of violence."
The attack on the mayor's family shocked France and, alongside public appeals from the relatives of the 17-year-old — identified by police as Nahel — may have played a significant role in calming some of the worst political violence in recent memory.
The grandmother of Nahel appealed for calm Sunday and said that the rioters were using his death as an excuse to cause havoc.
"I tell them to stop it. It's mothers who take buses, it's mothers who walk outside. We should calm things, we don't want them to break things," the woman identified only as Nadia told France's BFM TV. "Nahel is dead, that's all there is."
Nahel, who was of Algerian descent, was killed by a single shot from a police officer during a traffic stop Tuesday morning in the Paris suburb of Nanterre. The officer accused of the killing has been given a preliminary charge of voluntary homicide.
Prosecutors said Nahel had committed a number of traffic infractions and driven through pedestrian crossings to evade police but had been forced to stop by heavy traffic, allowing officers to approach the car.
Footage filmed by bystanders showed two police officers leaning into the driver-side window of his yellow Mercedes, with one of them appearing to fire a shot as the vehicle pulls away. The car crashed into a utility post nearby and prosecutors said the driver died at the scene.
The legal team representing his family hasn't said whether it believes race was a factor in the shooting, which has stirred long-simmering tensions between the French state and many young people with immigrant roots who say it routinely discriminates against them.
Since his death June 27, Nahel's friends and relatives described him as a generous and kind young man who had never been given to violence.
"Everyone called him oui oui, because he'd say yes to everything," said Anais, who described herself as the best friend of Nahel's cousin and a close companion in his youth.
"He was a young man like everyone else," she told NBC News in an interview Thursday evening.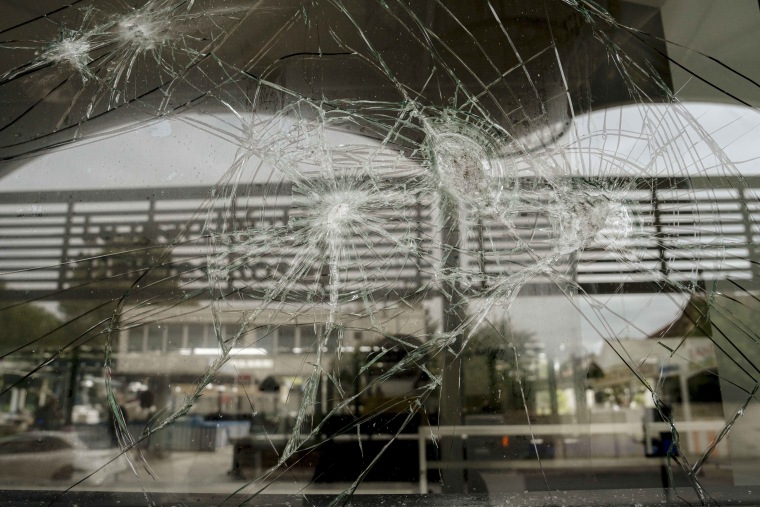 Anais, like Nahel's other family members and friends, said she was against violence that targeted the institutions that many in France's disadvantaged communities rely on for public services. 
"Listen, we're not OK with the fact that they burn schools, burning hospitals, they shouldn't do that," she said. "But it's justifiable that they're angry, of course it's justifiable, it's not just Nahel who is dead, all the kids feel that they have died, all the brothers and sisters feel death, on the 27th they all died."
Despite what appeared to be a reprieve from the street-level fights between police and protesters, officials said they remained vigilant and worried that simmering tensions could ignite once again.
"It's true that it's died down, but the causes that created the violence haven't disappeared. So there is always a risk," said Éric Lejoindre, the mayor of Paris's 18th arrondisement, one of the capital's poorest neighborhoods. "It's really difficult to understand why [the violence] went up so fast and why it went down so fast."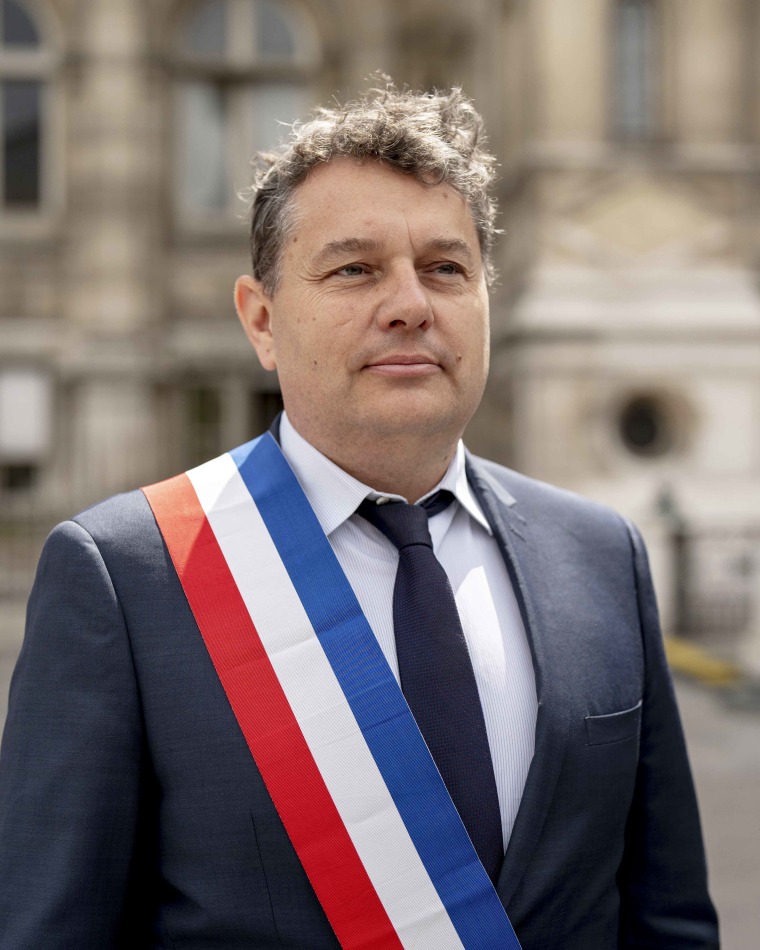 Even as officials focused on the violence that targeted local municipalities, Lejoindre said that the root causes of the tensions in neighborhoods like his would need to be addressed.
Tensions between France's immigrant communities and the police are not new: Three weeks of riots in 2005 followed the deaths of two young men who were electrocuted as they hid from police inside an electrical substation.
Like those protests, the past week of violence mostly involved young people.
France's interior minister, Gerard Darmanin, said the average age of those arrested was 17, though children as young as 12 or 13 had been detained.
Among the hundreds of French public security workers who were injured throughout the past week, France's firefighters' press office said a 24-year-old firefighter had died of a heart attack while on duty, but said his death was unrelated to the violence.