PARIS — As the funeral for a teenager who was shot by a police officer began Saturday, France was left reeling after a fourth night of rioting raged in cities across the country, resulting in more than 1,300 arrests on Friday.
Protests erupted again in Paris as well as the cities of Marseille and Lyon as the government deployed 45,000 police officers and "gendarmerie," the French equivalent of the National Guard.
Hundreds of police and firefighters have been injured, including 79 overnight, the country's Interior Ministry said on its Twitter account.
"The level of violence last night was lower than the previous night," according to the ministry, because of the "mobilization of domestic security forces across the country."
Since the unrest began on Tuesday night, the ministry said police had made a total of 2,400 arrests — more than half of those, 1,311, coming on Friday. Many of those arrested were between 13 and 17 years of age, the ministry added.
The violence erupted after the fatal shooting of a 17-year-old boy, who is being identified only by his first name, Nahel.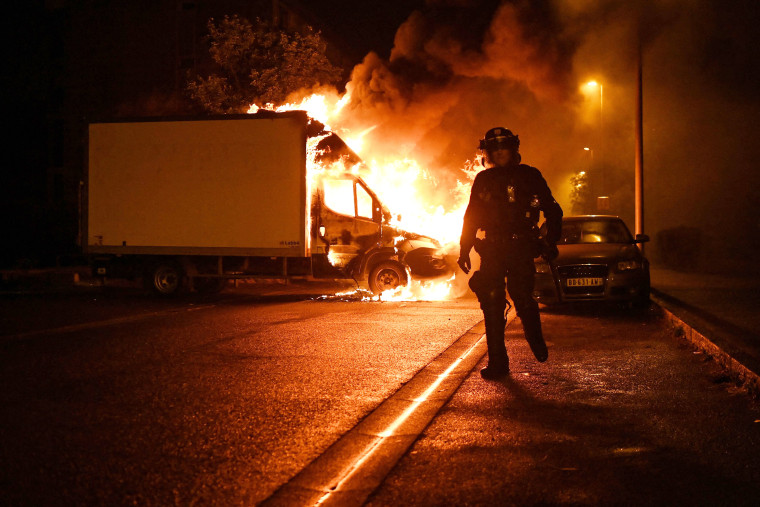 The teenager, of Algerian descent, was killed by a single shot during a traffic stop in the Paris working-class Paris of Nanterre on Tuesday morning.
The police officer who fired said he had feared someone may be hit by the car, including him or his colleague, after Nahel ran a red light, Nanterre prosecutor Pascal Prache said in a statement on Thursday. Prache said the officer accused of the killing had been given a preliminary charge of voluntary homicide and was being held in custody.
The legal team representing the teenager's family hasn't said if it believes race was a factor in the shooting, which has stirred long-simmering tensions between French police and young people living in disadvantaged neighborhoods in the suburbs of the capital and elsewhere.
Nahel's mother, identified as Mounia M., told France 5 television earlier this week that she was angry at the accused officer rather than at police in general. "He saw a little, Arab-looking kid, he wanted to take his life," she said. "A police officer cannot take his gun and fire at our children, take our children's lives."
Nahel's funeral ceremony began on Saturday. It was a private affair; family and friends viewed the open coffin before it was taken to a mosque for a ceremony and later burial in a town cemetery.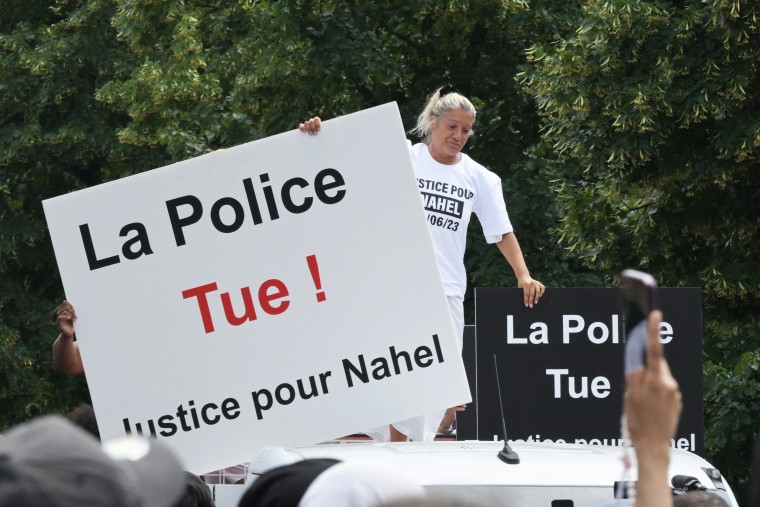 Despite an appeal to parents by President Emmanuel Macron to keep their children at home, street clashes between young protesters and police raged on Friday.
Almost 90 arrests were made in Marseille on Friday, according to the Interior Ministry, after Marseille Mayor Benoît Payan called on the government to "immediately dispatch additional law enforcement." Footage of protests in the southern port city showed people setting fire to barricades, throwing objects at police cars and running from teargas. 
Rifles were looted from a gun store, and a man was later arrested with a hunting rifle, police said. 
In Vaulx-en-Velin, a suburb of the eastern city of Lyon, three police officers were shot with a pellet shotgun as authorities reported street fires and looting across the city, and an unauthorized protest drew more than 1,000 people, the Interior Ministry said.
Unrest was also reported in the South American overseas department of French Guiana, where a 54-year-old died after being hit by a stray bullet, authorities told the Associated Press.
Marine Le Pen, a figurehead for the French far-right and parliamentary leader of the anti-immigration party the National Rally, added to the pressure on the French government by calling for the institution of a "state of emergency" Friday. 
"For several days, a state of endemic disorder has been established in the country, the images and echoes of which are chillingly brutal," she said on Twitter Friday. "I ask the President of the Republic to receive the parties represented in the National Assembly without further delay."
In France, a state of emergency gives more powers to the police and military, such as the right to set curfews, limit movement, prevent mass gatherings and conduct house searches at any time without judicial oversight.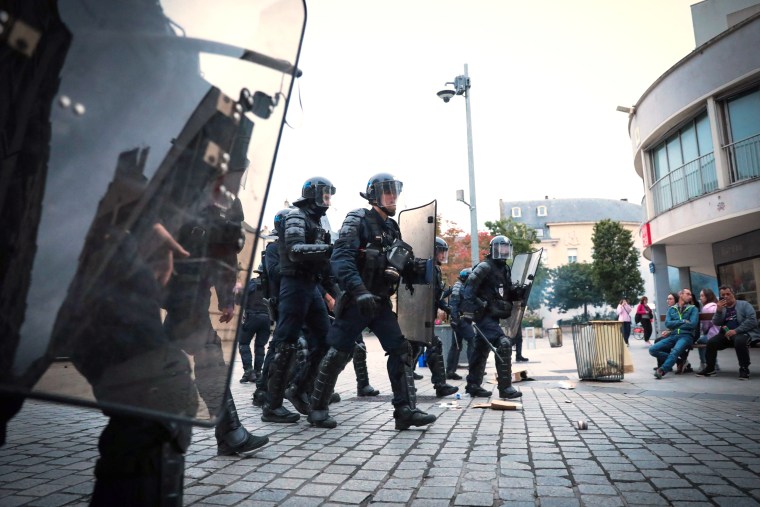 The French national soccer team condemned the violence on Friday night in a social media post shared by captain, Kylian Mbappé.
"Many of us are from working-class neighborhoods, we too share this feeling of pain and sadness" over the killing of 17-year-old Nahel, the players said in a statement. But "the time for violence must give way to that of mourning, dialogue and reconstruction."
Deadly use of firearms is less common in France than in the United States, though several people have died or sustained injuries at the hands of French police in recent years, prompting demands for more accountability.
The worst riots in recent French history occurred in 2005, after two teenagers who had not committed any crimes were electrocuted as they hid from a police chase in an electricity substation, triggering weeks of unrest in their suburb of Clichy-sous-Bois on the outskirts of Paris, and across the country.
Nancy Ing reported from Paris and Leila Sackur from London.