LONDON — Two greyhounds destined for the dinner table in China until they were rescued by animal-rights campaigners are embracing new lives overseas, an activist said Friday.
Diablo and Hei Hei were among some 480 canines crammed onto truck in Beijing destined for China's dog-meat trade, according to British-based greyhound rescuer Kerry Elliman.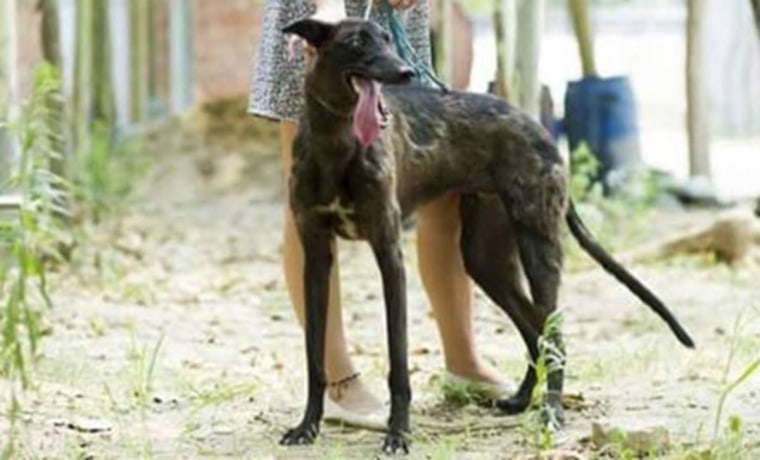 Chinese campaigners stopped the truck in July and wouldn't allow its driver to pass, Elliman told NBC News. Local officials later found the driver didn't have the correct documents and handed over the animals to the activists, she said.
Elliman, 38, heard about the dogs and asked to have them brought to her Birmingham Greyhound Protection organization, a British non-profit group she founded in 2012.
Aged around 18 months and 6 months, they arrived in the U.K. on Thursday.
"Rescuing these dogs was very emotional for me because I'm trying to stop dogs going to China in the first place," Elliman said. "I just want to prove that greyhounds are ending up in the Chinese meat trade."
Dog meat is considered a traditional dish in some parts of China and some estimate that 10 million of the animals are slaughtered each year.
During the 20th century, China's Communist party denounced pet ownership as bourgeois and elitist. But today dogs are increasingly seen as companions rather than food, a symptom of the rapid explosion of China's middle class.
Activists claim that greyhounds are sent from Ireland and Australia to race in China, and those that underperform in races are killed or sold for food.
The controversial Yulin Dog Meat Festival used to see residents butcher "tens of thousands" of dogs in the streets of the southern city of Yulin, according to Chinese state media.
"But the bloody spectacle is a rare sight in the city today," according to the state-run Xinhua news agency.
More than 11 million people signed an online petition against the festival, which also drew condemnation from Ricky Gervais, Simon Cowell, Matt Damon and other celebrities.
However, some philosophers have suggested the opposition is hypocritical and even xenophobic, noting that pigs are just as intelligent as dogs and much of the West's meat is killed under inhumane conditions.